Gold or Bitcoin: What Will You Go With?
May 15, 2020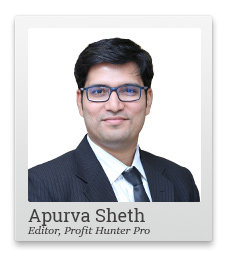 The interest in gold has gone up ever since stock markets crashed in March.
In the international market, gold is getting close to it's all time high.
But bitcoin has been on an up move too. It's price in dollars has almost doubled in the last two months.
Which is the better asset in this difficult economic situation?
Find the answer in today's video.
Hi, I am Apurva Sheth and I welcome you to this latest edition of Fast Profits Daily.
Bitcoins are in the news once again. The amount of Bitcoins that miners get paid every 10 minutes for adding a new block to the chain is now 6.25 Bitcoin from 12.5 Bitcoin previously.
I'll explain what this means.
Bitcoin is a digital currency that runs on a blockchain. This means nobody controls the currency. No central bank issues Bitcoins. It is available to everyone irrespective of their nationalities. Anyone with an internet connection can buy, sell or hold bitcoins. Nobody can sneak into the network and alter the records of transactions. And the best of them all is that these transactions are anonymous.
So, to ensure that all the parties involved in the transaction are playing fair someone must verify these transactions.
That's where it gets slightly tricky. Verifying these transactions isn't easy. It involves solving complex mathematical problems and if you can solve these problems before everyone else does you get a reward which results into a big block. When you put the blocks together in a chain you get - BLOCKCHAIN!!!
You get new bitcoins every time you create a block. People who get these bitcoins are known as miners.
The reward for successfully creating a block was 50 bitcoins when Bitcoins were launched. In 2012, it was halved to 25 bitcoins. In 2016, it halved again to 12.5 bitcoins. In 2020, it has again halved to 6.25 bitcoins. Four years later it will again halve.
The process of halving will continue until the final bitcoin is mined which could happen sometime during the year 2140.
Apart from this halving, Bitcoins were also in the news because of Paul Tudor Jones. Paul is a billionaire trader who ranks in the Forbes list of richest men in the world. His trading style is based primarily on technical analysis, as against value investing.
Paul made a bet that Bitcoin could be the best hedge against inflation. Unprecedented money printing and stimulus measures by the Federal Reserve has prompted him to add Bitcoins over Gold recently.
What will you go with?
There are 4-5 parameters over which a currency is evaluated.
Purchasing Power
Trustworthiness
Liquidity
Portability
Regulatory Hurdles
Bitcoins may score almost equally with gold over purchasing power, liquidity and portability. But there gold beats bitcoin over the other two criteria.
There are regulatory hurdles in many countries as they don't allow trading or owning bitcoins which is changing slowly.
Secondly, trustworthiness is something that bitcoins will take a lot of time to gain. As a currency gold has been around for thousands of years. But Bitcoin is just 11 years old. It could take a really long time to gain trust.
So, until that happens I'll prefer to keep a major portion of my investments in traditional assets like gold, equities, bonds and real estate.
Even if someone wants to invest in bitcoins it shouldn't be more than 1-2% of total investments. So that even if you lost all of it you won't lose your sleep.
That's all from me for today. I hope you enjoyed watching this video. Please click on the like button if you're watching this video on YouTube.
You can share your views in the comments section. Also let me know what other videos you would want me to record in the future. Please share this video with your family and friends and help them become better traders.
Also do join Equitymaster on telegram with the handle Equitymaster official wherein I post interesting updates on the markets daily.
Until we meet next time. Take very good care of yourself and your trades. Thank you.
Stay safe and have a great weekend!
Warm regards,

Apurva Sheth
Senior Research Analyst, Fast Profits Report
Equitymaster Agora Research Private Limited (Research Analyst)
Recent Articles