Why I'm Bullish on PSU Stocks
May 18, 2021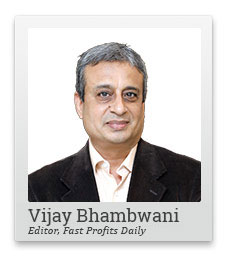 Back in October 2020, I talked PSU stocks. I said these stocks present very good trading opportunities and also investment opportunities.
These stocks have done very well since then and I'm not surprised.
Using behavioural psychology, I could tell these stocks were set to soar higher and that's why I was bullish.
Well, I'm still bullish on these stocks. I think they can rise higher.
In this video, I'll show you why I'm bullish on PSU stocks and why you should be too.
Watch the video and let me know your thoughts on this topic. I love to hear from you.
Hello friends. I hope the markets are treating you well, and you're able to navigate through the push and pull of the market fairly effectively nowadays. I also hope you're safe from the cyclone that hit the western parts of the country, and I hope your family and you are away from any harm.
Now in this video I would like to discuss an important segment of the market, which is the toast of the season right now.
Veteran viewers of my videos in the Fast Profits Daily playlist will remember that in October 2020, I talked about a segment of the market, particularly the public sector units, which I said present very good trading opportunities and also investment opportunities, for that matter, because these stocks were buzzing.
If you were to a kind of put aside your bias that these are PSU stocks how uninteresting there're so unexciting, etcetera, let's find something more sexy, something that moves well etcetera.
But if you were to actually look at it rationally, use any statistical model like I do in my in house statistical model, which we fondly call the barracuda, we find that still pack the punch.
Get Details: We are Bullish on These 3 Little-known Stocks
Now the logic behind the PSU stocks is simple, but it's highly effective. Number one, PSU stocks, like I said, PSU, public sector units, are majorly owned by the government of India. Which means that operators would not fool around in the stock price by using too much of algorithms or dark pools or vulture-style trade.
Which means the chart is relatively cleaner, the trends are relatively cleaner, but movements of late I agree have become a little more volatile.
Number two, I use behavioural psychology. I have given an example of Napoleon Bonaparte of France. He took only those generals with him to conquer other countries who were known to be plunderers and corrupt, who pocketed some wealth of the plundered nations on the side.
Napoleon deliberately turned a blind eye towards a little bit of pilferage because, he said, to be able to plunder a conquered nation, the general will first ensure that France conquers that nation so that general concerned can basically line his pockets or fill his pockets with stolen goods. So this vested interest will ensure that the general puts his best foot forward and win the war.
This is the exact psychology that is prevalent even in the financial markets. This is exactly why people subscribe to paid services to receive better investment inputs. This is also a reason why the concept of incentives to fund managers, work in the markets.
I've often told you that nothing happens in the financial markets without a reason and because the markets are financial in nature, the reason, also itself winds up being financial.
Now let's take a look at what's really happening in the PSU space so that you get a handle on what I am trying to convey.
There are three indices which will appear on your screen. Take a look at them. The first one, starting with the PSU bank index.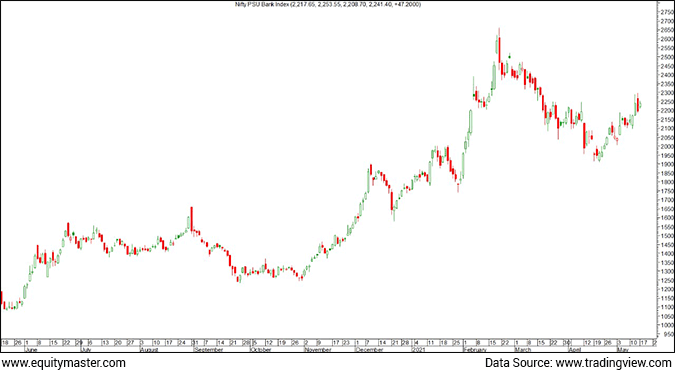 Now this index happened to peak out in the middle of February, along with the other headline benchmark indices like the Nifty 50 and the Bank Nifty.
But it's risen approximately 2.5 times from its low made in March 2020. Now this contains stocks that are actually elephants, PSU banks, which are hugely capitalised and with a large shareholder paid up capital, etcetera.
If it all you want to believe in the notion that elephants can and do fly, look at the bank index. 2.5 times appreciation in a little under a year, which means March 2020 to February 2021. Currently, this index is returning you approximately 2.2 times, or 220% return from the March 2020 lows.
Take a look at the second index on your screen. This is the Nifty PSE Public Sector Enterprises Index.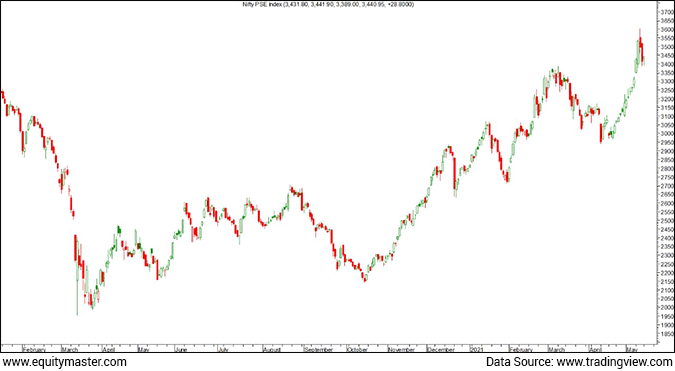 I had shown you this a chart in a previous video when I had said it's only below a certain threshold of a decline in the PSE index that you should feel that the broader markets are under pressure.
Now we come back to this index, which hand hit sub 2,000 levels, which means it went below 2,000 levels in March 2020 and it recently saw 3,600 levels before it reacted lower. From the trough, from the bottom to the top. it made approximately 180% returns in a year's time frame.
The third index that I want to show you is the Nifty CPSE.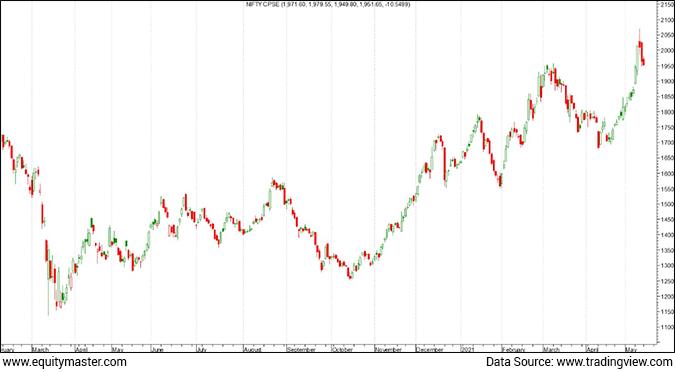 Now after hitting 1,136 in March 2020, it saw a high of 2,070 on 12th of May 2021. Not very a far ago in the past. It thereby returned a little under 100%.
So what you're basically seeing is that the PSU bank, Nifty PSE, and the Nifty CPSE have been arranged in a descending order of the returns that they have provided to the investor. So the nifty CPSE gave a little under 100% in 14 months frame. Therefore, this index in relative terms, has returned the lowest among the three indices.
Now the hot favourite is, of course, the PSU banking index. The PSU bank nifty. The reason is obvious. Like Napoleon's logic, I'm using the same logic that I would rather go with the flow where I know that hands which are stronger than mine in this case, Big Brother government of India, which has a vested interest in pushing up the share prices because they have another agenda to follow.
PSU bank stocks are now rising or rather jumping by leaps and bounds for the simple reason that there is an above average expectation of many of these PSU banks being either divested in part or the government might even give a substantial portion of its shareholding away.
The current crisis the world over has seen governments the world over providing stimulus to the economy by way of loosening its purse strings.
Now, basic double entry system of accounting itself tells you that every debit must be matched with a credit. If the government is giving you money and gifting money away, it will also need to raise finances.
Now we all know, the honourable finance minister, in the budget of February 2021 said that the government of India will raise 12 lakh crores from the bond market by issuing fresh bonds.
In my calculation, I feel after this 12 lakh crores, the biggest source of raising money for the government of India will be by selling its stake in many public sector units, especially public sector banks or PSBs. Which is why you're seeing that these stocks are flavour of the season.
Should you participate? I think yes.
Will there be higher volatility? I think yes.
Should you be careful? Always at all times so as long as you're putting your stop losses in place and you're playing on the long side in most of these buzzing counters.
I have a feeling till the time the LIC IPO or the initial public offering, also known as the public issue, is not done and dusted, PSU stocks in different rotation, sometimes it could be the CPSE, sometimes it could be the PSE, sometimes it could be the PSBs, will keep buzzing because the largest holder or one of the largest holders of these stocks is the Life Insurance Corporation of India and till the time of its public issue, I think this sector will remain hot.
So if you want to make above average returns, I think you should stick to PSU stocks. Don't listen to anyone who turns his nose and says PSU stocks are no good. Focus on the money because that's what counts.
I'll bid goodbye to you in this video, not before reminding you to click like on my video if you agree with what you saw. Subscribe to my YouTube channel. Click on the bell icon to receive instant alerts about fresh videos being put up out here.
In the comments section, do let me know what you think about this video and help me reach out to fellow like-minded investors and traders by recommending my video to your family and friends.
Do take very good care of yourself, your health, your family and friends, your trades, and investments. Thank you for watching. Thank you for your patience. Have a very, very profitable day. Vijay Bhambwani signing on for now.
Thank you again.
Warm regards,

Vijay L Bhambwani
Editor, Fast Profits Daily
Equitymaster Agora Research Private Limited (Research Analyst
Recent Articles