Is Bullion Rising?
May 19, 2021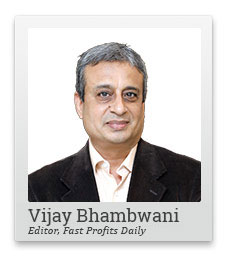 You may have noticed that gold and silver prices have been trending upwards recently.
After a short correction, it looks like bullion is back in an uptrend.
I believe this is just the start of a long rally.
In this video, I'll show you why gold and silver prices are rising and why you should be bullish on them too.
Watch the video and let me know what you think. I love to hear from you.
Hello, friends. This is Vijay Bhambwani and in this video I want to talk about a topic which I'm sure is close to every Indian's heart: bullion.
Now, I've deliberately titled this video as, Is Bullion Rising. Some of you might wonder if I've had a change of heart and I am doubting the rally in bullion after advocating a buy on bullion ever since I started appearing on Equitymaster's YouTube channel in the middle of 2019.
No, Vijay Bhambwani is not having a change of heart. My viewpoint in bullion remains constant.
The reason why are titled this video Is Bullion Rising, is because I want to take you through the machinery, the moving parts that's basically taking bullion higher, and you will realise that it's not just the price of bullion that's rising, but it's the price of something else in relative comparison, which is falling, which is why bullion is raising.
Going LIVE Today at 5pm: Our Special Event on India's Revival
If you care to see the one hour twenty minute odd live stream presentation that I did in the beginning of April, which is there in this playlist, why gold and silver are great buys in 2021, I have laid out the comprehensive thought process behind why I have advocated why.
Of course, there was some very entertaining feedback from some trolls. Abuses in nature but extremely entertaining who said, look silver is just not used in 5G.
It's a matter of you Google searching and finding out that switching systems in 5G, electrical harnesses, and electric vehicles etcetera, will use silver extensively.
So keep even your flaming and trolling comments coming. Of course, this particular gentleman was clever enough to delete his comments once a silver crossed 70,000 but its welcome. Keep it coming.
So now take a look at the chart of gold.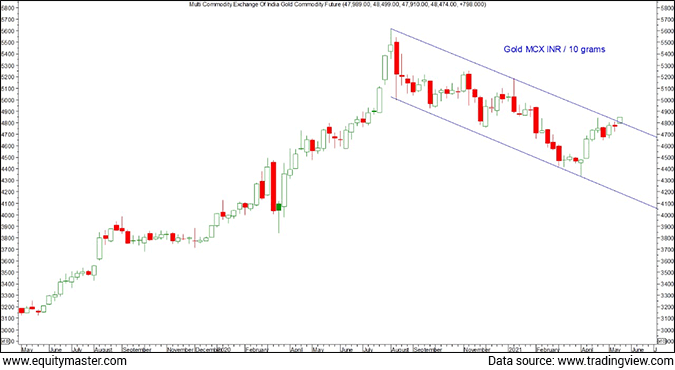 You will see that it's showing signs of rising after kind of peaking out late last year in August, and it's rising out of a bearish channel.
Silver's chart, on the other hand, is showing you that is breaking out of a triangle.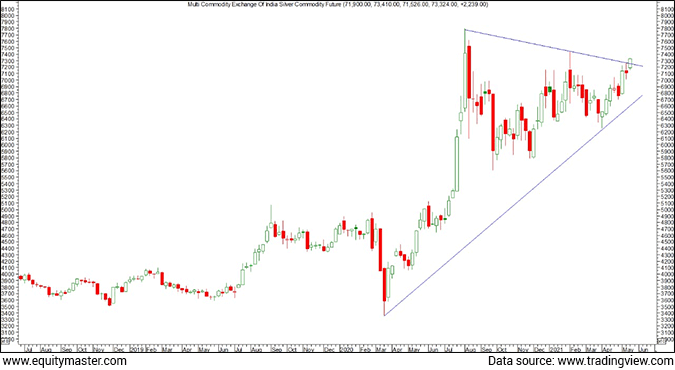 Once the due tug of war, which is very likely between bulls and bears, whenever there is a breakout coming, the bears will try to hammer the prices and whenever there is a breakdown coming, the bulls will try to defend the prices, this is the usual give and take in any market, you will see some volatility going forward.
But whenever a clear and confirmed final break out occurs, you will see that the targets that I have been giving in the case of silver, which is Rs 80,000 by end of December 2021 and Rs 85,000 by end of December 2022 will look so very achievable.
Silver has already seen 73,000-74,000 plus levels as I record this video on the morning of 18th of May. Of course it will be uploaded on 19th May after due additional editing and post production process.
Gold, I maintained backed would hit 60,000 by the end of December 2021 and 65,000 by end of December 2022.
My overseas friends, please note, unlike the US and Europe, we Indians trade our bullion in slightly different metrics. When I am talking of silver at Rs 85,000, I'm not talking about troy ounces.
I am talking of Indian national rupees in denominations of one kilogram, which is 1,000 grams. When I am talking about Rs 60,000 on gold, here again, I'm not talking about troy ounces but Indian rupees per 10 grams of gold.
We do not use troy ounces on our exchanges or even in the physical markets. So our targets as you will realise, are increasingly looking achievable.
Of course, silver will go there first because, like I said, if you simply Google search before trolling me, you will realise that switching systems, harnesses, etcetera, will use, I'm talking about 5G technology, will use silver extensively. So will solar power cells or photovoltaic cells, and electric vehicles.
So gold will basically be bought because of defensive and capital protective reasons but silver will be both defence as well as a value buy because it has industrial applications.
Now, for my logic, is bullion rising or is something else happening?
If you care to see that one hour twenty minute plus live Q&A session that I had on Equitymaster's YouTube channel and the Investor Hour, a detailed conversation I had with Sarit and Rahul Goel, you will realise that there is great thought that went behind making these recommendations.
In a nut shell, I'll encapsulate what I want you to see in some more charts and some more graphics that I have prepared for you.
Now look at the investing.com chart of lumber.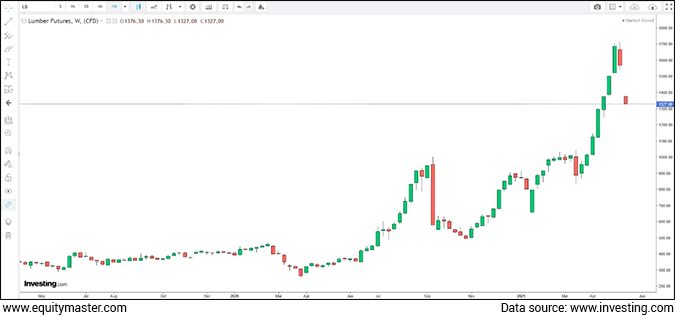 Lumber is nothing but wood. Basically in America, typically speaking, I'm saying typically, of course, variations will occur, you basically take a chain saw, a mechanical saw with which you cut a very long tree, preferably near a spring, and that tree is felled by a chainsaw. Unlike manual acts, which takes a lot of time, the chainsaw will cut down a tree within seconds.
So you drop that tree into the falling stream. It goes downstream, and at the valley itself, there will be a saw mill, which will cut the wood into long pieces, and that is basically called lumber. Very simplistic. Variations, like I said, will occur, but this is the broader narration.
Lumber prices have gone up six times, 600% in the last 12 to 13 months, and coming up on your screen now is the price chart of crude palm oil.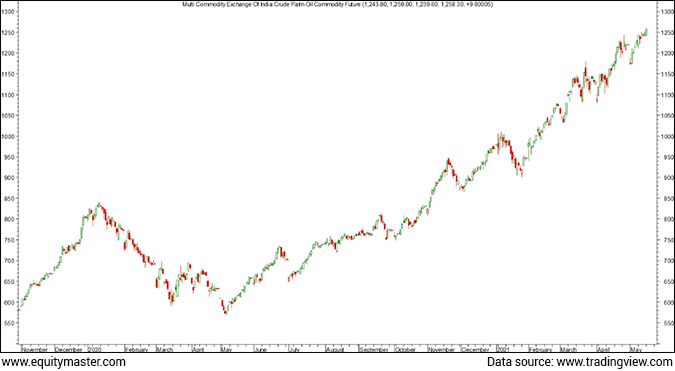 On the multi commodity exchange, our very own Indian commodity exchange. It was Rs 565 odd last year, when the market's tanked in March and April 2020. Currently, it's Rs 1,250.
Now, for the uninitiated, crude palm oil is a poor man's cooking oil. If you eat roadside fried foods like bhajiyas, or vada pavs, etcetera, the oil that is used in making those roadside savouries and snacks is crude palm oil.
It's a very versatile oil. It goes into your soaps, your shampoos, your edible oils. It goes as a lubricant in your automobiles, mixed with petroleum based lubricants of course. It is also used for doping in petrol and diesel. Therefore, it's also a bio fuel.
As fuel prices rise, the price of crude palm oil is also supposed to rise in tandem but does it justify a 120-130% rise? Does lumber justify a 600% rise? Why is this happening?
Once you know the answer to that, you will realise why gold and silver are rising and why I feel that the rally has just begun.
Yes, You heard that right. The rally has just begun.
Now another thing I want you to look and is the web page of the Food and Agricultural Organisation. Mind you, this is not just any website. This is the food arm of the United Nations Organisation. As credible as it can be.
Now, the Food and Agricultural Organisation is talking about food inflation, which has crossed seven year highs, which you are seeing on your screen.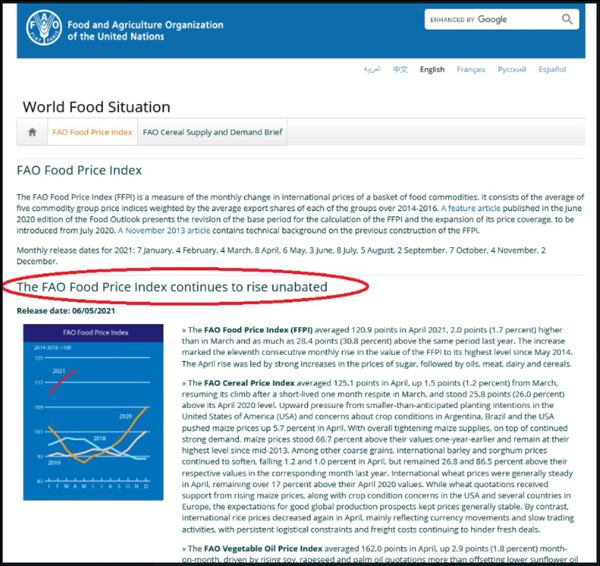 If you go in detail on this page, you will see the categories of foods milk, pulses, grains, dairy products, meets, etcetera, etcetera, how much they've inflated. Now why is this happening? In those detailed videos, I laid down my thought process.
World over, after the coveted pandemic struck, all the international central bankers started providing stimulus. Of course, that money was never there. So what the governments have started doing is running their printing presses over time. They are printing a whole lot of money and flooding it into the markets.
Now, when there's a whole lot of money chasing products that money needs profits. Otherwise it is not justified.
So there you see lumber prices. Lakdi. Lumber. 600%? Are people buying that much furniture in covid. The answer is no. Why is lumber going up? It's because the purchasing power of rupee, the dollar, the pound, the yen, the euro, is falling.
So are gold and silver rising?
Yes, partly, yes, they are rising, but mostly they are going up because the fiat currency or the paper currency is losing its value.
The road ahead. I think food inflation is going to rise. I think if you were to ask somebody who is responsible for looking after the pantry and stocking up your kitchen, maybe the womenfolk in your house. In my case, I do it myself.
Even though I have a wife and a mother, I participate in the process of going to the supermarket and buying stuff, going to the veggie market and buying stuff because it keeps my finger on the pulse of food price inflation, which is what helped me trade.
Now, if you ask whoever's in charge of your kitchen stocking, they will tell you that edible oil prices have jumped. They will tell you that grain flour, condiments, spices, pulses have all appreciated, which means inflation, and I call inflation the misery index, is likely to rise, and as it rises further and further, you will see gold and silver also rising.
So this is a beautiful phase where the rally will be triggered by misery and I expect the misery to go higher. So by going long on gold and silver, you're betting that human happiness will be shorter and human misery will be longer.
If the United Nations Food and Agriculture Organisation is to be believed and I have no doubts that it's a credible source, I think food price inflation is likely to accelerate in the year 2021 and beyond.
What about stocks? I have been cautious on stocks and many of you have told me that I am absolutely wrong in being cautious. I have not been bearish. I have been cautious, so I'll share my views on that.
Will stop prices go up? Probably yes. Will Nifty go to 17,000? Probably yes. Who knows?
But look at the way things rise.
Now, there is this hypothesis of a super cycle in the metals space, which is all fair. Prices are rising, but is it demand expansion or is it rising because the dollar is losing its value in the commodity exchanges, which is where it is used as a globally invoicing currency.
If the dollar is weaker, commodity prices go higher. Very simple. That is my hypothesis for gold and silver going up anyway. So, yes, metal prices are rising more because the currency is losing its purchasing power.
But what happens when mean reversion occurs? Mean reversion is after a sustained period of rally, people want the prices to cool down and they stop buying. See what happened to frontline counters in the mental space.
Tata Steel between the 12th of May 2021 not so far ago, to 14th of May 2021 went from 1,248 to 1,120.
Hindalco from 11th of May 2021, went from 429 to 369 and mind you, this was the star performer in the aluminium space.
So what would have been a loss on one single lot of purchases on Tata Steel? Tata Steel would have given you a massive loss of Rs 108,800. Hindalco would have given you a steep loss of Rs 129,000.
Let me assure you, we as traders, when we basically make money, we tend to run away in Rs 3, 4, 5 of a profit but this was a bone crunching loss, and the market gave you that lost without a warning. In the case of Hindalco, it was a gap down open.
In the case of Tata Steel, I was watching my screen. The fall was like a waterfall. It didn't basically give you time or chance to get out of your long position, both for futures and options traders, Am I saying that the rally and bull market is over?
No, I am not saying that. I just told you. Will the Nifty go to 17,000? I don't know. I am telling you what is the quality of the earning that you are going to have from the equity and the commodity market?
If I were to say that by investing or trading in the equity markets, I am going to make 1,000 bucks, but with nail biting tension, and I could make Rs 750 or maybe Rs 800 by investing in gold and silver but I am peaceful. I don't need to have my eyes clued to the trading terminal.
I can still go out for a walk in the park, away from the terminal for an hour or so, and give my body some exercise knowing that it won't fall through the floor. I would choose the Rs 750 profit because I am sure gold and silver are getting to targets where I am expecting them, if not higher.
So I think the bull market in gold and silver is still on and I think human misery, by a way of inflation is just about to get higher, which means more bullishness in gold and silver, especially silver.
So keep holding on to your long term investments. I promised to update you as and when more data warrants such an update. My bullish view remains in place. I would think that end of December 2021 and end of December 2022 targets are conservative in nature and they will be achieved.
Thank you for your patience. Thank you for hearing me out. Before signing out, I would remind you to click like on this video if you liked what you saw. Subscribe to my YouTube channel if you haven't already done so. Click on the bell icon to receive instant alerts for fresh videos being put up out here.
In the comments section, love, hate, abuse, anything you wish to rain on me is always welcome. Help me reach out fellow like-minded traders by recommending my video to your family and friends.
Have a very, very profitable day ahead. Vijay Bhambwani signing on for now. Thank you for watching.
Warm regards,

Vijay L Bhambwani
Editor, Fast Profits Daily
Equitymaster Agora Research Private Limited (Research Analyst
Recent Articles