Bull Market in Silver is Still on
May 20, 2022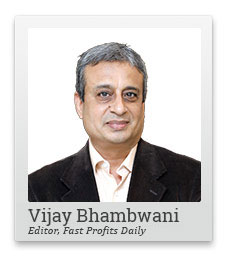 I've been very bullish on silver for a long time now. And I believe the price has a lot of upside.
But recently, silver has been on a decline.
Does this mean the bull market is done?
No.
And in this video, I'll show you why.
Hello friends. This is Vijay Bhambwani.
I'm a trader in this market since 1986. I am trying to help fellow traders make better decisions whether it is trading, whether it's investment, across multiple asset classes, whether it's interest rates, bonds, commodities, currencies, equities. I am attempting to help my viewers gain higher return on investment on their capital.
This particular video is about how the bull market in silver is still on. The reason why I am focusing only silver is because, of late, I have recorded three videos on gold, but none on specifically on silver.
Find Out: The Best Way to Tap into Rising Demand of Lithium in India
I have been advocating a bullish outlook on silver since the year 2020 and I have revised the target upwards, with a time delay of course, because circumstances beyond our control have been pushing the timeline, and as newer developments evolve, we need to shift the goal posts along with the data points.
Now I remember telling you that the bull market for silver is primarily based on a couple of expectations.
Number one is that electric vehicles will gain more and more popular popularity and their sales will go up year on year. I put a tick mark over there. I think the sale of electric vehicles is on track.
Of course, there have been some minor hiccups, like a few incidences of scooters catching fire, short circuiting, sub-standard equipment, enquiries being put in place about these issues, and worldwide also, the picture is a long expected lines. So that's not really a problem.
The other a bullish factor that I had put forth was that 5G, fifth generation mobile telephony technology, is not possible without having a little bit of silver in each and every handset in each and every switching system, and each and every cell tower. That's a few million ounces of silver, my friends. So 5G technology is a kind of rolling out a long expected lines and we here in India, can expect the rule out in late 2022 as well.
The number three part about silver was its use in electronics. That is only going to go up because we are seeing the post covid lockdowns being lifted everywhere and trade and commerce are basically coming back to life.
So silver as a component is likely to see higher consumption. There's no problem with that hypothesis.
Why has silver price retreated? And because I use a 360 degree worldview method of analysing financial markets, what are the expectations now?
The biggest consumer for industrial purposes of silver is China, and we all know that the Chinese are having severe lockdowns due to a resurgent covid, the kind of infection levels there, and it's off late, only slowly but surely, the Chinese are lifting restrictions on their domestic population as far as mobility in society is concerned.
So early days yet. It's going to be a little while before the Chinese open up but note how silver already made a bottom two or three days ago as soon as the news about the Chinese opening up their society came, and it's kind of making higher highs.
Off late, in percentage terms, silver has fallen more than gold. Gold, of course, is seeing safe haven buying. My hypothesis on gold in a separate video is perfectly on track. We are seeing gold price out perform on the other assets.
The number two thing about bullion and by bullion I mean in both gold and silver, is that on eight November 2022, you have the US elections, mid-term elections. Now the standard operating procedure ahead of every election, whether it is mid-term of full term election, general election, is the US dollar is made stronger, which automatically means it's like a see saw.
If the dollar is going up, silver and gold go down because the dollar is the invoicing currency in the international commodity markets. And if the currency is becoming stronger, the commodity price falls.
So till eight November 2022, I don't think you should expect a runaway rally in gold and silver, even if the stock markets were to fall. So we do expect allocation to shift out of equities partly into debt, partly into bullion. But due to the election circumstances, dollar will be kept up and gold and silver will therefore remain under pressure.
The other bullish aspect that I feel is that crypto currencies were eating into the market share the mind space and the safe haven buying habit that mankind has formed for over 3,000 years of buying into gold and silver.
So bullion was losing certain amount of market share to cryptocurrencies. And now that crypto currencies, our nose-diving bullion is back in the game. According to me, it never left. But all right, you can say that it's back in the game, to each his own, and silver, of course, will be back in their reckoning.
The other aspect is crude oil prices, which are now sticky. It's staying in triple digit marks although I am not very gung go and bullish on crude oil over the long run. I have made videos about how I debunk the super cycle theory of the grand supercycle theory of base metals.
I also don't subscribe to the supercycle theory in crude oil, but so far, because of war and geopolitical bargaining chip, being made out of both natural gas more importantly and crude oil less much so. But the fact that crude is sticking above 100 means alternate sources of energy, renewable sources of energy, especially solar, become a lot more viable.
How can you make solar? By using photovoltaic cells? What goes into photovoltaic cells? Silver. There you go again. So higher oil prices and gas prices will see silver gaining more and more industrial usage.
Therefore, post elections, midterm elections in the US on, 8th November 2022, I expect the bull market to begin in both silver and gold.
Last but not the least, let's see the chart of silver on your screen.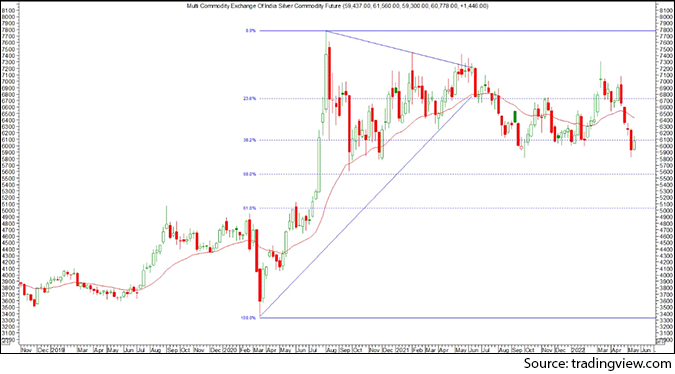 This is a long term chart. I have taken the bottom that silver made in the pandemic, lockdown lows. This was more of a nervousness coming into the market were every asset class got sold down and you can see silver plummeted as well.
Now, I've taken back low as a starting point and the high that silver made in India, the lifetime high silver made in India, as the end point. Now you're all female familiar with Fibonacci retracement. Now these are time tested methods of lending a certain amount of predictability to the price.
The primary retracement levels after a rally decline or after a decline, a corrective gain are called retracements. So the primary retracement levels that we Fibonacci followers look out for is 38.2% as a primary level, 50% is the second level, and the third and most important level, called the golden ratio, is 61.8%.
Unless and until silver gives up more than 61.8% of the gains that it made after the panic low of March to the rally to 77,000, I would not say that the bull market in silver is over.
Now as you can see on that chart, a 61.8% retracement means that silver will have to fall below 50,500 or to be on the safer side, let's take up a round number of Rs 50,000 per kilo. I am talking of price in Indian rupees per kilogram on the multi commodity exchange in India.
So unless the price really falls below Rs 50,000 a kilo and stays below that level, the bull is very much alive and kicking in silver. And if you are basically writing an obituary or writing off silver, you are doing so at your own peril.
It's a question of time. It's a matter of time. And like I said, the biggest factor pushing down commodity prices or more importantly bullion prices is the US midterm elections. Let that go and you'll see that silver and gold both are up back in the reckoning.
On this cheerful note, I bid goodbye to you not before reminding you to click like on this video if you liked what you saw. Subscribe to my YouTube channel if you haven't already down so. Click on the bell icon to receive instant alerts about fresh videos being put up out here.
Good, bad or ugly, I always welcome my viewers feedback in the comments section. Please help me reach out to fellow like-minded smart traders like yourselves by referring my video to your family and friends.
Thank you for your patience and sticking around in this video. Till we meet again in my next, this is Vijay Bhambwani signing off for now. Have a very, very profitable day, my friends. Bye.
Warm regards,

Vijay L Bhambwani
Editor, Fast Profits Daily
Equitymaster Agora Research Private Limited (Research Analyst)
Recent Articles