Of Lord Indra's Curse and Being Prepared for a Market Rebound
May 21, 2020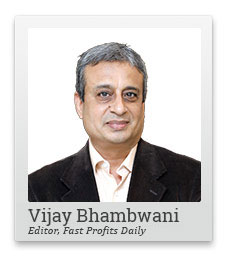 When I talk to my trader friends, many of them are depressed. They are out of the market and don't know when they will get back in.
I empathise with them. Things are looking gloomy.
But as I've said before, this state of affairs is not permanent. The market will recover. The more important question is, will you be ready for that when it happens?
Find out why this is so important in today's video.
Hi. This is Vijay Bhambwani and I'm recording this video still firmly placed in my house and obeying the lockdown instructions. I hope you're staying indoors but still watching the markets. Do not take your finger of the pulse of the markets.
I am receiving a lot of feedback from you guys and I love hearing from you. It keeps me going. These videos are for you and they are supposed to be tailor made as per your requests.
A lot of guys have asked me a
to why I begin my videos saying I hope you're monitoring the markets and do not lose the house of the markets. What is meant by it and what is the message that I am actually trying to drive home?
If you know me long enough, you would know I seldom say anything that is unnecessary and even this phrase do not take your eyes off the market Keep your finger on the pulse of the market has a great deal of behavioural finance connection to it.
Know More: Is India's Economic Recovery Sustainable?
Let me tell you a mythological story. Lord Indra, who is the king of the gods, the Hindu gods, one day got very angry with mankind and in a fit of rage actually cursed man and said, you will be denied of rainfall for 12 consecutive years.
That is a pretty tough curse to lay off on anybody at all. Without water, no hope. When mankind heard that there was going to be no rainfall, some well into depression. Some basically had what you call a sort of orgy of celebration before they died.
There was this one farmer who actually got down to work, started ploughing his fields, and when he was asked what he was doing, he said, I'm preparing to sow seeds into my fields.
The others, especially the village headmen and the other elders of the village, actually started questioning his sanity and they asked him if there was a deeper meaning in what he was doing. His answer shook everybody to the core.
This farmer said, 12 years is a pretty long time, and if I was to take my eyes off farming and I start to celebrate like you, or maybe become very morose and glum like you, chances are 12 years from now, when the rainfall is expected to return, I would have forgotten farming. In that case it will be tough for me to feed my wife and children once the rainfall actually commences. I know that I am sowing seeds into the earth which will yield no harvest. But I do not want to fall out of touch with farming.
Lord Indra's wife was touched by this farmer sincerity. Being a wife, she could not question her husband's authority and yet at the same time, she was intent upon helping mankind. So she asked Lord Indra whether he would forget the art of making rain if we did not make rain for 12 long years.
Lord Indra was a little taken aback and is pride was hurt. He replied back, I am the king of the gods and I never forget. So his wife kind of goaded him as women can. Why don't you see if you're still in touch? Are you still in practise?
Lo and behold, Lord Indra made it rain! Guess what? The only guy who was prepared for rain was the farmer who didn't want to get out of touch with farming. Since he was the only guy with sown seeds into his land, his farm, he was the only guy who reap the harvest.
Similarly, right now, many of my friends are fairly depressed. After 20th April, when crude oil prices went into negative, many brokers have stopped transactions in in crude oil, some even in natural gas. There are many restrictions. SEBI has raised margins and there are many entry barriers to training.
A lot of people are feeling disheartened and have suddenly stopped trading the markets as eagerly as they used to barely two months ago. In my humble opinion, that's a mistake.
This state of affairs is not permanent. Sure enough, in a short while, maybe weeks, maybe a month, maybe two months. Who knows markets will come back to normal. I'll tell you a reason why if you go back in time and think of 2014, hen the ISIS stormed into the international geopolitical stage, beheading people in front of cameras and causing a flutter every time there was some similar video clip on television, the markets would fall.
And guess what? After a couple of weeks, the markets kind of brushed all the negativity away, and the ISIS failed to have an impact on equity or any other market indices
Either we will find a cure for Corona or the markets will simply brush it away and then if we're out of touch with the market, would you know what to do? This is a question that you need to ask yourself.
Which is why I always begin by saying, I hope you're watching the markets and keeping your finger on the pulse of the markets. Stay alert. It will soon be time to start making money all over again, just as we used to, provided you stay in touch.
Before a sign off from this video, let me remind you to click like on this video if you agree with what I'm saying. In the comments section, do let me know what you think of this video and what you would want me to record next.
Do not forget to recommend this video to your family and friends and help me spread the cult of knowledge based investments and trades. Also, Equitymaster is on telegram with the handle Equitymaster official. Do join me there. I keep posting 2 to 3 posts every day Monday to Friday and I would love it if you could read my posts.
Please take very good care of yourself, your investments, your trades, your family. Stay happy. Stay indoors. We'll meet again in my next video.
Vijay Bhambwani signing off for now. Thank you.
Stay safe!
Warm regards,

Vijay L Bhambwani
Editor, Fast Profits Daily
Equitymaster Agora Research Private Limited (Research Analyst)
Recent Articles