Will the PSB Rally Continue?
May 25, 2021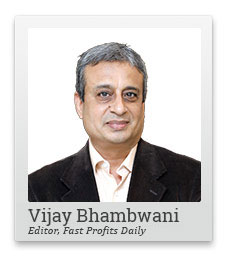 PSU banks are the flavour of the season in the stock market.
Every trader seems to be excited by the price action.
But some are sceptical. Can these stocks keep going up? What is driving them higher?
Nobody wants to lose out on an easy money-making opportunity but at the same time it's important to know if this rally still has legs.
In this video, I'll share my view on the huge rally in PSU banking stocks and if it will sustain.
Watch the video and let me know your views.
Hello friends. How are you doing out there? I hope the market is treating you well and you're able to profit from the moves in the markets.
Now, in this video, I want to touch upon a critical aspect of the market, which I'm sure is interesting every equity trader out there in the market as of now.
You see, the market normally tends to function with the theory of what I call the flavour of the season. There is a particular sector which gains a lot of a favour with trading and investing community and slowly but surely, thanks to the electronic communication systems which result in very speedy spread of information, the news or the view rather, tends to spread and therefore, that particular sector becomes the flavour of the season.
Now played, we have seen the public sector banks or what is known as PSBs have become the flavour of the season.
Get Details: We are Bullish on These 3 Little-known Stocks
Now, in this video, I want to talk about how and why it is the flavour of the season and what should you do when basically, when you're holding any kind of long position on these banks, public sector bank stocks, what would be your early warning indicator that this is particularly coming under threat, if at all, if at all.
First of all, why is there a rally in the public sector banking space? There are rumours, I repeat the word rumour, are there are rumours that public sector banks might see some amount of divestment of government stake.
It could be outright sale or maybe even part unloading of the government's stake. Which is why these shares are running up.
Number two, the recent development that the RBI has basically given it's a view that non-performing assets and defaulting loans, outstanding loans, should be recovered and no further moratoriums be given due to the second wave of the covid pandemic and to a certain degree, even the promoter's guarantees should be basically made accountable in the recovery process.
So the NPA problem which was a long standing sore point in all banks, whether it is PSU or private sector banks, is looking like there might be some amount of a relief in the coming months if not coming quarters, maybe at the most.
So this is another expectation that is basically taking PSB stock prices higher.
Number three, like I told you in my earlier videos, which I have made on why I favour PSU stocks, public sector undertakings, PSBs are a part of the PSUs, why do I favour public sector undertakings, because of the LIC holds a lot of these shares.
I would not be off the mark if I say that it's a shareholder of significant value in many public sector undertakings and as and when the public issue of the Life Insurance Corporation of India is a closer and it is a mega issue, if the street numbers which are being thrown around rather it's not confirmed fact which have been thrown around is the issue could be of the size of 80,000 to 1 lakh crores.
So such a giant issue, basically the investment book of the will look extremely, extremely profitable if a lot of these PSU stocks are higher. that is another plus point about the PSBs.
Of course, then there is the ancillary factor of the RBI writing out a cheque a little over 99,000 crores in its surplus to the government of India, which appeared in the news items last week. This resulted in a relief rally in the banking space because liquidity, which was supposedly rumoured to be under crunch, will now be eased somewhat.
So by all means, I would favour holding on too long positions as traders in the public sector banks.
Now these banks, some of them which are in the limelight, are due to the size of the bank itself. SBI is a front running bank because it's, whether you like it or not, it's more than 60% of all banking weather banking deposits, weather loan books, whether assets etcetera, SBI is very simply the £600 gorilla or the elephant in the banking space. It is two thirds of the entire banking in India. So this is a frontline counter.
Then there are other counters in which there is a regular buzz within the public sector banks. There is the Punjab National Bank. There is Bank of Baroda, which is doing fairly well. Canara Bank is invariably witnessing MWPL hitting its limit up, and no fresh positions are being allowed because the futures position is absolutely saturated.
Now this is where traders are basically collectively focusing their energy, focusing their attention, and creating long positions.
Very simply put, if you were to check their MWPL over a 15-20 day time, period, you will know exactly what I mean. Now the chart on your screen of the Nifty public sector bank.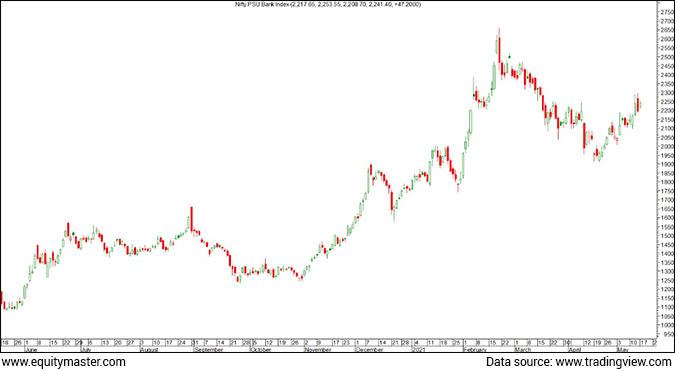 Now, as long as the chart showing a higher tops, higher bottoms formation, I think you should not have anything to worry about over here.
The recent support which has been created by a peak here is at 2,250 or levels. As long as the public sector bank index is trading above this mark, I think you should not have too much to worry about.
Yes, there will be ordinary gyrations or up and down in share prices. On some days, you will find many of these PSB stocks going into negative zone. Some days they will be in positive zone. What you have to see is net-net. What is the wave favouring? Is the wave upwards or is it downward? So far, so good. The wave appears to be favouring the bulls.
So I think the PSBs still have some legs, some strength left to go on the upside and traders majors hold on to their long positions. The usual caveats here. You must hold your leveraged positions with stop losses so as to protect your capital, so as to not suffer any damage to your base capital itself. So I think happy times for PSB stockholders. Ride the wave. Be happy about it as long as the prices are sustaining.
With this, I bid goodbye to you, not before reminding you to like my YouTube channel. If you haven't already done so. Click on the bell icon to receive alerts about fresh videos being put up out here.
In the comments section, do let me know what you think about this video. Good, bad, ugly. All feedback is welcome and help me to reach like-minded investors and traders by referring my video to your family and friends. Do take very good care of yourself, your health, your family, your investments, and trades.
I wish you have a very profitable day ahead. Vijay Bhambwani signing off for now. Thank you for watching.
Bye.
Warm regards,

Vijay L Bhambwani
Editor, Fast Profits Daily
Equitymaster Agora Research Private Limited (Research Analyst
Recent Articles