What Will Happen if India Monetised Its Deficit?
Jun 1, 2020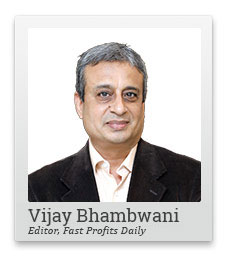 The pink papers are talking about it. The government may have plans to monetise a part of its deficit.
I worry about this and I think you should keep a close watch on this. It will affect you.
In today's video, I show you how.
Hi, this Vijay Bhambwani here and I am still recording this video firmly placed in my residence due to the Corona lock down as you would have made out from the background noises of all the birds chirping and lovely parrots et cetera, which happen to inhibit the vicinity.
I hope you're staying indoors, staying safe but still keeping a pulse of the market, your finger on the pulse of the market and also monitoring what's happening in the public domain.
Recently while reading the pink newspaper, the pink newspapers are those papers which are basically printed on pink newsprint and they invariably carry nothing more than business news, very little else. So recently a leading pink newspaper carried a news article which caught my attention and since by now you're familiar with how I think as compared to what I think, I thought I should record this video for you.
What the newspaper said was that the fiscal deficit being where it is, the hardships that people are suffering due to the Corona pandemic and the poor tax collections as a direct fallout, the government is thinking of monetising the deficit.
Not only that but the opposition parties, which is the United Progressive Alliance, including the Congress Party, there were also statements from the erstwhile finance minister, Mr P. Chidambaram, and a couple of other guys who seem to agree that monetising the fiscal deficit, as per this media report, seems to be the way to go forward.
What does this very complicated, jargonised technical monetising the fiscal deficit actually mean?
JUST IN: Top Stock for 2021 Revealed Here
If you were to basically go through the article with great detail and then know your classroom economics, you would know that monetising the deficit would mean one of two things. Either you commission the printing presses to run over time and print currency notes and by currency notes, as you have seen from my past videos I'm referring to unbanked currency notes. Unbacked currency notes is when the government does not have the requisite amount of gold, but it goes ahead and prints currency.
Any which way you are basically either printing unbacked currency notes and/or which means, in addition to printing currency notes, you might just also simultaneously buy back bonds from the banks. The RBI will buy back bonds from the banks and release money which is invested by the banks into these bonds.
Why do these banks buy RBI bonds? Because, you know, in India, the banks are supposed to keep a certain amount of capital with the RBI as CRR cash reserve ratio and SLR statutory liquidity ratio. Now, since the banks are to keep money with the RBI, part of it is cash, part of it is bonds and the more they have bonds lying with the RBI, less they can lend to the business houses.
So the RBI, in its endeavour to release money of the banks, is planning to print currency as well as buy bonds from the banks. What will be the near term and medium and far term impact for you and me?
Frankly speaking, that's all that I am worried about. How does it impact me? How does it impact my viewers and the people whose minds I influence?
In the absolute near term, if bond buying is a part of the entire package and not just printing unbacked currency, if bond buying is part of the package, your bond prices will rise, which means born yields might compress a little bit.
Is the recent week's sign of benchmark bond yields going below the 6% mark, a sign of the RBI's bond buying? Maybe. I am keeping my mind absolutely open. Maybe the RBI has already started mopping up bonds from the markets, but let's keep an open mind out there.
So in the near term, bond prices will rise, yields will fall, there will be volatility and when the RBI ceases it's buying, bond prices might fall again, which means the yields might just go up a little bit.
If you noticed what happened on Friday, the 29th of May, bond yields, which had fallen below the 6% mark, actually edged higher to a 6.1% mark. That basically tells me that somebody who was buying bonds has now basically backed off a little.
The other thing that will happen is by printing unbacked currency will trigger some amount of inflation. That, unfortunately, is a given. When you essentially have a demand and supply equation where supply of any commodity is now suddenly escalating, in this case, currency notes, as a commodity, their supply is about to go up, the value of that commodity tends to weaken, which means the purchasing power of the rupee might just contract a little bit.
Which means you're a fruits, vegetables and other essentials, unfortunately, might just get a little more expensive and invariably, when any kind of stimulus packages where monetisation of the deficit is resorted to, the national currency of that country tends to weaken, which means the USDINR might just go up a little and as you already heard from me in the past, I have always expressed concerns that USDINR rising would unfortunately mean that we will start to import inflation.
Any and everything that we import will now become more expensive. So your cell phones, your electronic items, your flat screen TVs, your cars, your sneakers, your imported clothes, etc all might just wind up costing you more.
And the biggest negative news of all is fossil fuels, which is natural gas and crude oil, which formed two thirds of our entire import bill, will now suddenly cost us a lot more if the currency was to fall a little bit, the USDINR was to rise and rupee was to fall against the dollar, which means that they would again be a second round of inflation.
So I think you and I need to brace up that our returns on fixed income instruments which means bonds, fixed deposits our mutual funds, debt funds, insurance policies etc, your returns are likely to fall and inflation, on the other hand, is likely to go up.
Net net, not a happy situation. I'm terribly sorry to be the bearer of this bad news but hey, I thought as somebody who watches the market, I would rather bring you bad news so you can prepare for it rather than leave you uninformed and not do my part.
On this sombre note, I'll bit goodbye but not before reminding you to click like on this video if you're watching it on YouTube. In the comments section, do let me know what you think about this video and what other videos you would want me to record in the future. Do not forget to share this video with your family and friends and help me spread the culture of knowledge-based investments and trading.
Vijay Bhambwani signing off for now, till we meet again in my next video. Do take very good care of yourself, your family, and your investments.
Thank you for watching.
Stay safe!
Warm regards,

Vijay L Bhambwani
Editor, Fast Profits Daily
Equitymaster Agora Research Private Limited (Research Analyst)
Recent Articles