Our Next Trade
Jun 3, 2021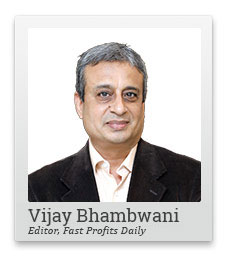 Many of my subscribers have been asking me why I'm not recommending any new trade.
Also, if I've decided on my next trade, then when am I going to recommend it?
I completely understand. I assure you, I have very good reasons for not having made a recommendation recently.
As I have said in my past videos, I'm waiting for a plum price to make the recommendation so as to maximise profits.
But have I narrowed down which trade would be our next?
Yes, I have!
Find out in this video.
And do let me know what you think. I love to hear from you.
Hey everybody, this is Vijay Bhambwani and I hope you're doing very well in the markets. The one question that I'm asked by my Weekly Cash Alert subscribers is why aren't you recommending any new trade and if you are going to recommend a new trade, when?
Now, as is my thought process, I would not just want to recommend the trade and thereby give you a fish, but I also sincerely believe that I should teach my friends how to fish, so that you know the method behind the madness, the logic that goes behind the recommendation.
So I was waiting for a couple of things and two of them actually transpired yesterday. Now, before I proceed, do remember when I say yesterday, today, tomorrow, that I am recording this video on a Wednesday and it will be uploaded to Equitymaster's YouTube channel on Thursday, post production, post editing, etcetera.
RESPONSE PENDING: Join Brijesh Bhatia's Telegram Channel for FREE
So Tuesday, yesterday, there was the OPEC meeting. It's called the OPEC plus because OPEC and non OPEC members like Russia take part in the meeting.
So it was a historic meeting because it ended in less than 30 minutes and OPEC merely announced what we as oil traders were anticipating, but it was giving some and hiding some.
So you see, OPEC has still cut output from its peak to the extent of roughly 5.5 million barrels a day. We were expecting a minimum of one million barrels of output hike per day. OPEC did not really raise one million barrels a day, but they went to 841,000 barrels a day, which means the output hike was smaller than expected.
Naturally, crude oil went up, which you saw yesterday. At one point in time, on the MCX, measured in Indian rupees per barrel, you saw triple digit gains in WTI crude.
The meeting that was going on, which is equally important as the OPEC meet, was the Iranian negotiation with the US administration regarding easing of sanctions on Iran.
Now this deal was signed in 2015. It's called JCPOA and it allows Iran certain amount of leeway in terms of a nuclear power, uranium enrichment, etcetera, and for complying with these US based and international based restrictions, Iran was to be allowed a certain amount of quota to sell their oil in the international market, not just oil, gas also. Iran, by the way, has the fourth largest reserves of high quality natural gas which it sells in the market.
So the erstwhile president Donald Trump, came and revoked this arrangement, and Iran is now facing sanctions on how much oil and gas can sell in the market.
Iran is having its own elections next month. So they were in a kind of a hurry to wind up these talks, arrive at some kind of a conclusion, and start selling crude oil in the market and raise revenues.
But the meeting was inconclusive and therefore, the situation now is that you will have to wait after the elections in Iran, therefore no treaty before August 2021. So we don't know when Iranian oil will come into the market and therefore oil prices jumped.
This was the second reason why oil prices jumped. It also happened to be a reason why gas prices jumped. They almost went to 4% on an intraday basis last evening before settling lower.
Now OPEC has raised output in the month of May and June, announced in the earlier meeting, but in yesterday's meeting, which is Tuesday, and you are watching this video on Thursday remember, OPEC has announced an output hike of 841,000 barrels only for July.
They have not given us any kind of a guidance, forward guidance beyond July. The reason is OPEC wants to monitor what happens in Iran in the elections. Is there is going to be continuity of the powers that be in Iran, or is there going to be a hardliner or maybe more soft line party coming to power? So we have no kind of a clue as to what OPEC will do beyond July starting August.
Number two, and this is equally important as you would have read in my blueprint, in my cash blueprint. It is a 16 or 18 page PDF book, which is given to all Weekly Cash Alert subscribers for free. I have divided the calendar year into 12 compartments, and I've told you why, during which part of the year, which commodity is best to trade and that too, in which direction.
So as you all know, if you gone through the Weekly Cash Blueprint or the Cash Calendar, you will know that starting end of June right up to September, last year, as a matter of fact, the hurricane season which starts in the end of June and goes till September, actually extended all the way up to November because hurricane season in the American coast was the highest in 119 years.
So end of June onwards you are going to see hurricane season when typically oil and gas prices tend to rise.
So for an oil trader and for that matter, even a gas trader, you're going to have geopolitics. You can have OPEC plus. You are going to have the JCPOA Iranian deal with the US coming up in August. You're going to have to face some uncertainties of the weather and mind you, we have no way, in spite of all the technological advances made by mankind, we have no way of knowing when hurricane or a tornado or even a squall can come and make a landfall in which part of the coast of America.
So these are times of uncertainty. We want a certain degree, even a probability of success, before entering into a trade. Now oil is, relatively speaking, a little more uncertain. Therefore, in all probability, our next trade in Weekly Cash Alert will be in gas.
Now for those of you who are watching this video, my friends, who are non-subscribers of the paid services, you still don't need to feel left out. I'm not changing my mind. I am still seeking short sales both on crude and natural gas, and I reiterate what I have said earlier. I am waiting for plum prices.
Now there is a question that is asked to me both in the comments section in the video here and in my social media direct messages etc, what constitutes my plum price. In all fairness, please understand that in the free domain, the only leeway Equitymaster's compliance team leaves me is giving you a direction.
If it all you really want levels then you should be subscribing to the services there. Contact Equitymaster directly and make a sure you subscribe before you ask for levels. It's not fair on anyone of us involved here to be able to give trading calls in the public domain. It's against compliance norms.
So when do we go for the next trade?
Number one, we want a certain degree of workable probability of success and the fact that OPEC is meeting again on 24th of June. Now, this is the second time it's meeting in the same calendar month, which is going to keep the markets on their toes.
So we will be treading carefully, extremely carefully, as a matter of fact but at the same time, I assure you, I am looking out for opportunities on your behalf to exploit at all times.
So do keep watching your cell phones. You might be receiving that familiar notification on your Equitymaster app or your SMS, and even email alerts about the next trade possible.
On this optimistic note, I bid goodbye to you in this video not before reminding you to click on the like button if you agree with what you saw. Subscribe to my YouTube channel, if you haven't already done so. Click on the bell icon to receive instant alerts about fresh videos being put up out here.
In the comments section, love, hate, positive, negative, all feedback is welcome and help me reach out to like-minded investors and traders by referring my video to your family and friends.
I wish you have a very, very profitable day ahead my friends. Thank you for your patience and watching my video. Do take very good care of yourself, your health, your family and friends, your investments, and trades.
Vijay Bhambwani signing off for now. Thank you for watching.
Warm regards,

Vijay L Bhambwani
Editor, Fast Profits Daily
Equitymaster Agora Research Private Limited (Research Analyst
Recent Articles