The Best Safe Investment for Senior Citizens
Jun 4, 2020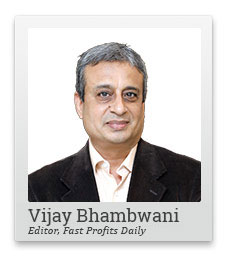 I have mentioned in many of my previous videos that people living on fixed income are in for a tough year.
We are seeing that play out now with near record low interest rates. Senior citizens are understandably concerned, as are traders.
All successful traders keep significant amounts of their profits in bonds and fixed deposits. With interest rates so low, they are a worried lot.
Well, there is one investment which is not only completely safe but also pays a decent amount of interest. It comes with certain tax advantages too.
Find out what it is in this video.
This is Vijay Bhambwani and I am recording this video from my residence on the day the cyclone Nisarga has already arrived and hit the shores of Mumbai. So pardon me if you can hear a lot of noise in the background that, as you can hear, is the gusts of wind trashing itself against my balcony sliding doors. So I'll try to compensate by keeping my voice loud enough and I hope I can get you this message across.
Now I have received a lot of feedback from the viewers of my videos, and I absolutely love hearing from you. These videos are for you, and I am very conscious of the fact that I must actually try and attempt to have as much satisfaction, delivered as far as possible from these efforts.
I have made a video a couple of months ago on Equitymaster about how the secret of very successful traders, yes, I am saying successful traders, is that they allocate whole lot of money to fixed income.
The idea is very simple, actually, its simplicity in itself. You allocate enough money to fixed income securities that would take care of your home and hearth expenses so you can keep the home fires burning from the interest income alone. There, is an old saying that the secret to wealth is having so much by way of interest income that you never have to touch the principal all your life.
Now the comfort level of a trader who does not have to sell off or square up his positions because it's the first of the month and he has to pay the electricity bill or the mobile bills or the children's school fees, cannot be expressed in plain speak.
Imagine interest income is running your house and you're hanging in there in the position because your conviction level is absolutely high. So you need a lot of interest income and I have also made umpteen number of videos for you saying that come the year 2020, the year is going to be absolutely challenging for people who are living off on solid, bankable and safe avenues for reasonably good returns.
Today I am going to bring with I'm going to bring to you one such avenue, which is likely to help my senior citizen viewers the most. We are now talking about these senior citizens saving schemes with the post office. Now before you turn your nose up in, say, What? Post office? Relax. Post offices are not what they used to be. The locales, the branches itself have undergone a whole lot of upgrades.
Only Till 11:59PM, Tomorrow: Access Details of Our Top Stock Pick for 2021
Do you know the post office actually offers you bank accounts and net banking? Anything that you can do with any public sector undertaking banks, a government banks, online, you can do the same with the post office. Guess what? The interest rates are slightly higher. Guest what? The post office is run by the central government, whereas your government owned so called government owned bank is a public limited company under the Companies Act 1956. The liability of the government in a PSU bank is limited to its shareholding, whereas in the post office, the central government is looking after your money.
Still got your nose up. Go ahead, be my guest. Right, so let's now go to the post office senior citizens savings scheme. This scheme is for the people who are looking for the safety of their capital. Remember the central government here and looking and above average returns on investments. In this case as we speak as I'm recording this video, the interest rate is 7.4% per annum. Sure it's taxable, but there is a tax shelter. I'll come to it later.
Now how much can you actually apply? Now you can start with 1,000 and go up in multiples of 1,000 but you are limited to no more than Rs 15 lakh. It's a one time deposit.
When and how often is the interest? When you make your deposit for the first time, the interest will be paid as on 31st March, 30th September, and 31st December in the first calendar year. There after it's going to be quarterly. End of March, end of June, end of September, and end of December.
Are you eligible to apply for the senior citizen saving schemes? Yes. If you're an ordinary resident Indian age of 60 years or above, go right ahead. Open a senior citizen savings account. On the other hand, if you are above the age of 55 but less than the age of 60 years, who has retired due to superannuation or has been out of a job due to a voluntary retirement scheme, you can also open an account even though you're not exactly 60, provided you open this account winning one month of taking your VRS.
For the retired personnel of defence forces, our soldiers. We are very proud of you for safeguarding our borders and ensuring our way of life ladies and gentlemen. Therefore you will be allowed and extra liberty an extra concession. You can open a senior citizens savings account once you attained the age of 50 years.
The maturity period of the scheme is five years. A person can have more than one account of the senior citizen saving schemes in different, different post offices. That's not a problem, but the condition being that the sum total of all your accounts put together, it must not exceed Rs 15 lakh. That is the limit. Remember, all your accounts are now linked to your Aadhaar and PAN number, so you can't really hoodwink the post office in this department.
Can you have a joint account with your spouse, your legal heir or anyone else, for that matter? Yes, of course you can. How can you open your account? If you're depositing up to one lakh or less, even cash will do. The minute you cross the threshold of Rs 1 lakh, it has to be by cheque or by digital transfer. In case you're giving a cheque, the date on which the cheque is cleared into the account will be seen to be the account opening date. You are also allowed to appoint a nominee to this senior citizen account.
Many of you might be worried about the fact that you could be moving house or even moving cities, for that matter. Worry not. You can transfer this senior citizens savings scheme account from one post office to the other in whichever city you're moving to.
In case of joint accounts, the modus operandi or the operation is very simple. It is the first and the primary holder who will be deemed to be the title holder of the account. Therefore, to that extent you will be receiving after the first year of opening the account interest every quarter, which is at the end of early calendar quarter.
If you wish your interest from the senior citizen saving schemes from the post office can be electronically transferred to a savings or current account of your choice across any bank that you wish. You know what? Nowadays, a lot of people have standing instructions and ECS electronic clearing system, auto debit instructions for paying your landline bills, your electricity bills and a whole lot of other utility services.
So if you already mapped your bills to a saving account, not to worry, you can simply give a standing instruction in your senior citizens savings scheme to transfer the interest amount at the end of every quarter to the savings account of your choice.
What if you actually need money before the maturity? If it all you closing the account prematurely with within one year of opening it, you will receive no interest at all but remember, I said you will receive interest every quarter. In case any interest has already been paid to you, that will be recovered back from you.
If it all you're closing your senior citizen savings accounts after one year, but before two years you will have to pay amount equivalent to 1.5% of the deposit, as premature withdrawal penalties. If you're withdrawing after having kept this money for more than two years but a less than five years, then 1% of the deposit amount will be deducted as premature withdrawal penalty.
At the end of five years, which is the maturity period you can extend this senior citizen savings scheme for a further period for three years within one year of the maturity by giving an application form in the prescribed format. You can get this form from the post office itself.
TDS will be deducted at source if the interests is exceeding Rs 50,000 for the financial year. Remember, in the budget of 2018 the then finance minister had raised the tax free threshold of interest from bank accounts from the then existing Rs 10,000 for financial year to Rs 50,000 per financial year. So the good news is that there will be no TDS as long as the annual interest income is up to 50,000.
Now for the crowning glory. You are entitled to deduction and benefit under section 80C of the income tax as 1961 which means that you will receive a tax rebate should you have a taxable income from other sources. For even this source, for that matter under section 80C.
So let me recap the benefits for you my dear ladies and gentlemen falling under the senior citizenship category. I'll be joining you very soon. I'm 54. Look at my white hair. In six years time, I'm gonna be entitled for opening an account in the senior citizen savings schemes. So let me recap the benefits.
You are now giving money to the central government of India not to a company incorporated under the Companies Act 1956 which is what your PSU banks are. Instead of the usual 5% interest that you're receiving from fixed deposits or maybe even lower, you are now receiving 7.4% interest. You are going to receive this interest at the end of every quarter. There is no TDS up to Rs 50,000 you are going to get section 80 see benefits under the Income Tax Act 1961. This is more two calls double maza. You're actually receiving two benefits for the price of one, capital protection by the central government and above average interest.
When I sound too cool, unfazed and unworried about the problems that I mentioned to you of are falling interest rates about falling yields and challenges, I'm not just giving you my problems. I'm not just telling you the problems exist. I am telling you, because the solutions exist also.
This is the first in the series of solutions that I am providing to you. I promise you there are more to come. Vijay Bhambwani signing off for now from this video till we meet again. Do let me know what you think of this video in the comments section and what else do you want me to record in the next video.
Do not forget to click like on this video if you're watching this on YouTube. Do not also forget to share this video with your family and friends and help me spread the cult of knowledge based investments. Thank you very much. I hope you're staying safe. Goodbye for now.
Stay safe!
Warm regards,

Vijay L Bhambwani
Editor, Fast Profits Daily
Equitymaster Agora Research Private Limited (Research Analyst)
Recent Articles