New Life High For Nifty?
Jun 7, 2021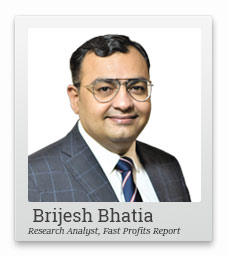 The Indian stock market is having a great time. We're hitting new highs every week.
Traders are making good profits on the long side.
Will this rally continue? Will the Nifty breach 16,000 and go higher?
In this video, I share my view on the Nifty. I'll also show you what you need to look for if you're long on the market today.
Watch the video and let me know what you think. I love to hear from you.
There is bullish momentum rollovers from May to June and now we are very at all-time high. The straight third consecutive weeks where the Nifty has ended on a positive note and we are at 52-week high closing.
So, if you look at the markets, yes, we are very bullish and if you have seen our previous reports, we have been indicating 16,000 is on the cards.
So if you remember last week on Nifty we have highlighted that bulls are in control and are heading for 16,000 levels.
We are at 15,700 levels, just shy, 300 points, or probably a couple of percent away from the new all-time high round 16,000.
RSVP REQUIRED: Your Invitation to Attend the Super Smallcaps Summit
So does the chart say now for the Nifty?
Well let's look at the first chart but before that, I would show what the seasonality analysis for June of the Nifty has been.
June has been the month of bulls. In the last 25 years since 1996, out of 25 years, 16 have been on the bulls side, which means that 16 years of June has been on a positive close verses around nine on a negative close.
Still the bulls are in control over here and if I look at the average percentage gain, it's around one and a half percent.
So a huge move I would say on a percentage term, it's nearly 1.5% positive close. I am not talking about the intraday volatility, but yes, or probably during the month, where markets go higher and lower, but the close on close, it's 1.5%.
Now let's look at the chart over here, the daily chart of the Nifty.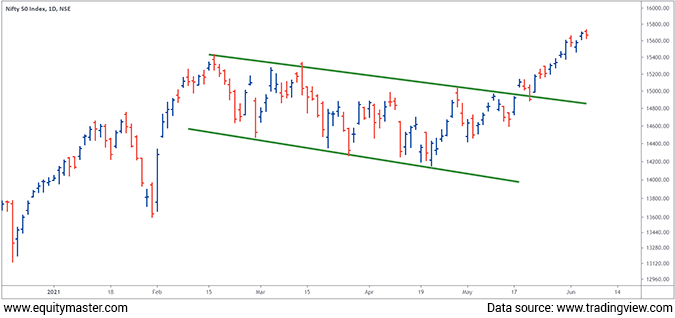 If you look at the chart, we have been highlighting this for last couple of weeks, the falling channel and the index last week broke out of the falling channel and we are heading for 16,000 when the channel is broken and we are here now. We think that 16,000 can be on cards.
If we look at the equality move right from the January lows towards the highs, the rally on the left hand side of your screen, that was somewhere on 1,850-1,880 points move.
Even if I take 1,850 points from the recent lows of somewhere around 14,300, if I just add on 1,850 points, we are heading for 16,000.
So that was where we highlighted that 16,000 can be on cards on the equality move and one should speak long on the markets.
Well, the talk of the town right now is the USDINR. In the month of June we have seen huge appreciation from Rupee against the dollar, where it has corrected nearly Rs 1.5-1.8 from the move of April to May and it's been at a crucial support zone.
So let's look at the weekly chart over here, the USDINR spot chart.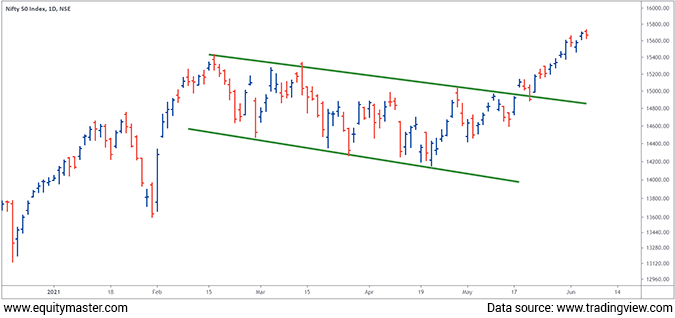 It has been trading in a rising channel formation. Plus, if you look at the multiple supports over here, it's placed at around 72.2-72.1. If you look at the last week's momentum, it's showing a sign of reversal right at the support zone.
So if 72 is not breached, we think that this time, the dollar will take a lead, against the rupee and we might see back toward Rs 73.5-74 against the dollar. So this will be a very, very crucial level. 72 will play a key role. Once 72 is breached, the rupee will appreciate.
I don't believe that the rupee appreciating is positive for Indian equities. I don't believe that but sentiment plays that. So if that 72 level is breached, it will be very, very crucial for Nifty to head higher and it will be very, very crucial for Indian equity markets to trend bullish.
So do let me know what you think. Will 72 break or not on the USDINR? What do you think? Do post your comments into the comments section. What's your view on the USDINR and do you think it will break 72 or not?
But just a conclusion. Hold on to your longs in the Nifty for 16,000, probably 16,160 is the level which we are eyeing as per the liquidity move and 72 will be very, very crucial to look out at for on the USDINR.
So signing off and do not forget comment and like on a video in case you think that these videos are helping you.
Signing off. Brijesh Bhatia. Thank you.
Warm regards,

Brijesh Bhatia
Research Analyst, Fast Profit Report
Equitymaster Agora Research Private Limited (Research Analyst)
Recent Articles