Hotel Stocks Will Reward Investors
Jun 8, 2021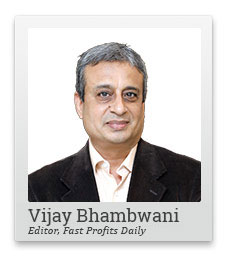 Today, I want to talk to you about a sector which holds great promise as an investment for long-term investors.
Yes, an investment. Today, I'm talking about long-term investing and not trading.
You see, people are bored of being stuck at home due to corona. The first thing people are going to do once corona is done and dusted, is to go out for holidays.
There's a lot of potential in these stocks.
But are they clear buys at these prices?
Find out...
Hi, this is Vijay Bhambwani and in this video, I want to talk to you about a sector which holds a great deal of promise as an investment for long-term investors.
Yes, that's right for a change, I am talking about investments and not trading and the operative word here is long term.
I will also because I believe in a 360 degree worldview, share the rationale behind the logic that I am a putting forth for investing in this sector.
You see, first of all, the lay man, the average investor or an average Indian, has some pretty fixed ideas about clubs.
FREE REPLAY: Discover What Richa Revealed in Her Smallcaps Summit
When you talk about a club, the hardwired picture that is in our brains is, you know, Helen or Padma Khanna dancing with a gown with a big slit on the leg and that's actually cabaret rather than any regular folk dance or something and even those don't really take place in the club.
You have Pran smoking while playing cards and in the card room, etcetera and villainous, treacherous things happening in the clubs but the reality is far removed.
If you come to an average club in Mumbai, I'm only wanna talk about Mumbai because that's where I stay and particularly South Mumbai, that's where I stay. So when we go to clubs here, I am a member of two clubs, when we go to clubs here, the advantage is that you're meeting with people who paid a very high entry barrier, by way of membership fees to become a member of this club.
So you're dealing with people, you are interacting with people who have money and who deploy it in the market. It's not just talk. These are actual doors of deeds. So you get to learn a lot.
You talk a lot about money in the pool side, in the bar room, in the diner, in the sauna and steam bath, in the gym and that's an atmosphere which helps you understand money better and some of my early investment lessons, I learned in my club from my dad's friends or my friends, or even the fathers of my childhood friends.
So I do remember, it was 1990 and the first Gulf War had started. Late President Saddam Hussein had just entered Kuwait with his tanks, and he planned to annex Kuwait for obviously it's oil.
Now, the Americans entered into the scene and they started laser bombing Iraq, and two things emerged. Number one, cable news network CNN basically brought home into our idiot boxes or television live coverage of a war.
This was an electrifying experience, and after that, television has never been the same. You have home desktop boxes and cable television network, which has become extremely, extremely close knit with our lives.
And the other thing that I learned was during this Gulf War currencies of most Middle East, North African countries started collapsing obviously. The markets do not like any kind of uncertainty, and war is the most destructive uncertainty that man can be confronted with.
Now, this is where an average investor gets separated from a savvy investor. So I was sitting at the pool side. We just had our morning swim. We'd ordered a breakfast, and all of us were enjoying our breakfast when somebody just brought up the topic. Hey, what's happening in the gulf. So whereas General Norman Schwarzkopf right now? He was the commander in chief of the American forces.
So somebody was talking about how it would be a matter of days before the Americans simply overran Iraq and Saddam Hussein would be forced to evict Kuwait. Remember, it was 1990. I was barely 24 years old and it was my fourth year in the market because I came to the markets in 1986. Somebody just asked the question. So where is the Saudi Riyal quoting?
Another gentleman answered the question. So the first guy simply let out a whistle, 'Wow that low, huh? I think it should be bought.'
Now I looked up and the guy saw the confused look in my face in my eyes and he said, listen, son, if you really want to make money you should buy when an average investor is absolutely fearful.
My guess is if anybody were to buy the Saudi Riyal now, once Saddam Hussein has kicked out of Kuwait, chances are you're double, triple, or maybe even quadruple your money because the Riyal will go to at least the level where it was before the war started and currently it's less than one third of where it used to be. So you can actually triple your money in a couple of weeks times.
Now this was initiation of the best type of a young guy who had not seen the world, the financial world at close quarters because he was cutting his teeth, he was fresh, he was new in the market and this lesson stuck with me.
So today I am going to bring you a sector which I think is similar to the Saudi Riyal. In times of Corona, which is again a period of uncertainty, a period of fear, a period of nervousness and which could be compared with the Gulf War of 1990.
Friends, I am talking about the hotel and hospitality industry. The first thing you meet people and talk to them and you realise their problem is we are so bored. We are feeling imprisoned at home. The first thing that we are going to do once Corona is done and over with, done and dusted, and gone, we are going to go out for a holiday. We are going to go out and travel.
So it sets you thinking. Maybe if people are so sick of sitting at home and not travelling anywhere beyond their front door, hotel stocks should be doing well. So I did a cursory check of a couple of hotel stops and I am gonna share some charts with you and this basically confirms my belief that the hotel industry is due for good times.
Now let's take a look at some charts of hotels. I am not necessarily telling you to buy at these prices because the prices have run up from the middle of April to the 4th of June till when the charts are logged in.
Wait for dips because in the market there is an old maxim, there is an old saying buy on expectation, sell on news. So once the lock down the lifted in expectation of that, the stocks have already run up far ahead of the lock down being lifted. My guess is they will actually come down. So these are not immediate buys. This is buy the dip.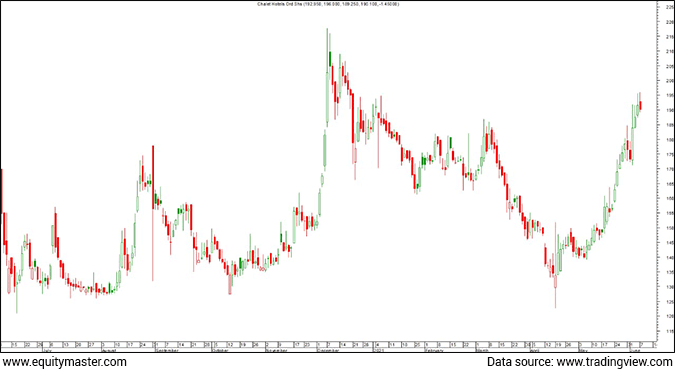 Now take a look at the chart of Chalet Hotels. Gone up from 120 to 195 between mid-April to 1st week of June.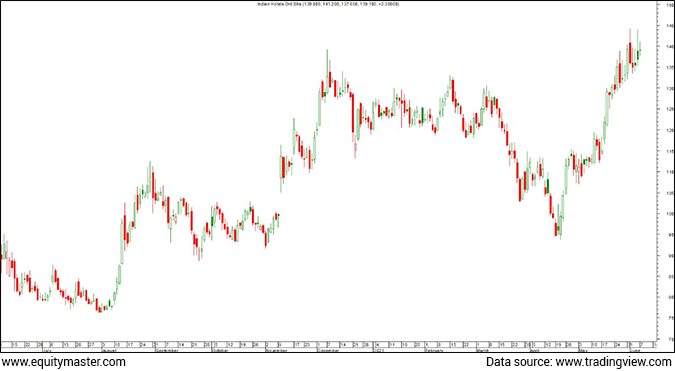 Indian Hotels, the Taj Group of hotels. Mid-April Rs 94 was the low. Currently on fourth of June Rs 145.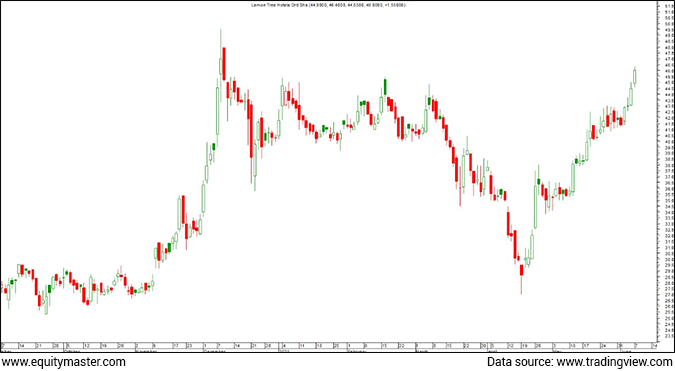 Lemon Tree Hotel. Mid-April Rs 27. Gone to a high of Rs 46.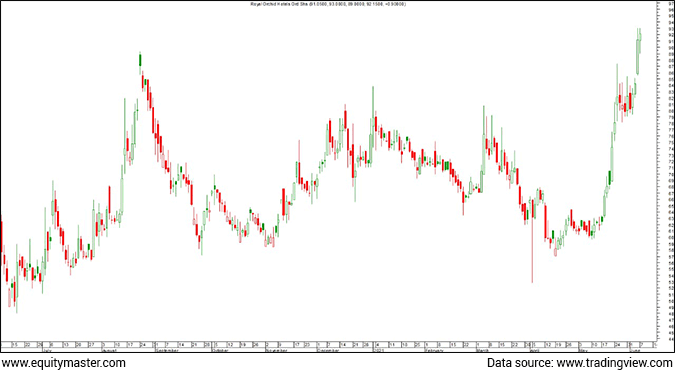 Royal Orchid Hotel. Mid-April Rs 52. Gone to a high of Rs 93 by the first week of June.
I repeat, these are not buy recommendations. These are just for your reference to show you as to how hotel stocks have jumped up in the absence of tradable indices of the hotel and hospitality sector, which I could have denoted to you. So I am showing you hotel stocks. I repeat, these are not buys now.
These are buying dips and selectively at best. Don't just go out there and blanket buy any hotel stocks. For that, you need to consult an investment consultant or an investment adviser but the sector is a buy on dips and my feeling is that the market which discounts the future, is already marking up the prices of this sector in anticipation of good news.
Now that vaccines coming into India and in many parts of the world where there was a shortage or delay in vaccinating people, there is a sudden urgency to vaccinate people. So it looks like Corona is here with us for maybe 1, 2 or 3 quarters beyond which people will actually take to the road, start flying, start travelling in trains, etc and it will be business back to usual gradually, but definitely so.
So do keep the hotel and hospitality industry in mind. I will be on the lookout for many other industries like this and hopefully, if the indices are available for that particular sector, I will also give you index charts of that sector as well.
I feel cheerful today already, after having the recorded this video. I hope my cheer year rubs off on you as well.
Before I sign off and say goodbye to you a reminder to subscribe to my YouTube channel if you haven't already done so.
Click on the bell icon to receive instant alerts about fresh videos being put up out here and in the comments section, good, bad or ugly, I welcome all your feedback with open arms.
Help me reach out to fellow like-minded investors and traders by referring my video to your family and friends.
Do take very good care of your health, your investments, your trades, your friends, and family. I wish you have a very, very profitable day ahead. Vijay Bhambwani signing off for now. Thank you for your patience.
Take care. Bye.
Warm regards,

Vijay L Bhambwani
Editor, Fast Profits Daily
Equitymaster Agora Research Private Limited (Research Analyst
Recent Articles