How Retail Traders Are Moving the Market
Jun 9, 2021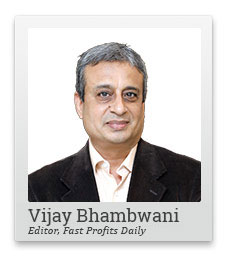 Any financial market is nothing but a sum total of all the actions of all the traders at any given point in time.
This is true for the Indian stock market too.
Since last year, when the lockdowns began, retail traders have moved started trading the market in increasing numbers.
In this video, I'll show you just how they are now in a dominant position compared to FIIs and others.
This has big implications for your trading profits.
Watch the video and let me know what you think about this. I would love to hear your thoughts.
Hi. This is Vijay Bhambwani and, in this video, I am going to talk to you about a very critical aspect of the market because this will basically reveal the tone, the texture, and the reason why the markets are behaving the way they are behaving.
Now you see, the markets are nothing but a sum total of all the actions of all the traders at any given point in time.
So no matter how big or how small a trader is, his or her buy and sell decision results in a pull and push impact on the price of any tradable security.
Therefore, is very critical to understand which kind of segment of the participants of the market is that dominant force at any given point in time in the market.
EV Stocks: Make a Fortune from Automobile Sector's Colossal Disruption
Now I believe a lot in statistical analysis and with this idea in mind, I've created my own in house statistical model, which I call the Barracuda, which basically guides me at the end of the day based on data available in the public domain about what is happening in the market in numerical terms.
Markets, being digital in nature, talk the language of numbers and as long as you can condition your mind to understand the language of numbers, you can understand what the markets are trying to tell you.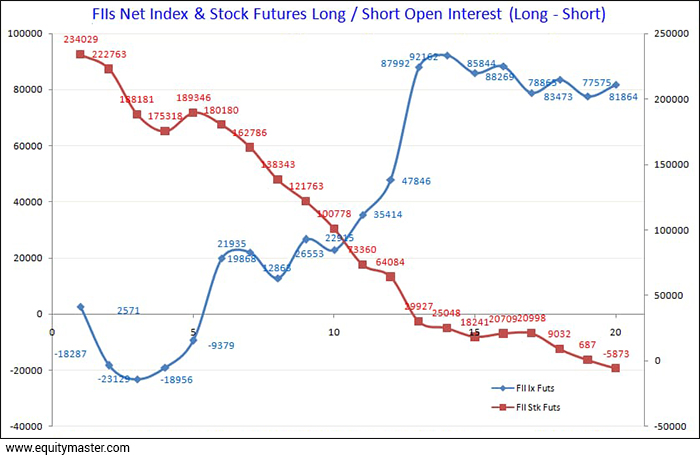 So take a look at the first graphic on your screen. This is nothing but the exposure levels of the FIIs or the foreign institutional investors.
You can see that they are holding 81,864 lots of the indices in the futures segment and their exposure on this aspect of the market has been going up steadily.
Now take a look at the stock futures exposure. This is going down steadily, and they are now in a net short position of 5,873 lots across all stock futures.
This data, I would remind you is, as of end of the trading session of Monday. I'm recording this video on a Tuesday morning. This video will be uploaded on Equitymaster's YouTube channel on Wednesday. So do keep in mind this aspect when you're watching out the numbers.
So very clearly the FIIs are raising their exposure, long exposure in indices but preferring to short individual stock futures.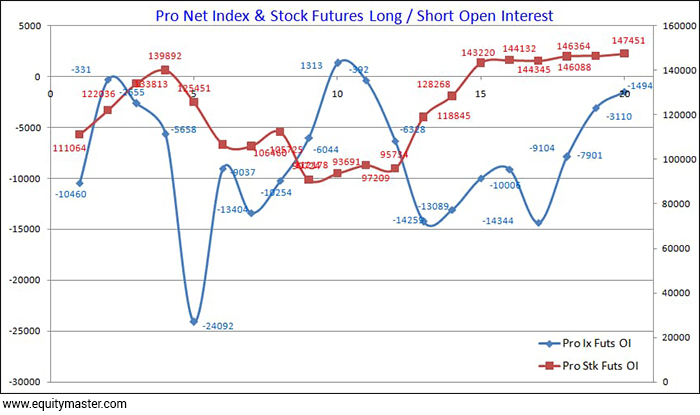 Now take a look at the second chart which is the prop traders. Now these are trades of the brokers who are supposed to have a greater degree of insight into the markets, maybe even the inside information of who's buying who and what because they are empanelled with institutions, both FIIs and DIIs, and therefore, they tend to be better clued than you and me as retail traders about which way the direction of the wind is going.
Now, prop traders were short and remain shot on index futures, but steadily, they are squaring up their short positions on the indices and as far as stock futures are concerned, their exposure on individual stock futures is steadily rising and is currently placed at 147,451 lots.
So these are people like I said, who are clued on. They are going a long on the individual stock futures and they're long positions are steadily increasing, which means their outlook is bullish. The fact that they are extinguishing or slowly but surely cutting their index shorts is also a sign of bullishness.
Let's now come to retail segment of the market. Now these are people like you and me, individual traders who are basically taking exposure booth on the long and short side and what their trades reveal.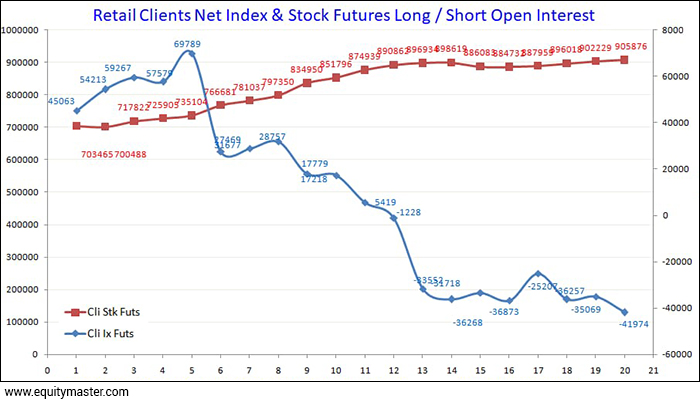 Now the chart on your screen shows that the individual traders are slowly but surely preferring to enhance their short positions on the index futures and at the same time, they are preferring to go long significantly that to on individual stock futures. So index short but stock long.
Now, this is not even a comparable because the index short position is 41,974 lots, whereas the stock futures long position is 905,876 long. That's huge.
So what they are basically doing is going long on individual strong futures and maybe some of these guys are hedging that by going short on the indices.
But then you remember against nine lakh odd lots of longs, there's only 41,000 odd lots of shorts on the index.
Now, that is not all. What I am about to tell you now should basically make you realise what is happening.
Normally, before the pandemic linked lockdowns were imposed in the market, the retail segment was not this forceful, was not this dominant, was not this aggressive.
The lock down has changed the tone and tenor of the market because the retail segment has come and started participating in the markets a whole lot more proactively.
If the brokerage industry was to be believed, in the last 14 months, we have seen approximately 1.5 crores, which is approximately 15 million new demat accounts and brokerage accounts being opened.
Now that's a lot of people coming into the market. Now, that fact can be born from the fact that the prop traders the savvy guys, have net long positions on the stock futures of 147,451 lots. Whereas the retail segment has net long positions and stock futures of 905,876 lots. Which means that the long positions of the retail guy are more than six times of the long positions of the FIIs and the prop traders put together.
Remember, the FIIs are net short by 5,873 lots and the fact that retail guys hold six times more long positions in individual stock futures is what is making the market more volatile.
The retail guys, many of them are newbies. They're millennials who have not had prior experience of trading in the market and therefore, they might just be trading a little more emotionally, a little more knee jerk fashion, which is why volatility has risen.
So has the tentativeness of the market, and therefore, the markets are not showing clear signs of trends because new traders have come into the market. They will, over a period of time, get used to the market trend following methods, and then the markets will get a little less volatile than where they are right now.
So the sum and substance is it's this new guys, inexperienced guys, who never seen a bear market and therefore they believe in only going long is what is pushing the markets higher.
Anything wrong with that? No. Nothing wrong with that.
The only thing is that they may not be able to stand their ground if the market were to fall for 3, 4 or 5 days in a row. They tend to be relatively speaking, weaker hands than FIIs and prop traders.
But like I said, the number of retail traders is so big, which is 1.5 crores, that I think this bull market across the world, not just in India, across the world, can be heralding the revolution or the arrival of the retail guy in the financial market set up.
A few million people coming together in buying 10, 20, 50 or 100 shares of a company can definitely make a difference to the price and this is amply shown by the figures that I have just shared with you.
So what is the prognosis? What should you be doing? Should you be going long or should we going short?
I think you should go where the money is, and the money flow right now is to tie up with the retail. Go in the same direction as they are going.
But because trades can be a whole lot more finicky, can be a whole lot more flippant, you need to look across your shoulder all the time. Keep your stop losses and be extremely diligent because it's a brave new world, a brave new market led by the retail guys and prices tend to get very, very sporadic. They will move in spurts.
That is something that you have been seeing and I have been pointing out to you. So by all means, continue to write the good times. Let the profits rolling but hey, let's be careful out there.
I bid good bid goodbye to you in this video not before reminding you to click like on this video if you agree with what you saw. Subscribe to my YouTube channel if you haven't already done so and click on the bell icon to receive instant alerts about fresh videos being put up out here. In the comments section, good, bad or ugly, I welcome all feedback. Please keep it coming.
Help me reach out to fellow like-minded investors and traders by referring my video to your family and friends. I wish you have a very, very profitable day.
This is Vijay Bhambwani signing off for now. Take care. Bye.
Warm regards,

Vijay L Bhambwani
Editor, Fast Profits Daily
Equitymaster Agora Research Private Limited (Research Analyst
Recent Articles