Why Rising Interest Rates Won't Stop Gold
Jun 9, 2022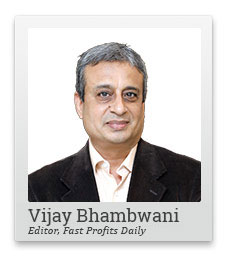 In this video, I want to discuss how the recent RBI meeting, which raised interest rates by 50 basis points, is actually beneficial for gold.
I think this time gold mine just play the outlier and may not fall too much.
In this video, I'll explain why.
Hello, friends. This is Vijay Bhambwani.
I hope my videos are helping you take better investment and trading decisions and you're able to understand the tricky nature of the market a lot better after watching my videos.
In this video, I want to discuss how the recent RBI meeting, the Monetary Policy Committee meeting, which decided to raise interest rates by 50 basis points or half a percent, is actually beneficial for gold.
Now, before you think wait a minute this guy's lost it. Higher interest rates are actually negative for bullion because bullion does not yield any fixed income and therefore there might be an outflow from bullion towards fixed income securities, this has been the empirical evidence that we have so far.
Important: A Big Prediction of Our Senior Analyst
But is every situation in the market exactly alike or does the market actually adapt to changing scenarios? I think this time around gold mine just play the outlier and may not really fall too much. If it all it does, it may not really fall too much, and it actually stands to benefit in spite of the rising interest rate regime.
So this is the second time the Reserve Bank of India's monetary policy committee meeting has decided to raise interest rates.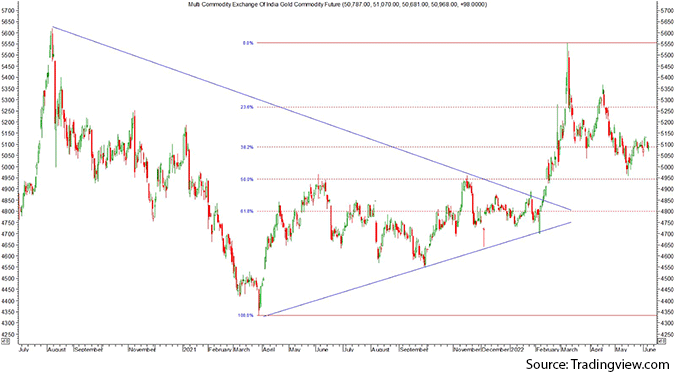 As you can see on the chart on your screen, gold prices haven't really fallen as sharply as they used to earlier say up to, since the time MCX started trading gold you basically have seen over a decade and a half of trading history that gold used to come down when interest rates used to go up. But this time around, in percentage terms, gold is not really falling too much.
Now have taken the absolute move, which is the peak of August 2020 and then a bottom being made in March 2021 in gold and I have taken the rally that occurred from March 2021 and peaked out recently at 100% and I have plotted a Fibonacci retracement ruler, which is a well-established and undoubtedly one of the most accurate tools that technical analysts use to gauge a percentage of retracement that is potentially possible in a security that has run up.
Now the 61.8% retracement, also known as the golden mean, would mean the bull market in gold would still be valid, would still be on even if gold was to come close to 48,000, give or take a little bit here and there. Rs 48,000 per 10 grams on the MCX.
We have way above that. As a matter of fact, a lot of volatility in the US Dollar index or the Dixie, in the USDINR, a lot of volatility in the Indian stock markets, but gold has held its ground and defended, the bulls have defended the round number of Rs 50,000 per 10 grams on the MCX. That leads me to believe that the bulls are digging their heels into and pitching their tents into gold and are not likely to let go.
The other part of my hypothesis is rising interest rates is likely to put a certain amount of pressure on high risk traded instruments like equity shares.
Now equity markets, which peaked out in the third week of October, where the headline indices are concerned at least they peaked out in the third week of October 2021, and they are yet to even near those highs forget about surpass them and what we are seeing a certain amount of topishness in the markets where higher levels are witnessing overhead supply from trapped traders who have bought at higher levels than willing to exit when break even costs come.
So as long as this element exists, there is likely to be a very, very sceptical or very cautious approach to fresh investments into equity. So the money has to go somewhere, and gold would be one of the avenues in addition to fixed income. In my earlier videos on Equitymaster, I have been a big votary of fixed income, especially sovereign investments, and have told you should keep laddering these investments. And now you're getting 7.5% government guaranteed yield on government bonds.
So certain amount of money will go definitely in bonds and other as sovereign backed investments. But gold will also receive a certain allocation when equity markets are witnessing certain outflows.
The third aspect is so far money was going into high risk instruments like equities and being hedged by putting in low risk instruments like gold. Hedges basically safe haven buying. In the last decade or so, a third element entered to make it a trinity of crypto currency.
Now, crypto currency was actually vying with gold for market share and traders attention span the last few weeks have not really been kind to crypto investor or crypto trader. Now there is an outflow happening in the crypto markets, and some of these crypto currencies have actually gone fairly close to zero.
So the kind of competition that gold faced has reduced substantially. And as a matter of fact, money that's coming out of crypto, which was perceived as a safe haven been buying will now come to the ultimate safe haven cave to kind of hide your money in times of uncertainty, that is bullion.
All in all, I think bullion is in for a good time. Higher inflation print, which is now confirmed by the RBI and the honourable governor of the RBI laying out his concerns for a rising CPI and WPI. The only thing that limits gold in my humble opinion is the eight November 2022 mid-term elections in the United States.
Historically ahead of the elections, the US dollar is kept firm, gold is subdued. Economic data is given rub and a shine so as to favour the incumbent political party in power. This time, it's likely to be no different, and gold will likely to be experiencing a downward pressure with the dollar basically getting stronger, thanks to be help from the administration.
So let the eight November 2022 midterm election pass. I feel gold will be back to its winning ways.
On this optimistic note, I bid goodbye to you, not before reminding you to click like on this video if you liked what you saw. Subscribe to my YouTube channel if you haven't already done so.
Good, bad or ugly, I always welcome your comments and feedback in the comments section and please help me reach out to fellow like-minded smart traders like yourself by referring my video to your family and friends.
Till we meet again in my next, this is Vijay Bhambwani signing off for now. Have a very, very profitable day. Bye.
Warm regards,

Vijay L Bhambwani
Editor, Fast Profits Daily
Equitymaster Agora Research Private Limited (Research Analyst)
Recent Articles