My Favourite Trade of 2020
Jun 10, 2020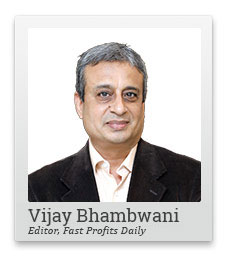 I have said repeatedly that short selling natural gas was the best trade of 2020.
So far, I have been proven right but the year is not even half way through. There will be more trading opportunities in this commodity. It's up to me to spot the best entry points for my subscribers.
Today, I'm going to update you about my highest conviction trade of the year and why I am gearing up to make my next short selling recommendation on natural gas.
Enjoy the video and let me know what you think about it in the comments. I love to hear from you.
Hi, this is Vijay Bhambwani and I am recording this video still from my residence. The purpose of this video being to update you about my favourite counter Natural Gas.
I remember watching very interesting crime serial called CID. Now, this was about cops and criminals, as the name suggests and the protagonist in the storey was ACP Pradyuman. He was the ace investigator and he invariably would get a body and consult the autopsy expert, the forensic surgeon, Dr Salunkhe.
Dr Salunkhe was given the unenviable task of trying to ascertain the time the cause of the death and unfortunately, the body would not speak. So it would fall upon Dr Salunkhe to use the cause and effect theory to find out what caused the death of this person, at what time and who would have possibly been involved. Now of course the investigative agency he had a major role to play in apprehending the criminal.
Trading is like forensic medicine. If you know the cause, you will be able to find the effect. If you're able to estimate the effect, you will know how much the price and how long will it move in one direction.
Today I want to put forth to you some updates about what is happening in the natural gas market and how it will impact the price and how and why, am I persistently trading in the direction that I'm trading.
Revealing at 5pm Today: The Great Indian Wealth Project
First things first. Natural gas is a part of the hydrocarbons, a complex which also includes crude oil. So crude oil and natural gas happen to be the major fuels involved used for powering both industrial and domestic sources. We use fossil fuels in our cars and motorcycles in a public transport etc.
There are, however, some disparities between crude oil and natural gas. Based on 2018-19 consumption patterns, crude oil is expected to run out anywhere between 75-100 years. We can't really get any more accurate because the Middle East and North African countries where these fossil fuels are found, are very opaque about giving out their exact reserves.
Natural gas, on the other hand, is in abundant supply. It is expected to last four times longer than crude oil, which means for the next 300 years and in today's post Corona world, where consumption has fallen, maybe even four centuries 400 years, we may not run out of natural gas, which tells you that the direction that natural gas should be traded should be downwards.
Now, for some updates. There is a huge pipeline starting from Russia. It's being made by Gazprom the Russian energy agency, which is called Nord Stream 2. This is the second pipeline flowing from Russia and going into Europe primarily with the aim and intention of supplying low cost, affordable natural gas to Europe and Germany primarily.
Now, once this pipeline is commissioned and it's pretty close to reaching closure, there will be a huge amount of national gas available to Europe. Now you can imagine a whole big consumer area called Europe getting affordable natural gas from Russia, instead of depending on Iran or Saudi Arabia. So that in itself is likely to weigh down on prices of natural gas.
The Saudis themselves have discovered a huge reserve of national gas at Jaffura oil field. It is so big that the Saudis are investing up to US$ 100-110 bn in developing that field so that they do not have to depend on anyone else, including Qatar, which is now out of OPEC.
The Iranians are under tremendous amount of political pressure from the US sanctions and from the proxy war where they are fighting in both Syria and Yemen. The huge amount of problems that they have with Covid-19 infections is not helping matters. Let's not forget that Iran's natural gas reserves are some of the biggest in the world having national gas in abundant supply. Obviously, Iran will try to tide over its cash and liquidity crunches by selling natural gas. That's what it has in huge quantities, right? So the pressure from Iran is likely to be huge on natural gas this year.
The month of May was probably the hottest in many, many decades. That leads us to believe that the possibility of this coming a winter not being all that cold is now elevated probability. Let us not forget that natural gas is used for heating purposes in the Western Hemisphere in the winter. If the winter demand is curtailed by (a) warmer weather and (b) because of lack of a consumption thanks to Corona in the summer here, the possibility of natural gas prices remaining under pressure is significantly higher, which is why the direction of natural gas is probably likely to be downwards.
What about the other countries and Middle East and North Africa? Remember, these guys depend primarily on fossil fuels to raise revenues to generate cash as long as their economies are under pressure. I would tend to believe that these guys are going to supply oil and gas at distress sale prices whenever they need to stimulate their economies and or provide social welfare. Which means natural gas prices would remain under pressure.
When and at what time should we short natural gas because I am pretty much made up my mind that national gas, if it does show any signs of a sudden uptick, I would rather sell the rallies, than buy the bottoms. At what particular points should we sell natural gas?
Leave it to me. My subscribers would definitely get alerts, and I am sure you would also be hearing from me in videos here on Equitymaster about what appropriate times it is to short natural gas. But the direction on national gas remains unchanged. I maintain my view that profits can be made by seeking short opportunities in natural gas rather than going long.
Before I sign off from this video, let me remind you to click like on this video and subscribe to my YouTube channel. Do not forget to tell me in the comments section what you think about this video and what else you would want me to record in my future videos.
Do also please help me spread the cult of knowledge based investments and trading by recommending my videos to your family and friends. Vijay Bhambwani signing off for now till I meet you in my next video.
Please do take very good care of your trades, your investments, your health, and your family.
Thank you for watching my video. Goodbye for now. Thank you.
Stay safe!
Warm regards,

Vijay L Bhambwani
Editor, Fast Profits Daily
Equitymaster Agora Research Private Limited (Research Analyst)
Recent Articles