Wednesday's Market Fall Explained
Jun 10, 2021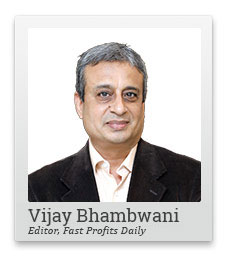 The bulls got a bit of a shock on Wednesday as the Nifty took a tumble.
As the market has been hitting all-time highs with a regularity, the fall came as a setback.
Traders want to know if it was just a blip on the way to 16,000 and beyond or if the Nifty is going to change direction.
Find the answer in this video.
Hi. This is Vijay Bhambwani and in this video, I want to talk about what happened in the markets yesterday, that is Wednesday. This video will be uploaded on Thursday morning. So when I say yesterday, it's actually meaning the previous day.
What really happened in the market on Wednesday was now, if you were to essentially take a look at the market as a 747 Dreamliner or the jumbo jet, as it is lovingly called, it has four engines.
The aircraft is so designed that if any three of the engines were to fail, the aircraft would still continue to fly and arrive at its destination.
Revealed: How Fund Managers Spot Winning Stocks
Looking at my screen as I speak, the market has just closed, and I can see that the Nifty futures is down 108 points. Of course, the weighted average closing might change a bit, and the Bank Nifty is down 336 points. Here again, the weighted average could change by the time the official closing comes in.
If you were to see how the Nifty is actually constituted, if you were to see the top four weightages of the sectors in the Nifty, you will realise that financial services, which means banks and other finance companies, constitutes a very hefty 38% weightage on the Nifty.
The technology sector, which is the IT space, constitutes 16% so 38 plus 16 is 54%.
Oil and gas space is another 12%. So 66%.
Consumer goods is a little over 11%. So that is 77%.
Now, if you want to take these four sectors, you will realise that you have a lion's share off the Nifty constituent stocks which, by the virtue of their weightage in the index, can actually take the index up or drive it down.
Now let's take a look at what really happened in the banking space because banking space is almost, I'm saying almost, 40% of the entire weightage in the Nifty.
As I see on my screen, Axis Bank was down which had a weightage of 2.80%. You have Bank of Baroda, which is down. It has a very small component in the Bank Nifty. You have HDFC Bank, which has a hefty weightage of 9.8%. You have HDFC Limited, which has a hefty weightage of 6.8% which was also down. I can also see ICICI Bank, which has a weightage of 6.8%, also down. Then you have Kotak Bank which has a weightage of almost 4% which is also down today and I can see that SBI, which has a weightage of little under 2.5% is also under pressure.
So it's very clear that the frontline counters amongst the most heavily weighted sector, which is the financial sector services including banks, was under pressure on Wednesday and that led to a majority of the weakness in the index.
Now let's take a look at the IT space which is the second most heavily weighted counter, and I will just take two stocks. Although there are more in the IT space, I'll just stick to two frontline heavyweight counters. TCS and Infosys. Both are down. Although they are down very, very marginally, not too much but the fact remains that there was no relief for the Nifty from this sector.
Now oil and gas, you have Bharat Petroleum, Hindustan Petroleum, Indian Oil Corporation, ONGC, and other companies which are what we call bellwether or the frontline counters amongst the sector and I can see that these stocks were all red. They were under pressure. So 12% weightage of the market is down.
Consumer goods. You have HUL. You have you have Britannia. You have Bata. You have Dabur. These counters are showing signs of sluggishness and a little bit of profit taking.
So if you actually were to see what happened on Wednesday, like I drew up, a comparison with a jumbo jet, a jumbo jet can still fly if one out of the four engines are still functioning.
Unfortunately, on Wednesday it happened to be a confluence, which means coming together of so many factors that led to all the four engines of the jumbo jet called the NSE Nifty to basically become weak.
Now this is not something which is very common. There is invariably, in the recent past, you have seen one sector or the other, which comes to the rescue of the market when the overall market comes under pressure and by the closing, the index does tend to go up because there is a push and pull of some sector falling and some rising.
The other aspect that you must keep in mind when you take the fall of Wednesday is that you must remember that the Nifty futures went to 15,814 levels, before retracing all the way to 15,660 or levels which is not the final settlement price. It will get adjusted for the last half an hour of weighted average closing.
So the Nifty has hit a new high before scaling back. Now the fact that every actual real world trader will immediately identify with is that the February all time high of 15,400-odd and if you were to add the four months cost of carry, which is February to March, March to April, April to May, and May to June, will be roughly approximately 300 points. I'm using the world approximate. So add 300 to 320 to 340 points, you get a rough figure of 15,750 to 15,800.
Now at 15,750 to 15,800, irrespective of where you had bought the Nifty, even if you had bought it at the February peak, which held for 3.5 months and you paid cost of carry at 15,800, you are getting a clean, honourable, profitable exit. If not a profitable, a minimum of break even after adjusting all costs.
So this was a level where some amount of profit taking was bound to come. Nothing as a surprise, nothing as an untoward kind of a worry. So this is something at this point in time, while I record this video on a Wednesday early evening, I am prepared to give it a benefit of the doubt and say that this is routine profit taking.
Thursday, being the weekly expiry of the indices, is something I would watch extra keenly for signs of any revival in the market.
Do remember, if you actually want to make sense and sensibility of the Nifty, you must watch these four weighted sectors, which is financial sector services, 38%, information technology, which is software companies, 16%, oil and gas companies, 12%, and consumer goods, 11%. These four sectors, remember, as I told you, constitute a good 77% weightage in the Nifty.
So if at least two of these counters, other than financial services, if financial services goes up single headedly, that's 38% of the market jumping but leaving aside financial sector services, out of IT, oil and gas, and consumer goods, even if two sectors were to start going up my gut feeling is that the Nifty will attempt, I'm using the word attempt, to find a bottom and possibly climb up from there.
You see, in the financial markets nothing happens without a reason and if you break down the reason why, you will get the logic as to why, what happened in the market. So in the financial markets and nothing happens without a reason and since it's a financial market, the reason also has to be financial.
So look for financial reasons why the financial markets fell and the pieces of the jigsaw puzzle will start falling together, and you will be able to make out what is happening in the market. This is not some kind of an unfathomable mystery. To a thinking investor, there is always a method in the madness, which we call the market.
On this cheerful note, and on this educating note, I bid goodbye to you in this video not before reminding you to subscribe to my YouTube channel if you haven't already done so. Click on the bell icon to receive instant alerts about fresh videos being put up out here.
In the comments section, do let me know what you think of this video. Good, bad, ugly, all your feedback is always welcome.
Help me reach out like-minded investors by referring my video to your family and friends. I wish you have a very, very profitable day. Do take very good care of yourself, your health, your family, your investments, and trades.
Thank you for your patience and watching my video. Vijay Bhambwani signing off for now. take care. Bye.
Warm regards,

Vijay L Bhambwani
Editor, Fast Profits Daily
Equitymaster Agora Research Private Limited (Research Analyst
Recent Articles