An Investment that Benefits from Covid-19
Jun 15, 2020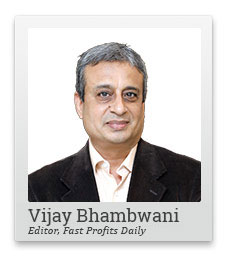 I have covered gold and silver in many videos in the Fast Profits Daily. As you know, I am bullish on both commodities.
Many of you have written to me about doing a specific video on silver as I already done quite a few on gold.
As luck would have it, silver, in my opinion, is also a commodity which stands to gain in this Corona pandemic. I have very good reasons to believe this to be true. In today's video, I want to show you why.
In this video, I'll also share my thoughts on the price I want silver to hit, before I can give a buy recommendation to my subscribers.
I hope I've covered all the points you wanted me to address about silver in this video. Let me know what you think about it in the comments section. I love to hear from you.
Hi, this is Vijay Bhambwani, and I'm recording this video still from my residence. This video is for all you viewers who have been specifically requesting me to do a video on silver. I've done ample amounts of videos on gold. So one more on silver is of course, warranted.
Now, some of my earlier videos have been generic about why silver should also be included into your portfolio from the diversification point of view and how am bullish on silver how the photovoltaic cells or the alternate renewable energy, which is solar power, will result in a demand hike for silver.
But this video is a lot more specific. This is about Corona. This is about how the global pandemic is likely to result in a windfall for the average Silver bull. Now we have actually no control over what Corona is going to do to us, but there will obviously be fallout both positive and the negative.
The negative one is that it's going to possibly take away a whole lot of human lives that's extremely terrifying and one fells sorry for the departed. But for the people who are left behind alive, they must put food on the table for their family and for them earning profits is must.
So this video is about making the best out of adversity and not only protecting your capital but also appreciating it. I'm going to give you some facts and figures and I'm going to try unashamedly to try and convince you that silver is a good bankable bet. Here it goes.
So I have a list of the top 10 producers of silver. Give me a minute or two and I'll come to why I am giving you this list. So number 10 is the USA with 980 metric tonne. These figures are of as of calendar year 2019. So the USA comes in number 10 at 980 metric tonnes. Argentina is at number nine at 1,200 metric tonnes. Bolivia number 8 1,200 metric tonnes. Chile number 7, 1,370 metric tonnes. Australia, 1,400 metric tonnes number six, and number five, Poland, 1,700 metric tonnes. Number four Russia, 2,100 metric tonnes. Number three, China, 3,600 metric tonnes. Number two Peru, 3,800 metric tonnes and number one, Mexico, 6,300 metric tonnes.
You know what? Mexico singlehandedly produces 23% of the world's silver. Does this not explain to you why the Mexicans have been turning up their nose at the OPEC+ meetings, stubbornly refusing to cut their output of crude oil because they have so much of silver to sell that they actually need not have a fund crunch?
But that's not only why I have recorded this video. Now if you noted these 10 countries, you would have instantly realised that five of these countries fall in Latin America and if you've been following me on my social media pages on Twitter, Facebook or whatever, I keep updating why I am so up tied about Latin America or LatAm as it's called, Middle East and North Africa or MENA markets, Asia Pacific or APAC, and Southeast Asia.
Now what is so typical about the Latin American countries is that they're resource rich alright. They produce a lot of natural resources, especially commodities, and they derive a whole lot of income from exporting these commodities, and on the other hand, they have taken a huge amount of money from the international lending agencies and therefore have a good amount of overseas debt as a component of their entire GDP.
Now, if it all they're to provide a stimulus to their corona infested economies and at the same time service their external debt without having to have a sovereign downgrade, they must sell their natural resources, metals, etc and in this case, silver, at higher prices. Can they actually come together and jack up the price of silver? Remember, out of these Latin American countries, Mexico alone is 23%, a whopping 23% of the global supply of silver.
People of my generation will remember an Amitabh Bachchan super hit movie Kala Patthar. It was about coal mines, the abject poverty, the object hardships faced by the miners who risked their lives going down into those mines and digging coal for us.
What you would guess from the movie is that the risks that you face above the ground are multiplied, amplified, and magnified under the ground in those mines. Remember no fresh air. The earth can gave in. You could have flooding, etc. Which basically tells you that it's a very hostile environment and it is, justifiably so.
Which is why the governments worldwide, during their decisions to lock down non essential services, have immediately shut down all mining activities and silver is not a just an industrial metal. It's also a precious metal cum industrial metal. So, ironically, the problem is that when the shutdown occurred, 1,600 silver mines across 32 Covid affected countries were shut down, all of which are not yet coming back on par.
In comparison with silver, a whole lot of other metals who were being produced and other mines were not so severely locked down. Therefore, we have a kind of a shortage of silver where the output is concerned and in my earlier video, I have recorded how fund houses, institutions, governments, etc would be the primary buyers of bullion to shore up their currencies and basically to avoid sovereign downgrades.
So on one hand you have a demand spike. On the other hand, you have mines that are shut down. So coupled with the Corona mines shut down and demand from both the retail investor who is basically looking out for the store of value and source of appreciation, I do feel that silver has an above average probability of providing solid returns over the next 3 to 5 year period.
When do I see silver starting an accelerated up move? My guess is I would require a closing above around figure of 50,000 or maybe 50,500 on the MCX before taking a call. This is not a blanket buy recommendation. I will still need confirmation from few other data sources. But primarily, the price of course, is everything in the market as it is said, 'bhav Bhagwan hai', the price is God.
So the first and primary trigger that would kind of raise my antenna would be silver staying above the 50,000 or 50,500 mark and not coming down. I'll keep you updated in following videos as and when that event occurs.
So on this bullish note, on this optimistic note, I'll bid adieu in this video till we meet again in my next but before I sign off, please let me remind you to click like on this video if you're watching it on YouTube.
In the comments section do let me know what you think about this video and what else you would want me to record in my forthcoming videos. Also, don't forget to refer your family and friends to watch these videos and help me spread the cult of knowledge based investments.
Vijay Bhambwani signing off for now. Please take very good care of yourself, your trades, your investments, and your family.
Thank you for watching.
Stay safe!
Warm regards,

Vijay L Bhambwani
Editor, Fast Profits Daily
Equitymaster Agora Research Private Limited (Research Analyst)
Recent Articles