Why is Bullion so Volatile Now?
Jun 16, 2021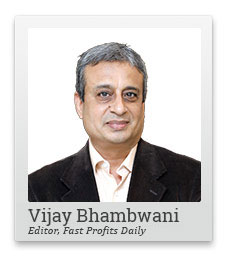 It's hard to not notice the price volatility in gold and silver recently.
Gold bulls have become a little nervous.
Has something changed in the market? Is bullion about to lose its appeal?
In this video, I'll show you the reasons why bullion prices have become volatile lately. I'll also tell you how it affects my long-term view on gold and silver.
Watch the video and let me know what you think.
Hello friends. This is Vijay Bhambwani here and in this video I'm going to talk to you about a very touchy topic, which is why has bullion become so volatile.
Have I really changed my mind about the outlook and the targets that are given for bullion both as of calendar year end 2021 and calendar year end 2022?
So let's dive right in because this is a topic which I am sure every Indian should be interested in.
Must See: Next 10 Yrs Belong to this Sector
Now gold and silver both peaked out around August 2020 when silver went to approximately 77,000 and gold went past the 55,000 levels and those levels have not been seen since then.
So has it actually radically changed the outlook for bullion? Has the outlook and investment future in terms of yield and return on investment changed for bullion? What's causing this kind of volatility and how to make sense and sensibility out of what is happening to bullion prices?
So there are a couple of factors that we need to look at in my 360 degree worldview fashion to be able to arrive at a logical conclusion as to what is happening.
Number one. Crypto currencies. Now it is a known fact that investors and traders tend to flock towards areas of tradable and investable securities where returns are coming in the fastest.
Let's admit it. Crypto currencies last year had a stellar rune. Take, for example, the chart of Bitcoin that you see on your screen.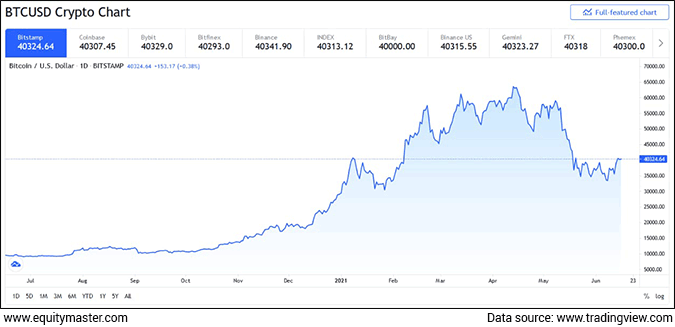 You saw a rally starting from approximately US$9,000 and it hit US$63,000 all in in a span of less than a year.
And then, after hitting 63,000, we have seen a low, a recent low made of 33,600.
Now, when you see a zig-zag parabolic run up, a spectacular collapse, and then stability coming again in Bitcoin, you know what you would call a roller coaster ride for the want of a better word.
Now, a lot of money, which was in gold, till gold was rising along with silver of course, people were happy and staying invested.
Once gold and silver started coming down they switched horses and went to Bitcoin and other cryptocurrencies.
Now that bitcoin and other crypto currencies have become a lot more volatile, return of interest is being witnessed again in gold.
Before you start up drawing a conclusion that a gold bull market which is a secular bull market, one sided price movement upwards is likely to be seen, I would say hold your horses. There's more to be considered here.
Coming up on your screen now is a chart of the US dollar index, the Dixie.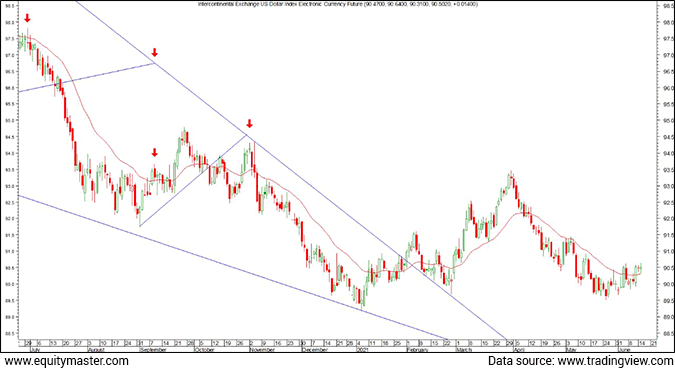 Now think of it like a see-saw in a park. You put a heavier child on this side of the seesaw, it goes down and lifts the lighter child upwards.
When you see the price chart of the US dollar index, it is an index with us green back, the US dollar versus the global bouquet of currencies and you will see that the US dollar is the invoicing currency of choice in the commodity market.
Now, when people buy and sell commodities, they make these payments in terms of US dollars which is the currency of payments. If the currency become strong, then commodity prices has to go down.
Which means, like a see-saw which I just gave you an example of in a park, the heavier child lift the lighter child upwards.
So when the dollar is getting heavier or is getting more stronger is going to make a commodities with which it is bought with, of course, the commodity is going to become a little cheaper.
So which is why, in spite of the fact that Bitcoin is falling, gold is not rising as much as it should have because the currency with which it is being bought has become stronger.
The third aspect. Now this is something that I have made many, many videos on Equitymaster's channel, the inflation and falling interest rate scenario.
Now I have in many videos warned you about rising inflation and how it will impact our investments. Gold and silver, of course, positively, because the rising inflation period is like mother's milk, a bull market to bullion if you may.
Now, it's not as simple as that. To counter rising inflation, the US Federal Reserve is now hearing rumblings of a possibility, I'm using the word possibility here, of higher interest rates.
Besides, if you've seen, if you monitored the news media, the head honchos of J P Morgan, one of the largest investment banks in the world, recently gave an interview to Reuters, where in a statement, he said, J P Morgan is sitting on US$500 bn.
That's a big amount of money. J. P Morgan is sitting on US$500 bn in cash because it expects interest rates to go up and only after interest rates go up, will they lend this money on interest. Which means there is a possibility that interest rates will go up to counter rising inflation.
Now rising interest rates would mean that money that should have ideally come in bullion because bullion does not pay any interest, it's a hedge against inflation, a store of value, and a protector and multiplier of capital all rolled in one.
So hypothetically speaking, if interest rates were to remain constant and inflation was to go up, bullion would see a one sided rally but here you're hearing rumours about interest rates possibly going up, which means people might just to fixed income instruments.
There again, you will have competition for gold. On one hand, you have Bitcoin where people are kind of splitting their money, partly in gold and partly in Bitcoin, and then you have fixed income instruments where, if interest rates were to rise, will suddenly become a little more viable, and let's not forget the Dixie.
So there is a lot of pull and push. One factor is pulling prices of gold up. The other factor is pushing the price of gold down.
Now, as long as this pull and push continues, statistical beta, your pure price volatility will continue to play out on gold.
So what about your long term outlook? The long term outlook, as far as I'm concerned, still remains on target. My target of Rs 65,000 for 10 gm of gold by 31st December 2022 still remains in place and Rs 85,000 per kg of silver or even higher by 31st December 2022 remains in place.
I haven't changed my outlook. I am pretty convinced that rising inflation, in spite of the fact that you might get a few basis points rise in interest rates, will not hinder the upward journey of bullion over the next 18 months that are left towards that time target of 31st December 2022.
So hold on to your faith in bullion. I think you're still having ample room for upside potential and in the last few weeks itself, you have seen prices of silver and gold nudging, crawling, inching higher. It's not a big run up. It's rather inching higher but that's what it's all about. Over the next 18 months, period, we expect bullion to inch higher.
On this optimistic note, I'll end this video not before reminding you to click like on this video if you agree with what you saw. Subscribe to my YouTube channel if you haven't already done so. Click on the bell icon to receive instant alerts about fresh videos being put up out here.
In the comments section, good, bad or ugly, I would welcome your comments and help me reach out to fellow like-minded investors and traders by referring my videos to your family and friends.
I wish you have a very profitable day ahead my friends. Thank you for your patience. Thank you for watching this video. Vijay Bhambwani signing off for now. Take care. Bye.
Warm regards,

Vijay L Bhambwani
Editor, Fast Profits Daily
Equitymaster Agora Research Private Limited (Research Analyst
Recent Articles