Why I'm Bullish on IT Stocks
Jun 18, 2021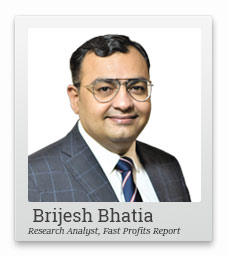 Despite the recent volatility in the market, our bullish view on the Nifty remains intact.
We have seen heavy weights like Reliance take the Nifty close to 16,000.
But the market will need a new king to get it above that mark.
And I believe it will be IT stocks.
In this video, I'll show you why I'm bullish on IT stocks and why they will lead the next leg of the rally.
Let me know your thoughts on this video. I love to read your feedback.
Hello viewers. Welcome to the Fast Profits Daily. Myself Brijesh Bhatia.
Well last week was a roller-coaster week. Markets hitting all time highs. We're seen on Friday, markets going 200 points negative on Nifty testing around 15,450 and in the end, ending back towards 15,700 levels.
Well, that was a buy on dips, which we have been concluding for last a few weeks, and we still think that the bullish trend is intact on the Nifty.
The Big India Revival: India's Leading Analyst Tanushree Banerjee Makes Her Next Big Prediction
Well, before a start on the charts, I would like to say that I have opened a Telegram channel and you can connect me with the link where I mentioned Telegram channel and where I post the charts regularly during the day so that we can connect on a regular basis through our Telegram channel.
Well, coming onto the charts now.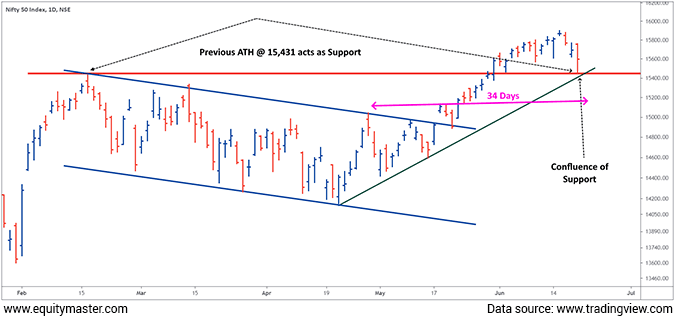 If l look at the first chart over here, it's the Nifty chart, and we have been indicating that since the break out of this channel structure, Nifty has been a roller coaster and inching toward the 16,000 mark.
We have just been a shy of 16,000. We've had 15,900 sub levels and back to the test of 15,450. Now aging 15,700. Well, two, three things I want to highlight over here on this chart.
First, yes, we have broken out of this channel structure and rallied towards a new highs and retested the previous highs. Remember the previous highs was 15,431.
Then last week, we have seen 15,450 has been very, very crucial. So that is a key level for me now if that level are not breached.
Generally, when the bullish trend is continuing, the previous highs are being tested. These retests are very, very strong for the next leg of the rally.
Second, if I draw this trend line, joining the lows again I'm getting the support over here. So a confluence of supports, right at 15,400-15,450 zone and we have seen a reversal from the zone.
Third, if I look at the fifth time over here, this is very much interesting. So if you remember, the breakout which happened from the consolidation of the channel was on 18th of May and if I add a Fibonacci number of 34 days, we have just two days to go. Probably Friday was the two days to go to 34 days and retested those previous highs.
Now, I believe that from 21st of June, which is completing of 34 days, the new cycle will generally resume is and I believe this is the bullish new cycle which will be resuming from this week and this is very, very much crucial.
I'm expecting 16,000 to be crossed in this leg of a rally. So that's on the Nifty and I still maintain my bullish stance and if you are a part of my Telegram channel, I have posted on Friday as well that it is forming a bottom. Bank Nifty is also showing the signs of strong a bullish momentum. So do follow me there. I will be sharing those charts regularly.
Second important chart I want to show you after the Nifty is the NASDAQ to CNX IT.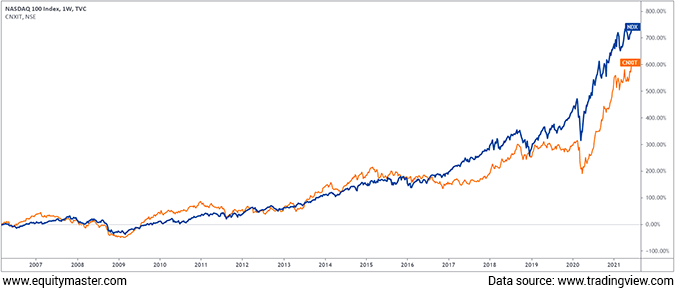 I have previously covered this NASDAQ to CNX IT where I have indicated that NASDAQ was forming a top. It was standing around 13,900, below 14,000 levels and from there we have seen a 10% dip into the NASDAQ.
Now I've believe NASDAQ is into the new orbit. Its been trending in a very, very strong bullish scenario. The previous high isn't broken.
So if you look at the NASDAQ to IT chart over here, it is hand in hand. So as soon as the NASDAQ moves, the CNX IT follows its moment. The quantum of percentage would differ but they go hand.
If you look at the CNX IT chart over here, again, very, very strong chart over here.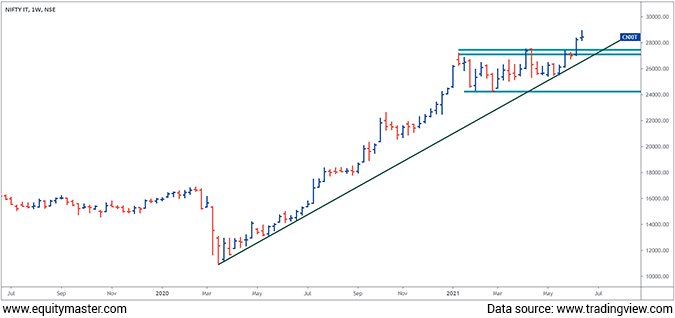 We have broken the consolidation zone. 27,500 on the upside and 25,800 on the downside. The consolidation zone has been broken now and we are heading for a new highs. Already it's trading at new highs but I am expecting it across 30,000 this time.
Again, if you look at the rising trend line, it's been there. The previous resistance zone, which was 27,000-27,500 has been taken out swiftly on a weekly closing.
So I believe that the NASDAQ has been trending at all time highs. IT could follow and IT is the next king that could take Nifty to the higher level.
So we have seen Reliance taking market from 15,200-15,400 to 15,800 levels. Now IT is the one which could take index higher. So you must keep a watch on IT from the short to medium term point of view and probably the large caps. Infosys, TCS, HCL Tech, Tech Mahindra are showing strong strength over here.
So, keep a watch on those. I believe there is a good opportunity in IT as well from the short to medium term point of view.
Before a sign off, I would like to make an announcement that my colleague Tanushree Banerjee who is hosting a special event today on Forever Stocks. So I guess you might have been knowing Tanushree for quite long and you should not miss this event. This is scheduled for today 5 pm. Join us so that this event will be very, very much helpful in wealth creation for you all.
The link is mentioned in the description. Click on to that link subscribe and you can watch our event in which Tanushree will be revealing a new product Forever Stocks.
Thank you. Brijesh Bhatia.
Warm regards,

Brijesh Bhatia
Research Analyst, Fast Profit Report
Equitymaster Agora Research Private Limited (Research Analyst)
PS: Join Tanushree online this evening at 5pm. She will tell you all about the only 20 Forever Stocks. you need to own to become extremely wealthy. Book your free seat here.
Recent Articles