Why You Should Care About the Fed
Jun 18, 2021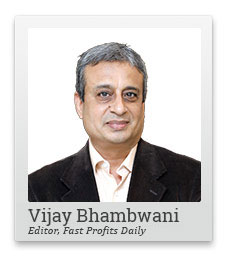 Why have the markers become nervous lately?
Stocks, bonds, currencies, and commodities have all become more volatile that they were recently.
You can thank the US Fed for that.
The US central bank has a big say in the way financial markets move.
And we have just seen their influence play out.
In this video, find out how the Fed just moved the market and why you should care.
Hello friends. I hope you're doing great in the markets and the markets are treating you well. You've been able to manage to navigate through the crazy traffic of the ups and downs of the markets, looking after your capital fairly well.
Now, in this video, I want to discuss a critical event which has occurred last night as I record this video on a Thursday afternoon.
So late night on Wednesday, the US FOMC, the Federal Open Market Committee, the Federal Reserve of the United States, which is the equivalent of the Reserve Bank of India, determined that they would not be raising interest rates immediately.
FREE REPLAY: Discover What Richa Revealed in Her Smallcaps Summit
But now that the economy of the US was recovering on track and faster than expected, rather than raise rates in 2024, they were thinking of advancing interest rates hikes in 2023 itself.
Now the markets simply got an attack of nerves. After the MCX closed here for trading and 11:30pm, one saw precipitous decline in gold, silver, one saw a selloff in metals, one also saw some selling in crude oil, etcetera and the biggest single day rise in the US dollar index which is known as the Dixie.
This is nothing but a benchmark index of the US currency versus the global basket of currencies and the Dixie rose the strongest in 15 months, in a single day gain.
What is the mean for you? Why is the Indian stock market weak as I speak around lunchtime on Thursday? Remember, this video is being recorded on a Thursday. It will be uploaded on Equitymaster's YouTube page on Friday after editing and post production. Why is the market falling and what is it that you should have taken into account after this event?
You see, first things first. We in India tend to believe that the equity market is the only game in town and whenever two people who are investing or trading in the markets meet, one often asks the question to the other, 'what do you think of the markets'?
Now the guy who is answering the question answers in terms of Nifty is looking up or down, or the Sensex is looking up or down, and that question normally suffices.
But did you know that there are four asset classes and four markets, therefore?
So you have equities, you have commodities, you have bonds and you have the forex market. In terms of turnover, the forex market is the largest in the world. Bonds come next. Very close third, sometimes 2nd or 3rd is the commodity markets, depending on the news triggers, and the smallest and the fourth is the equity markets.
Yet we in India tend to be a focused entirely around equities.
Now what really happens in the market is that the source of all money is the bond market. A lot of emerging markets, including India, have been receiving FII inflows because interest rates in the western markets have been either very low, sometimes even zero, and in some cases negative interest rates.
So since money cannot find reasonable returns in those countries, it is being taken from those low yielding countries or negative yielding countries, transported to India, transferred to India would be a better word, and invested in our markets because we still get a 6% rate of return with a fair degree of stability of our money, security of our money.
Of course, there is a currency risk that the FII bears for investing money in India, which can be hedged. That has a cost. Let's assume a cost of 2-2.5% and then remittance cost of a round trip both ways say approximately a hypothetical quarter percent.
So maybe 2.5, maybe a quarter, to 3% max would be your net return, after all hedges and costs. You have taken money from a zero interest economy. Taken it to a 6% yielding economy. 3% is your cost of hedging and remittance. You still walk away with 3%.
Now that's the kind of yields that Peru has given and believe me, India is far superior to Peru as an economy. That's the kind of Peru is giving on its bonds and a lot of FIIs have invested and thrown money at Peru at 3% per annum.
This trade is called cash carry trade. You transfer money from a low yielding economy and send it to a higher yielding economy. Therefore, this is called cash carry trade.
Why is our markets catching a cold? For the simple reason that the US is saying that we will raise interest rates faster than usual.
Which means the cash carry trade might just slow down. The difference between the US interest rate and the Indian interest rate may not be the same and if we try to stimulate our economy in India by reducing interest rates, that difference might become even smaller and therefore the cash carry trade can become a little more difficult.
Which is why, I always believe in covering bond markets, inflation, yields on fixed income securities because this is the fountainhead or the source of all money supply. If you do not know whether the money supply, the money tap is opening up with easy flow of money or is is tightening up with choking of the flow of money, you, believe me, will not be able to trade any other asset class because hey, money is the lifeblood of commerce.
So without money, no can do. Any market, any asset class, irrespective of where you want to trade.
Yesterday, the US Federal Reserve said the days of easy money, unbacked currency, which was printed in 2020 because of the covid pandemic and lockdowns, might just be nearing its end, and it may have been a year sooner rather than later.
Savvy traders, the markets know that. Hopeful traders will enter a trade and then pray and hope that the trade is a profitable one.
But if you were think using a 360 degree worldview, you will realise that the money taps are not as a generous as they were earlier.
In my earlier videos, I often talked about how the base metal supercycle is something I do not frankly believe in. As a matter of fact, I recorded a video very recently about this, the shadow inventory and the commodities world.
I also talked about, a couple of months ago, whether I subscribe to the supercycle theory in base metals. I very clearly said, I admit there is a bull market in base metals, but I don't think there is a super cycle.
Now, in one of those videos, I also showed you a chart of lumber. Lumber is wood, lakdi. Now, if you were to remember that chart and here it comes on your screen again.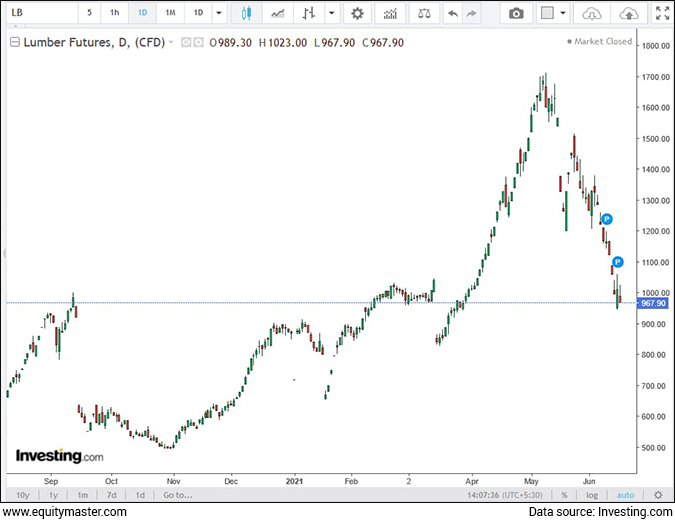 Lumber went from 250 dollars to 1,600 plus dollars. So lumber actually was a six bagger. Price appreciation after the markets lock down was six times. 600%.
Look at the way lumber has come down merely because there were talk of interest rate hikes and the Fed didn't even hike the interest rate. They just advanced the tightening of the rates from 2024 to 2023.
You still got a minimum of 18 months of easy money to enjoy. What did the markets do? They collapsed the price of lumber from US$1,600 to sub US$1,000. That's a steep decline of US$600.
Now do remember, as per the Dow theory, anything that falls up to 20 or more per cent is entering a bear market. So will you say lumber is in a bear market?
And don't tell me I didn't warn you. I showed you a lumber chart exactly a couple of months ago and I told you, this is crazy. This is a natural resource available aplenty. The only reason why it was going up was sheer speculation because of excess money supply, and this excess money supply is what the Fed is saying it wants to stop.
Which is why you have seen lower circuits, two days ago, on some industrial metals. You saw copper hitting more than 4% down, 4% on the MCX is the lower circuit. You saw the way nickel got banged. You saw the way zinc and lead got thrashed. You've seen how aluminium is unable to go past the 205-207 per kg mark on MCX, which it made the over a month ago.
Now these are all signs that sanity is returning to the markets and if the RBI, our very own Reserve Bank of India, Monetary Policy Committee which is the MPC, which meets again in August, decides to give such hawkish statements, like the US Federal Reserve did, 'look, we are not hiking rates right now in India, but we may consider hiking rates 3, 6, 9 or 12 months down the line', I believe that you might see another panic attack if that happens, so keep your ears to the ground and keep listening to the hooves of the approaching horses so that you are warned in time.
With this cautionary statement, I would bid goodbye to you in this video not before reminding you to click like on this video if you agree with what you saw. Subscribe to my YouTube channel if you haven't already done so and in the comments section, do let me know when you think of this video and what you would want me to record next.
Also, my college Tanushree Banerjee is hosting a special event on 21st of June 2021 called Forever Stocks.
You can basically participate and book your slot in that event by clicking on a link in the description below.
Do make it a point to be a part of this event on 21st June 2021.
I wish you have a very profitable day my friends. I bid goodbye to you. Thank you for your patience and watching my video. Take care. Bye.
Warm regards,

Vijay L Bhambwani
Editor, Fast Profits Daily
Equitymaster Agora Research Private Limited (Research Analyst
Recent Articles