Why You Should Trade
Jun 22, 2021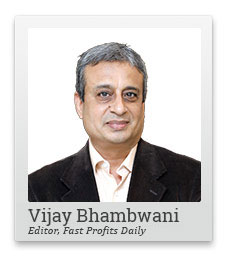 Today's video is about a topic that's close to my heart.
I would like to tell you why you should become a good trader.
I know trading isn't for everyone and that's fine.
I would just like to present my case about why you should at least consider making trading profits along with your long-term investments.
Watch the video and let me know what you think. I love to hear from you.
Hello friends. I hope you're doing well in the markets, and you're enjoying the ups and downs of the markets and even profiting from it.
Now, in this video, I will ask you if you've heard names like Wilhelm Quicker, Andy Hall, Pierre Andurand, Paul Tudor Jones, Victor Niederhofer, and Cathie Woods? These are marquee names of hedge fund managers, money managers, who have returned above average returns year after year and are revered worldwide as a super sharp players in the markets.
Watch Now: India's Third Giant Leap
What is the one common thread linking all these gentlemen and a lady here with each other? What's the common thread? The common thread is they are all traders, and they are superlative far above average traders.
Why is there fun in trading?
If you were to ask the Weekly Cash Alert subscribers what we did between 8th and 9th of June 2021, which is barely a fortnight ago, we entered into natural gas and we got out in less than 24 hours. We got in on eighth of June. We gone out on ninth of June. We clocked 11.70% return in less than 24 hours.
It was a guerrilla style, a kind of trade. You infiltrate. You exfiltrate. Means you enter and exit before the markets could actually even react. The 11.7% return in 24 hours or less than 24 hours is just part of the entire process.
They say the destination is important, but how you undertake the journey is even more important. The fact that job satisfaction, the kind of a feel good factor that you feel once you make money out of a short-term trade, which means that you have outsmarted millions of other traders out there with faster computers, faster internet connections, bigger span margin accounts, and probably even bigger and fatter pockets that you have because you played your game well.
So a lot of human intelligence gathering goes into the process of trading natural gas and crude oil. By the way, natural gas, if you ask commodity traders, is one of the most complex commodities to trade, as per the broader consensus. I'm not talking of myself. I am talking a broader consensus. It is one of the most volatile and one of the trickiest natural resources trade in the commodity space, especially in the energy space.
But we revel in trading natural gas for the simple reason that everybody is so spooked, is running so scared of natural gas, that is what makes making mistakes so imminent and one person's loss is another person's gain. The markets are zero sum game.
So what is it that makes trading all this exciting is the process that how much you can actually put in into researching your game into researching that particular trade. How much can you display by way of nerves when you are in the trade itself, when you know the trade is still to play out and there is still meat left on the bone, which you can still bite off?
This is what metamorphosises you as a trader. It evolves you as a trader and believe me, an 11.7% return is something that you cannot get every day, which is why doing just 10 to 12 of these transactions in a year, sets you apart from other traders and the remainder period of time, you basically start playing singles and doubles, which is a percent or two percent here and there once in a while.
You will see that the P&L of your entire year changes when you have super sharp trades like these once in a while. Which is why the money is in trading. Long-term investments is something I do not doubt is a money multiplier. You can get a five bagger, 10 bagger, 50 bagger stock and the stock market has full of stories how people have multiplied their wealth over a period of time by doing nothing but sitting tight on an excellent portfolio of stocks that they've identified early on. No doubt about the fact.
But if you were to tell me to hold on to something for five years because the stock could double, the trader inside me, the business owner inside me starts asking, Vijay, five years means 60 months. I need to pay 60 salaries. I need to pay 60 electricity, telephone bills. I need to settle so many other bills monthly in nature 60 times in that interim. So how about the cash flows?
Where am I going to get the survival money to sit tight for five years on an investment unless I trade. Which is what making trade makes trading a lot more important even for your long-term investment survival.
But doing it right is very, very critical. Which is why, yesterday I uploaded a video about the finest day trading hack that I know on screen reading.
What you basically do is you learn technical analysis. You learn screen reading. You learn a little bit of statistical analysis, and you must also understand behavioural finance and gather human intelligence from fellow traders, fellow risk owners.
For example, if you're trading crude oil and natural gas, what you need to do is have people at the ground level who can tell you what's happening. So you have an oil trader in the Middle East. You have an oil trader in the far east. You have an oil trader in Southeast Asia. You basically collate information and see who's buying, who is selling. Are new oil fields being developed? Are more drill heads being procured by Saudi Aramco or something?
Now these are pieces of information that go into making a trade. Without collating a whole lot of demand-supply metrics, without putting all the jigsaw pieces of the puzzle together, there is always going to be a loose end somewhere or the other. Which is what makes this so emotionally satisfying when you succeed that you know when everybody did their job well and it's an effort that was in the right direction.
The 11.7% return in 24 hours is a by-product of the entire effort that went into creating this success and it has to be done over and over, over and over, and over and over again, year after year, to be able to basically see you through even with your long-term investment goals, because this is what will pay your bills. This is what will put food on the table for you and your family.
Don't go by what I am saying. You might want to choose why you should basically go in for commodities or equities or currencies that are far simpler to trade. Why trade something like natural gas, which is one of the toughest nuts to crack out there? Why won't you want to trade something else which are comfortable with?
Hey, that's what trading is all about. You can do whatever you like. You can do what you're comfortable with and something that you feel very, very easy about. Why make money with discomfort when you can make it with comfort?
So there is more than, more than 3,000 instruments in all asset classes, which you can choose from, and that can basically be a means to an end to your trading success.
I will continue to make videos which will help you become better traders, just like the one that are recorded yesterday on screen reading, the best intraday short-term trading hack. I need your feedback to tell me how well you like these videos and what else and how much longer you want me to continue providing you with these inputs.
On this cheerful note, I'll bid goodbye to you, not before reminding you to click like on this video if you agree with what you saw.
Subscribe to my YouTube channel if you haven't already done so. Click on the bell icon to receive instant alerts about fresh videos being put up out here.
In the comments section, good, bad or ugly, keep your feedback coming. I welcome all of it. Help me reach out to fellow like-minded investors and traders by referring my videos to your family and friends.
I wish you have a very profitable day ahead my friends. Thank you for your patience. Thank you for watching my video. Vijay Bhambwani signing off for now till we meet again in my next. Take care. Bye.
in my next video.
Warm regards,

Vijay L Bhambwani
Editor, Fast Profits Daily
Equitymaster Agora Research Private Limited (Research Analyst
Recent Articles