My Short Term 360-Degree Worldview Call on the Market
Jun 23, 2020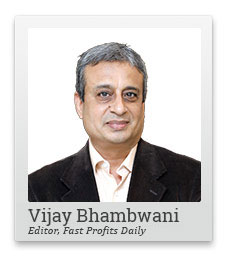 In this video, I want to bring to your attention, some of the most important events you need to keep in mind as a trader today.
These events are driving the stock market behind the scenes. You need to be aware of them if you want to make fast profits.
I'm talking about the US presidential election cycle, quarter end NAV management by mutual funds, and the revised trading restrictions in the market.
This is all part of my 360-degree worldview of trading. To make fast profits, you need to stay sharp.
Watch the video and let me know your thoughts. I love to hear from you.
Hi this is Vijay Bhambwani and I'm back with you recording this video still from my residence and in this video, I want to bring to your attention a very important event that has been flagged off last week and it's something that I have made umpteen number of videos in the past and I have written articles on Equitymaster about this, which if you have been watching my videos or following my work since a while, I am sure you will be familiar about it.
What I am referring to is the US presidential election. The big event on 3rd November 2020 when America goes to the polls to determine who will be the next president.
I have often in my earlier videos of reminded you that the presidential election cycle is a trading set up unique by itself.
Magic starts to happen before the US presidential election. There is a standard operating procedure. You will see stock markets going up. Interest rates comes down. Inflation comes down. The US employment data starts to get better. Crude oil prices are more or less steady because inflation needs to be brought down and the dollar starts to gain strength. All of which has been seen in the last few weeks.
If you're wondering why the US headline indices, the benchmark indices, the Dow Jones 30, the NASDAQ the S&P 500, why are these looking strong? Hey, it's the US presidential election. Welcome to the biggest event in the world as far as financial markets are concerned.
This is one time when markets are sort of pulled upwards by economic data, which is absolutely rosy. Does it mean that the markets will peak around or after the elections? There is a probability of that happening.
How does it help you as average Indian investor? Let me bring to your attention a two pronged observation that I have made in the last couple of weeks here. The US presidential election definitely pulls up the local markets there upwards but the trickle down effect on the global markets is undeniable.
Let's not forget that the US financial markets are the biggest in the world. So naturally it has a trickle down effect on all the other markets as well. It may not happen in lockstep, not exactly in the same percentage gains, but it's there.
Secondly, what you would also remember from my earlier video about market cycles, about how markets are repetitive patterns are repetitive in nature. I talked about an event which is not just unique to India, but you've been seeing it all over the world. This is the factor of quarter ending.
Do remember that June ending is almost upon us. What will happen in this quarter ending is mutual funds will be required by law as per SEBI guidelines to disclose their net asset values or NAV. There is a lot of NAV management, or maybe propping, which means funds buying their stocks, which are already there in their portfolio to basically bolster prices and therefore boost their portfolio valuations, which is what the net asset value is all about.
At the same time, coincidentally SEBI has also extended trading restrictions, which means a ban on short sales, restriction on short sales, reduction in the MWPL or the market wide position limits. That is the absolute number of shorts people can take in the markets or even longs for that matter in the derivative markets. It has also kept the elevated or the increased margin slabs the traders need to pay to their brokers to be able to trade in futures and options. The margins remain at a higher level, which was enforced from the third week of March after the lock down was clamped down.
All in all, what this tells you is that short sellers are on the back foot in the Indian markets, at a time when the global mutual fund industry, including the Indian mutual fund industry, is interested in pushing prices upwards.
The US market itself is headed higher, thanks to the US presidential cycle and all in all, there's the confluence, a convergence of all these factors simultaneously, which are bolstering prices higher.
Remember, in the financial markets, everything happens for a reason. There is no such thing as a fluke or a chance and since it's a financial market, everything that happens for a reason, the reason by itself is always financial in nature.
I have been talking about nursing a 360 degree worldview of financial markets. I often talk about the behavioural aspect of trading. This is what it's all about. This is keeping your eyes and ears open at all times and being aware of the world all around you and seeing what's happening around you so as to be aware of what can impact your prices, your portfolio, your trades, your investments at any given point in time. As long as you know the reason, the cause, you can also know the effect.
Do I expect the markets to cool off after June ending is done and dusted. There is a quite a high probability of that happening. I am not saying that exactly on the last day of June, the markets will make a peak and from the very first trading session of July you will see a lower circuit. No, not at all. They don't really work out that way, but there will definitely be an easing in the upward momentum may be followed by a little bit of profit taking thereafter.
As long as you're aware about the larger picture, fine tuning, using various tools like technical analysis, screen reading, statistical analysis, etc can be resorted to. So do note that the US presidential election cycle bugle has been sounded. Now the war cries are gonna get shriller and markets are going to get a little more volatile.
Do keep watching my posts on Equitymaster's Telegram channel with the handle Equitymaster official. That's where I put up at least three or four updates every evening, which would help traders navigate their way through the markets. If you're watching this video on YouTube, don't forget to click like on this video and subscribe to YouTube channel. In the comments section, do let me know what you think about this video and what else you would want me to record in my next video. Don't forget to refer my video to your family and friends and help me spread the cult of knowledge based investments and trades.
This is Vijay Bhambwani signing off until we meet again in my next video. Do take very good care of yourself, your health, your investments, your trades, and your family. Thank you for watching my videos.
Stay safe!
Warm regards,

Vijay L Bhambwani
Editor, Fast Profits Daily
Equitymaster Agora Research Private Limited (Research Analyst)
Recent Articles