The Best Day Trading Hack
Jun 23, 2021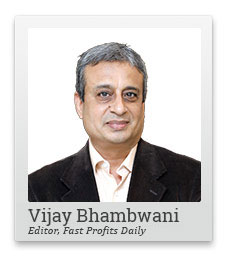 I received a lot of requests from my viewers in the Fast Profits Daily playlist to record a video specifically for day traders.
So here it is, a video on how to day trade better.
I am going to address this query with one very powerful tool, which I swear by as a day trader.
I've speaking as a trader who has been playing the markets for 3.5 decades and I can vouch for this tool.
So jump into the video and find out what it is and how to use it.
And don't forget to tell me know what you think of this video. I love your feedback.
Hello friends. This is Vijay Bhambwani here, and I hope you're doing great in the markets, the markets are treating you well and you're able to navigate through the ups and downs of the markets with a good deal of profitability.
Friends, I received a lot of requests from my viewers in the Fast Profits Daily playlist here that they would want me to record a video specifically for day traders and how to day trade better. What are the signals that a day trader should watch and how to improve the odds of earning profits from day trading?
So in this video, I am going to address this query with one very powerful tool, which I would swear by as a day trader and as a trader who has been playing the markets for 3.5 decades now.
FREE REPLAY: Discover What Richa Revealed in Her Smallcaps Summit
You see first things first. There's an old saying in Wall Street which you must always keep in mind. Day trading profits are the most difficult, 'easy money' profits you will ever earn in your life. Believe me, it's not half as easy as you think.
The only person who thinks my job is very easy is my wife. She thinks I am sitting in front of a computer on an easy chair, relaxed and lying back and pressing a few buttons, clicking a few of taps on the mouse and there is money coming into the house.
Believe me, it's a far more difficult job. It's not very easy. There are millions of fellow traders who are as savvy if not savvier, with a faster internet connection, more money in their pockets, and a lot more experience than you to take away your money at the slightest hint of a mistake.
So it's supposed to be a cut throat world, and in that world, we only have probabilities of succeeding. There are no guarantees.
But a trader who places the probabilities in his favour has a huge advantage over a novice trader who is merely thrashing about not knowing what to do and where to look for signals.
Friends, these markets are highly evolved, digitised markets, where different traders come together putting their bids, which means buy orders and offers which means sell orders, and the more they keep shuffling and modifying their prices, the more the target is moving.
You're like the sharpshooter or a sniper who is supposed to basically take shots at a moving target. Now, as any archer will tell you, it's infinitely more difficult to shoot down a moving target. Imagine you're a footballer and the goalpost kept on moving. How difficult would that be?
So with the blip of every price, when the price turns from blue to red, means bullish to bearish or red to blue, bearish to bullish, the goal post has shifted a little. It is your job as a trader to aim right and hit a goal that is earn a profit.
Now, these markets speak in the language of numbers and therefore it's important that you as a trader understand the language of this market in numerical terms when you see it in front of your screen.
There is an absolutely invaluable tool in your trading terminal that will help you increase the odds. Superlatively in your favour if you were to follow the system diligently.
You see on most brokers trading terminals, if you highlight the name of a security and click on F5, the syntax is F5, it will bring up this snap quote window. The rectangle of box on your screen.

It's there, even in your mobile phone, on your mobile trading app. The only thing is the kind of layout would have changed to suit a mobile screen. Now what you can see is that the quotes on the left hand side, the blue, are the buyers of the bidders and the ones in red, are sellers or offers.
Now, obviously the buyers want to buy cheap. The sellers want to sell a little higher and only when the buyer and the seller have the same price will the prices match and the transaction takes place.
Now, how do we know what price did the transaction take place? Take a look at this snap quote window of crude oil. You will see I have marked on the left hand side an item in red, in a red box, called LTQ, the last traded quote.
Note that the last traded quote is at 4,651. If you were to look a couple of rows below this, there is another a row I have marked in a red box. That is the ATP. That is the average traded price. Now the average traded price for that particular date happens to be for Rs 4,723.
Now, this average traded price is an average price of all the transactions since the market has started trading at nine o'clock on this particular day. So since the market opened for trading, all the transactions averaged together, seem to point towards the price of 4,723 which is the average price.
However, the traders are pushing the price lower, which is why the LTQ or the last traded quote is now at 4,650.
It doesn't need rocket scientist's brain to tell you that the price is falling below its ATP or the average traded price, which means on this particular day, the movement or the equilibrium of crude oil is downwards.
Now take a look at slightly towards your right hand side. I have highlighted four rows, which is open, high, low, and close. The open is 4,855. This is open of today. The high is 4,855 which means the price could not go above the opening level itself. It's falling right from the word go. The low is 4,640 which is somewhere what the LTQ is and take a look at this close 4,884. This is not today's close. This is yesterday's close.
So now what do you have? Now you have the market talking to you in terms of numbers. So the numbers say that yesterday's close was 4,884. Since the morning today, the transactions that have taken place are at an average price of 4,723, which means far lower than yesterday's closing of 4,884 and even the open and the high of today, is 4,855 which is lower than yesterday's close.
So today's opening is lower than yesterday's close. Today's high is lower yesterday's close. Today's average traded price or ATP is lower than yesterday's close, and today's LTQ, which is the last traded quote is not only below the average traded price, but which in turn is lower than previous closing.
I don't need to tell you that this is the day when you should be short selling crude oil or anything else for that matter. It could be anything. It could be an index. It could be a currency. It could be an equity in cash. It would be an equity in F&O. This is the sequence that you will follow.
Now, do not try to go against this sequence of numbers and try to bottom fish or average down as long as the price is quoting below its ATP which in turn is below its previous days close. This is suicide.
On the flipside, do not try to short sell any counter where the prices above the ATP and the ATP is above the previous day's close. That again is suicide.
Basically, what I am trying to tell you is, go which way the money is going. That way you have a better probability of earning trading profits. Does this guarantee you 100% profits? I don't claim to be 100% profit making pied piper of the market.
In spite of this, the markets will hit you in the gut sometimes, but hey, following the system will cut down the probability of a loss significantly, significantly. So if you learn to speak the language of the market, if you learn to learn the message of the markets, my friends, you will be a far better trader than you are now.
With a little bit of practise, discipline, and experience, you will get the hang of it and you can always come back to me in the feedback, comment section. Let me know what you think about this system.
I bid goodbye to you on a very satisfying note after making this video. If you liked this video, please click like on the video. Subscribe to my YouTube channel if you haven't already done so.
In the comments section, good, bad or ugly, I welcome your feedback, and hey, if you want to help your friends learn trading systems better, please share this video with your family and friends.
Thank you for your patience and watching my video. Have a very, very profitable day ahead. This is Vijay Bhambwani signing off for now.
Take care of your trades, investment, health, family, and friends. Bye bye for now till we meet again in my next video.
Warm regards,

Vijay L Bhambwani
Editor, Fast Profits Daily
Equitymaster Agora Research Private Limited (Research Analyst
Recent Articles