Be Prepared to Profit from the Coming Crash in Oil Prices
Jun 25, 2020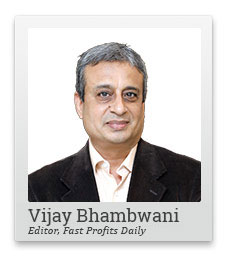 Shorting crude oil has been one of my favourite trades. Weekly Cash Alert subscribers have made a lot of money with these repeated trades.
But crude prices have stabilised recently. When will we get a chance to short it again?
The answer lies in the geopolitics of the group controlling crude oil prices called OPEC plus.
In today's video, I'll show you how OPEC plus is likely to crumble. That will send crude prices tumbling.
And when that happens, I'll be ready to recommend my next trade.
The question is, will you be ready to act on it?
Enjoy the video...
Hi, this is Vijay Bhambwani and I'm still at home recording videos for you. This video is a very interesting one, especially for oil traders.
Now I have been putting forward my hypothesis right since last year that oil prices were likely to remain under pressure and the only reason why oil prices were going up was because of the Saudi Aramco IPO that was in the pipeline. The IPO has done and dusted.
In the month of March 2020, I recorded a video on Equitymaster saying that this output cut and the flooding of the market, which preceded the output cut by both Saudi Arabia and Russia, was nothing but a street fight between two toughies who neither wanted to kill each other nor did they want to bankrupt each other.
This was posturing. They would both sue for peace and if a third party mediator was to intervene and call about a truce, they would be more than happy to take it. This video is actually taking up where the previous video in the month of March left off.
REVEALED: How to Potentially Make Up to Tens of Thousands of Rupees Within a Few Hours...
If I was to put in a title for this video, I would actually say the appropriate title would be, Is Saudi Arabia hammering a nail in OPEC's coffin? I think so. Let's discuss what's really happening.
Now OPEC, along with certain non OPEC members and these meetings of OPEC plus non OPEC members are now called OPEC+, the plus indicating the non OPEC members who are allowed to attend these meetings. So OPEC+ has decided to cut output of the member countries, or especially this conglomerate, which has now formed out of sheer vested interest so as to cause an artificial shortage in the market and push oil prices higher.
This is like a joint family. OPEC is like a joint family, and this time around, OPEC+ very simply means that outsiders have been allowed to come and stay in the joint family home. As Indians, we are not strangers to joint families. As a matter of fact, barely 20 to 30 years ago, it was very normal in India to see an ample number of joint families. And as we all know, there is bound to be a little bit of bickering. A little bit of pull and push between so many people living under the same roof and hey, now you've actually allowed outsiders to come and stay in the house.
So there is bound to be a little bit of conflict of interest, conflict of opinions and what it means for you and me is a possibility of a trade. Now understand what Saudi Arabia means to OPEC. Very simply put, it is the big daddy of OPEC. It has the largest reserves and the output among the OPEC countries and now that they've invited the Russians, who are the world's largest non OPEC producers of oil, the kind of clout that OPEC+ has is sizable but in spite of the Saudis and the Russians insisting on OPEC+ to cut their output and sell less in the market so as to boost oil prices, Saudi Arabia has gone ahead and actually sown the seeds of discontent in OPEC+.
If you have been following my posts on social media, a couple of quarters ago, I wrote about two oil wells which are present on the Saudi Kuwaiti border. These two oil wells are Wafra and Khafji. Since they were disputed as to where the jurisdiction lied, was it within Saudi Arabia or within Kuwait or possibly no man's land, which is the international demarcated border because of this lack of clarity, these oil wells, were not producing anything at all.
Now, ahead of the Saudi Aramco IPO, the Saudis and the Kuwaitis reached a conclusion that these oil wells would be jointly owned and the output would be shared by both governments. These two oil wells, although small compared to the super giant Ghawar oil field, are still sizable in numbers. The combined output of both these oil wells, the awards and the Khafji oil wells will very easily exceed half a million barrels a day. Yes, you heard me right five lakh barrels a day.
Now, after brow beating all the other OPEC+ members into cutting their output and selling less in the market, the Saudis and the Kuwaitis have very quietly gone ahead and started output at Wafra and Khafji, which means that suddenly there are going to be five lakh additional barrels of oil per day coming into the global supply mechanism.
If it all this does not cause discontent, infighting and a little bit of pull and push within the large joint family called OPEC, I would be actually very surprised and let's not forget that there are members who are non OPEC members actually.
So the Russians have already indicated that they will not adhere to any kind of output cuts beyond July. The Iraqis, the Iranians, the Libyans are dragging their feet about cutting their output, although they have promised they will cut their output at a later date. The Ecuadorians are out of OPEC. Qatar is no more in OPEC and therefore does not feel bound to be liable to kind of follow OPEC's orders.
Let's not forget that there again is a Shia Sunni divide within the OPEC members, and therefore there's an ideological, religious, and political differences between these members. So it's a very very, uneasy, very very temporary and very very vested interest based alliance, which will require nothing more than a small push, and all will come tumbling down like a house of cards.
What does it mean to you and me as traders? Watch crude oil prices. Extremely nervous. The market does not seem to believe that this uneasy alliance will last too long. It's just the time of the year which is conducive to a bullish time in oil markets because of extreme summer. There's a lot of capacity outage due to annual maintenance contracts in Asia, etc which is what is holding crude oil prices higher.
Will OPEC+ at some point in time unravel? I think so. As a matter of fact, I am willing to bet my money on it. At some point in time, in the near future, oil prices will tumble because OPEC+ will not be able to hold on to this artificial supply shortage that they have created and that's when I'll come forward and give you another trade. Another trade in crude oil and, as you would know in 2019, calendar year 2019 and even financial year 19-20, trading crude and natural gas has been the backbone and majority of the profits in the Weekly Cash Alert. It's just gonna get better this year.
On that optimistic note, I'll say goodbye to you in this video till we meet again in my next. Till then, please take very good care of yourself, your family, or trades, your investments and do not forget to click like on this video if you're watching it on YouTube.
In the comments section do let me know what you think of this video and this trading opportunity I present in the video. Also, what else you would want me to record in my future videos and please help me reach across to a large number of people to spread this cult of knowledge based investments and trades by recommending my videos to your family and friends.
And hey, I hope you've joined Equitymaster's Telegram channel wherein I put up a couple of posts every evening about the markets for short term traders. The handle is Equitymaster Official. See you there.
Vijay Bhambwani signing off for now. Thank you for watching my video.
Stay safe!
Warm regards,

Vijay L Bhambwani
Editor, Fast Profits Daily
Equitymaster Agora Research Private Limited (Research Analyst)
Recent Articles