My TruStopTM Trading System
Jun 25, 2021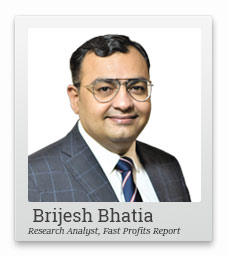 In today's video I'm doing something different. I won't cover the Nifty and a sector of my choice.
Instead, I'll cover a topic which has been requested many times: stop losses.
I'll show you how I use stop losses with my proprietary TruStopTM trading system.
TruStopTM not only minimises losses with stop losses but also maximises profits.
Watch the video to find out how.
And do let me know what you think of my system. I would love your feedback.
Hello viewers. Welcome to the Fast Profits Daily. Myself, Brijesh Bhatia. Senior research analyst and editor at Equitymaster.
Unlike the Monday video where we discuss the Nifty and the sector, this week I bringing the viewer's choice topic where I've received various questions on this subject, in my mailbox. It's stop losses.
Well, if you remember, I have discussed this system as well on my trading plan on momentum based trading. In case you haven't watched that video, do watch that video and on the same video, I have received many questions in my mailbox regarding how to place the stop losses.
Well, I would say, if you look at this video discussing end of stop loss. What does this mean? Well choosing the right stop loss, trading it, my experiences with stop losses and being a reversal trader for more than a decade now, I understand what the stop losses play.
Well, when stop losses hit, I know, thoda dard hoto hai when you make a loss.
But believe me, this is a Brahmastra for us, for a trader, where it minimises your losses and I would say not only minimise the losses but maximises your profits as well. How, I'll share with you.
But why stop losses are so popular? Do you need stop losses?
Well stop loss are very much popular because it not only minimises your losses, but it is an art, I would say from a longer run. Don't look for one trade or a couple of trades.
But when you're trading 100 trades and there 10 trades when your stop losses are hit and 90 trades you're making money, believe me, that 10 stop losses won't hurt.
But when one stop loss when you think that there is a hope that, nahi, price aa jaega, that aa jaega is a very difficult word and when you keep in hope that price will come and what if March 2020 happens, there is no look back.
Once you hit your stop losses, exit it out. I know that was a black swan event but there are some times when miss the stop losses and exit, it is out of your control. So I would say yes, stop losses is very much necessary and is very much popular when you are disciplined at trading.
Do stop losses work? Yes, in my case, I would say a very big, yes, because being a reversal trader, I am trading against the crowd.
Always, when you are trading against the crowd, there is one percent chance that your trade might come into the profits and 99% because you are trading against the crowds and when you miss, those reversal set ups don't work, it goes into deep losses.
I remember one trade when I was trading, I guess if I am not wrong, I was trading PNB and my stop lass was hardly 1.6% and I maintained those stop losses. Being a discipled trader, being a reversal trader, I'm a big fan of stop losses. As soon as I buy a trade or sell my trade, next minute, I am putting my stock losses in the system.
I remember one of the friend which have suggested me to buy, he didn't keep a stop loss because stop loss was slightly narrow 1.6%. It didn't make a big difference to me but he thought, chalo thik hai. Bhav aa jaega.
It was a PSU bank and PSUs were the flavour of the month. I don't remember the year. Probably 2015 or 2016. I don't exactly remember the year and he went into the loss of 27%. So being 1.6% loss, where we have seen PSUs aggressively going down, and in the end he exited at 27% loss and he admitted at that point of time, yes, 1.6% was healthier loss than being a non-wealthier loss. So such kind of stop losses are very much necessary.
1.6% is easily recoverable money rather than 27%. So you have to gain that 27%. One trade or 10 trades are not important but bringing that confidence back to the markets in to a trading system when you are in a deep loss of 27% is a big challenge.
So stop losses work and it is very much necessary I would say.
Well, my experience with stop losses. Well, I have been a speaker at various events for last 7-8 years, and I discuss with people of session where we are at breakfast, when we are just roaming around, at dinner and people always say, stop loss se kuch nahi hota hai.
I guess everyone has experienced my first line over here on your screen price go higher or I would say, in the money after hitting the stoploss. I guess you have surely experienced that and yes, it happens. It happened with me also.
So initially, afsoos hota hai, yaar thoda rukh jata but believe me, ye sab ke sath hota hai and the next time you think 'hope', again as I said, aa jayega bhav, hope is the biggest problem for us.
So that is the biggest challenge. The second biggest challenge you face is that my trade is in the profit or in the money, and then it hit the stop loss.
So I was making a healthy Rs 15,000 in my trade, and in the end, wo 5,000 leke gaya. My stop loss got hit.
Well, I would say, I have developed a system, I will show you this video, where I'm not looking only to minimise my losses, but I'm looking and the profits as well. So I'm using my trailing system. I'll show you how, what I've done and what I have.
Well, so this is the biggest two problems people face with the stop losses. Next is selecting the right stop losses.
There are a few parameters generally people follow for selecting the right stop losses. First there is moving average. There is EMA exponential, simple, and weighted whatever you want to follow, there are multiple moving averages to be followed.
ATR, average true range, some follow it daily, weekly, monthly. Fibonacci levels, I used it generally being a harmonic trader, the patters are formed based on the Fibonacci levels. So I use Fibonacci based stop losses as well but mix up some stuff with it.
Pivot levels. So if you find on Google just type the word pivot levels you will find any number of websites and software giving you pivot levels. You can find on Android app as well.
So being such a widely seen levels, do think it will work. Well, think about it, there are many types of pivot level as well and you can use it effectively or you can use combination of both, using moving Fibonacci levels, which is what I use.
So at Equitymaster, we have developed one system of stop losses. We name it as TruStopTM. We have trademarked the system. So this is a proprietary system at Equitymaster and what we are using is three parameters, Heikin Ashi, exponential moving average, Fibonacci time.
Well, why this three? First if I look at the Heikin Ashi, being a noiseless chart and it generally defies it very, very smoothly. It eliminates the noise of the trend.
So firs it's Heikin Ashi because I want to ride those trends. I don't want to miss the trend. When an into a trade, I want to make the maximum out of it.
Second it exponential moving average. Why? That's because I don't want to miss the trend and exponential moving average helps you very, very much to trail your stop losses.
So when I am in the money as I said, I was making 15,000 and in the end, I gave 5,000. So at that point of time, if you are making 15,000, you could have exited at 9,000 or 10,000 profit, right?
Exponential moving average helps eliminate those part of my trading system where I am not making losses in 'in the money' trades. So the exponential moving average, which helps me to curtail my profits but at the same time, I want to keep in mind that when there are small dips, I don't want to exit that small dips and I don't want to miss the whole trend. So I have chosen this at certain point of time.
The third is Fibonacci Time or fib time. Why I'm using fib time is because I don't want the prices after a rally goes into consolidation and I'm missing the other opportunities. So if at certain point of time, prices are going into consolidation, I'll exit my trade with this system. I'll exit.
So that's the three perimeter I'm amusing and we have termed this system TruStopTM. How has TruStopTM performed? Let me show you.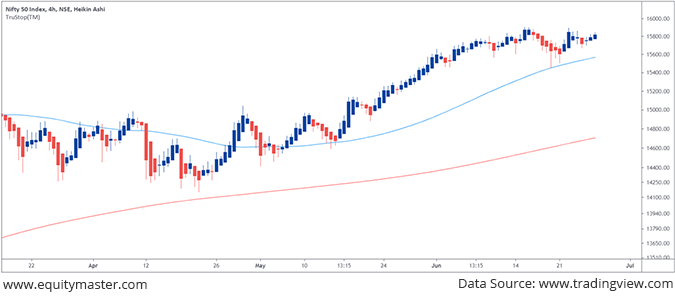 This is the Nifty chart where I have been using TruStopTM system. This is the four hour chart on Nifty, which I have been using for trading for quite long.
So if you look at blue and red lines this is the mix of time and moving averages. Blue line is shorter term moving average fib time and the larger, the medium term moving average and fib time.
So the system gave me a buy by at somewhere around 14,875-14,900 over here and it went higher, retested those levels, and if you look at the Fibonacci candle, it had closed below those levels.
So that was the biggest advantage over here for me. Then the trend continued higher and higher. It retested in the recent fall of 14,450 but didn't close below the average and still the trend is discontinuing.
So I want to play the trend. At the same time, I don't want to get the losses bigger. I want to curtail my profits as well. So if you look at the initial stop losses over here, the stop losses was somewhere 14,700-14,750 then. Now it has moved higher to 15,600. So at a certain point of time when I'm 14,900 or probably long and at 15,600 if the trend continues the averages will go higher and my profit will be made.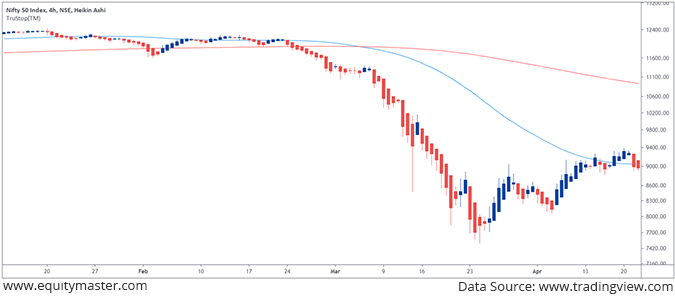 Similarly look at the March 2020 over year. The system gave, before the fall started, the system gave below the medium term average and fib time, it went negative and it gave me a short and the short continued for quite long.
Again, I am not assuming to hit the right bang levels of 7,500-7,600 and exit my positions. At the end, when it happened to be the reversal, it exited my positions somewhere around 9,100-9,200.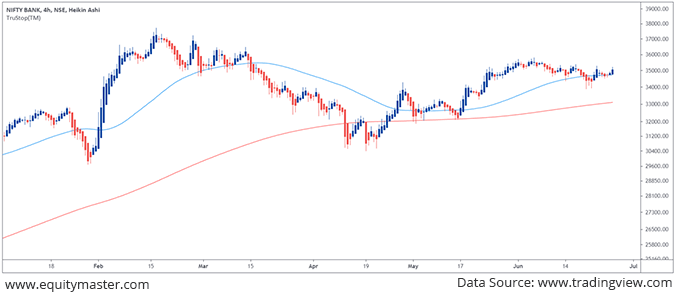 Again on the Bank Nifty I'm using the four hour system. In April, it went below the medium term average. Again back retested the medium term average and now its trending on a bullish trend.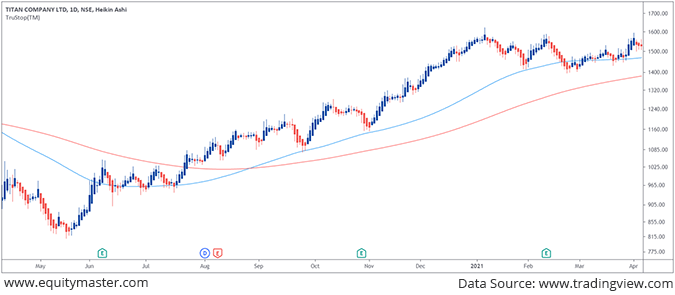 Titan on a momentum trade. Now, if you look at the Titan over here, I got a long in August over here, when it turned the medium term average, the red line, I went long and if you look at it, I got somewhere around a 1,050-1,100 levels and exited my position somewhere around 1,470-1,460 levels. Again 40% in the money.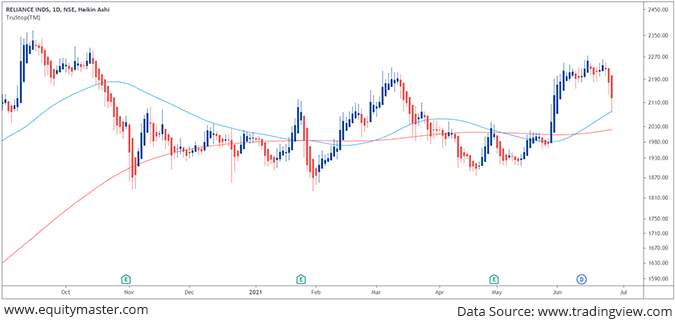 Reliance. This is a classic example of how my TruStopTM system works. We got a Reliance result of Thursday. We got a dip on Friday and if you look at the dip my TruStopTM short term average and fib time was indicating 2,079 as the level. We made somewhere a low of 2,080-2,081 and reversed.
So now even if there is a bearish Heikin Ashi candle tested, it didn't close below those, it closed higher. So in my system till the price is trading about 2,080, from a from a short-term point of view and Heikin Ashi candle is not a closing below this, the trend is showing me that yes Reliance is still in a positive. territory. Even though the price retraced from around to somewhere around 2080, it's still maintaining those bullish trends.
So this is absolutely an exciting system which I have been trading for quite long I would stay. We at Equitymaster, have a proprietary based system and trademarked this system called TruStopTM.
So before signing off, I request you to click on the like button and click the subscribe button. Do post a comment, how do you like it and in case you think that I should cover some of the topics which is more practical and from the trading point of view, do write a comment. I'll try to take the viewer's feedback and come on with that topic.
Thanking you. Brijesh Bhatia.
Warm regards,

Brijesh Bhatia
Research Analyst, Fast Profit Report
Equitymaster Agora Research Private Limited (Research Analyst)
Recent Articles