Domino Effect: Why You Should Defer Your Long Trades
Jul 1, 2022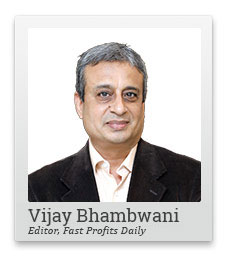 The commodity markets have been in a downward trend. This should have provided some support to our markets.
However, the Nifty hasn't recovered from its recent fall.
Why is that? And when will the market benefit from falling commodity prices?
Find the answers in this video...
Hello friends. I'm Vijay Bhambwani. I have been trading these markets since 1986 and through my videos, I want to help my friends and my video viewers to take better and informed trading and investment decisions so that they can earn higher trading profits and have a better return on investments.
As I record this video on Thursday evening, which is the 30th of June, the US markets have just begun to trade and the headline indices, the Dow Jones Industrial Average is down 500, metals are down, oil is down over 2.5%.
Get Bullish: 3 Next-Generation Defence Stocks
I recently recorded a video last week asking traders are to be a little more patient as to why equity prices were not rising in spite of cooling oil and natural gas prices. I talked to you about inter market analysis and there is an impact in the market.
There is a phenomenon in the market which is known as the domino effect. As the name suggests these are dominoes. This is one market. This is on the asset class. This commodities, currencies, bonds and forex. When one market topples, it topples or impacts the other asset class as well.
So what I am seeing is a step decline in base metals and do remember, I have been maintaining for many, many months now, many quarters as a matter of fact, I have at least half a dozen videos recorded in this playlist debunking the supercycle theory in industrial metals in the commodity space.
Now what you are seeing is a mini meltdown in many of these industrial metals, which is resulting in stock prices of these metals companies, Hindalco, Jindal Steel, or Tata Steel, or any other company, this basically results in a domino effect.
When a person loses money in one asset class or in one sector, he tends to suffer a little bit of emotional distress and wants to play it safe and tends to pull out money from other asset classes as well.
For a while, it is very possible that we see a sharp impact of the domino effect being experienced in our markets as well in spite of the fact that raw material costs are going down, WPI going down because of energy and metal prices coming down.
Over a longer period of time, this will result in higher corporate profitability because raw material caused coming down would mean the bottom line or the net profit going up.
But as is the case, like I said, that domino effect is a study in behavioural finance because when traders starts to lose money and a mark to market loss, believe me, is a very punitive, very painful thing to experience, you tend to basically withdraw money and play safe if in the other asset classes as well.
So taken to a consideration how crude oil prices are falling. As on Thursday evening, I am seeing a 2.5% decline in crude oil. I am seeing natural gas prices come down. I am basically seeing, copper nickel, aluminium, zinc, lead, all prices coming lower. That should be positive for industries that use base metals as raw materials.
I gave you in an example in my recent video about how Hindalco as a case study, this is just a hypothetical example, about how Hindalco as a mining company, has its share price positively correlated with aluminium prices. So if aluminium prices are going up Hindalco's share price will go up because it's finished product is getting more and more expensive.
On the other hand, an aluminium consumer for example, TTK Prestige, the company that makes the pressure cooker of the famous Prestige brand, should see its raw material price coming down if aluminium price goes down and consequently, the share price going up.
But initially there will be a lag effect. A lag effect meaning, the impact of the benefit of raw material cost going down takes a little time to trickle into the share prices. So do not get unduly worried. If you're a long term investor, it will take a couple of weeks, or maybe even a couple of months before you see the prices coming are down and benefiting the stock prices, i.e. the commodity prices coming down and benefiting stock prices. There is always a trickle down lag effect after the domino effect is seen. So watch the process of declining prices.
When should you buy? If you're a long term in master, you can continue to do your SIPs even in your stocks. But if you are a trader, when would I buy? I am a pure trader. I would want the price to stop falling, and thereafter overcome at least one, if not more, recent, previous peak.
That would tell me that the bulls are getting their act together. They're serious about pushing prices higher, and I could venture out a small token by and get my toes wet on the long side. Till then, I am not very keen on buying and holding as a buyer.
I might just buy intraday at 9:15, only to square up before 3:30. I am, as it is, a micro trend trader who does not keep trades open for more than an hour preferably. Those buys are fine. But would I roll over the buys to the next day? I definitely would not, because I am waiting for the trickledown effect of the domino effect to pass, and one recent peak to be overcome before I start venturing out to buy again.
So now you know why the surprising aspect of raw material prices coming lower, including base metals and energy, but stock prices not reacting initially. The shock effect of the domino effect will take place and invariably stock prices will ultimately rise after the news is digested.
On this optimistic note, I bid been goodbye to you, not before reminding you to click like on this video if you liked what you saw. Subscribe to my YouTube channel if you haven't already done so.
Good, bad or ugly, I always welcome your feedback in the comment section and help me reach out to fellow like-minded smart investors and traders like yourself by referring my video to your family and friends.
Thank you for your patience and sticking around in this video. Till we meet again in my next, this is Vijay Bhambwani signing off for now. Have a way profitable day ahead. Thank you.
Warm regards,

Vijay L Bhambwani
Editor, Fast Profits Daily
Equitymaster Agora Research Private Limited (Research Analyst)
Recent Articles