How to Find the Best Stocks for Day Trading - 1
Jul 2, 2020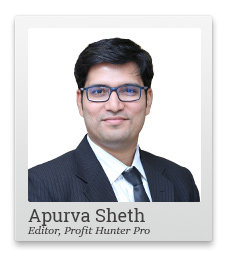 Over the last few weeks, I have been talking about intraday trading in my videos.
These videos have become very popular. So I will continue this series of trading on an intraday basis.
Today's video and the next one will be all about how to pick stocks for day trading.
What are the best stocks that you could trade intraday? Let's find out...
Hi. I'm Apurva Sheth and I welcome you to this latest edition of Fast Profits Daily. Now in the last few weeks I have been talking about intraday trading. These videos have gained a lot of popularity and viewers have liked them. So we will continue this series of trading on an intraday basis.
What are the things one should a look at and keep in mind while day trading? So today we will take this one step forward. Now, in the first video, we spoke about time frames that one should use for trading. So we took an example of a swing trader and how he could move from a daily time frame and then to a weekly time frame and then back to a smaller degree time frame like an intraday chart.
The process is similar for a day trader but here what I recommend what I prefer to use is a 15 minute chart and for confirmation, one could use a 75 minute time frame which divides the day into it into five equal candles and for entries one could use a three minute time frame better entries basically. Now if one does not have a 75 minute chart on the platform, then one could use a 25 minute or are 60 minutes time frame.
We also saw what kind of indicators that one should use in the last video. So on a daily time frame on a 15 minute chart, one could use a ADX indicator. On a 75 minute chart, one could use the MACD and moving average to determine the trend and on the lower degree time frame that is the three minute time frame, one could use the RSI for better entries and exits. So one could enter longs when RSI is in over sold levels and one could enter shorts when RSI is in over bought levels.
So this is with respect to the day trading system or process that one could follow. Now another challenge in day trading is the kind of stocks that one should select. So now today's video is all about that. How should one pick stock for day trading? What are the best stocks that one could use for day trading?
JUST IN: Top Stock for 2021 Revealed Here
Now there are about 4,000 stocks listed on the Bombay Stock Exchange. Now, as per the system which I told you, now if one would want to follow that system on these 4,000 stocks, it would have been impossible to trade because you have to see 4,000 stocks on three different time frames. So that would make it a very difficult given the times spans that we have for trading. So we need to reduce the universe drastically.
So how would one go about reducing this universe? So I am sure you are aware that out of these 4,000 stocks, most of them may not be that liquid, so some of them might also be into groups where day trading is not allowed. So we should be using the process of elimination to select the best stocks.
Now, we use this technique in a competitive entrance exams wherein we were taught that if you don't know the correct answer or if you want to improve your probability of picking the right answer, you should first eliminate the wrong answers. That makes the process of selection of the right answer easier. The same process is applied to day trading as well.
When you're picking stocks for day trading, we should eliminate the stocks that you simply do not want to trade. That makes your life much easier as a day trader. So all of these 4,000 stocks , what I recommend is eliminate the stocks wherein the average daily turnover is less than Rs 4 crore. So now everyone may not be able to do this because it requires some computing power or a charting software.
So if you do not have this kind of tool, a simpler way is to pick only the CNX 500 stocks for swing or day trading. Now that's the rule I follow. I do not generally reco stocks out of the CNX 500 universe and I think that is what each and every trader should follow because the stocks which are outside of this CNX 500 basket are not quite liquid and do not have good volumes and they might also be operator driven. So because of this, we should eliminate these stocks.
Now even out of this CNX 500 stocks most of them do not move on a day to day basis. There will be periods when they will be stagnant and will be consolidating. So we won't be able to trade them on an intraday basis. So what's the best approach for that?
So, ideally, what one could do is pick only the stocks which are in the F&O segment. Now, the F&O segment is the most liquid segments to trade. There are roughly 142 stocks and two indices, Nifty and Bank Nifty. Now this is the most liquid universe wherein you have the advantage of leverage as well in your favour. So you can trade these 142 stocks in the cash segment if you are slightly conservative trader and if you are willing to take risks, then you could also trade these stocks in the F&O segment.
Now even with these 142 stocks, which are in the F&O segment, most of them are not liquid. So almost half of them are not liquid enough. Now, what is the measure of liquidity for these stocks? So the rules which I follow is that these stocks should have traded at least 3,000 contracts on any given day in the F&O segment. So these 3,000 contracts are for the near month futures. So what is the logic behind are using 3,000 contracts?
So there are 375 minutes in a day. Now if you divide 3,000 by 375, you get 8 contracts per minute. So what we are essentially looking at is if a stock does not even trade eight contracts in one minute, then it is not very liquid, and the bid ask spread in these stocks will be very high. So it wouldn't make sense for a day trader to trade such kind of stocks because the bid ask spread or the impact cost would be high and you need a quick entries and quick exits in day trading especially when there is a lot of volatility and there is news flow. You don't want to get stuck just because your price is not filled. So that's what I recommend or what I use is a limit of 3,000 contracts traded per day.
Now you could calculate an average over a period of two or three days to see how liquid particular stock is. So if you apply this filter, then the universe would even reduce to let's say about 70 to 80-85 stocks. Now this this is the most liquid universe of all the stocks that are listed on the BSE and NSE.
I would suggest that traders, especially day traders, should not go beyond this liquid universe because you have to check these stocks on two or three time frames for confirmation and for entries and exits. So you would be checking let's, say, 80*3= 240 charts, which you would keep on a seeing during the day. So you would be checking 240 stocks in a day. Now anything more than this would be very difficult to manage. So, on the basis of this rule of elimination, you can narrow down your universe to 70 to 80 stocks and these are most liquid and volumes will be very high in such stocks. So you could enter and exit frequently without much of impact cost.
So that's how day traders should go about picking the best stocks. Now, this time we've used the process of elimination to come down to 70 to 80 stocks. In the next video, I'll use the process of selection and tell you how could identify the best trading opportunities within these 70 to 80 stocks.
So that's all from me for today. I hope you enjoyed watching this video and in case you did, then please like this video, share it with your friends and family who want to be better traders. You could also join our telegram channel, where I keep on posting regular, interesting stuff about market and how one could identify the best trading opportunities for the next day on our telegram channel. So don't miss out on that.
Thanks a lot and have a nice day.
Stay safe and have a great trading day!
Warm regards,

Apurva Sheth
Senior Research Analyst, Fast Profits Report
Equitymaster Agora Research Private Limited (Research Analyst)
Recent Articles