How We Made 10%+ Profits Overnight
Jul 3, 2020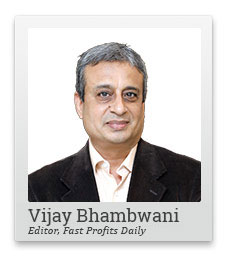 This video is something that I'm excited to share with you.
It's about how I managed to return more than 10% in a matter of two trading sessions by trading natural gas futures last week.
You see, I have been talking about crude oil and natural gas for a long time.
I've told you why these two commodities will form the backbone of my trading program for the calendar year 2020 and maybe even financial year 2021.
So today, I'm going to share with you the when, where, why, and how of this trade. How it was initiated, how we booked profits, and the method behind the madness.
Let's go...
Hi, this is Vijay Bhambwani and I'm still recording my videos from my residence and this video is something that I wanted to share with you about how I managed to return more than 10% in a matter of two trading sessions by trading natural gas last week.
You see, I have been talking about crude oil and natural gas and have also told you that these two commodities will form a backbone of my trading, a program for the calendar year 2020 and maybe even the financial year 2021.
So I'm going to share with you the when, where, why, how of this trade. How it was initiated, how we booked profits, the method behind the madness, so that you not only know how to get a fish but when to get it, and how to go about the entire process.
FREE REPLAY: Discover What Richa Revealed in Her Smallcaps Summit
You see, my last recommendation in Weekly Cash Alert was in March in natural gas. Thereafter, a lot of things happened. There was a lock down due to Corona and the infamous negative prices of crude oil on expiry day on 20th April 2020.
Things actually went into a dizzy. There are lawsuits in the Honourable High Court in Mumbai about the negative pricing of crude oil and a crude oil itself has started attracting a very heavy duty 100% span margin and there are brokers who are even charging a higher amount for safety sake if at all many brokers are even allowing trading crude oil and initially, at least after the negative pricing issue on crude oil, there were many brokers who actually did not even allow natural gas trading.
So it was a matter of waiting for the right time, the right price and by now you realise that I believe in the 360 degree worldview approach to financial markets, which means that the news flow, the triggers that impact the prices, the geopolitical situation, the demand supply equation of the commodity, everything had to go as per plan before I would initiate or fire a trade.
So what was happening all through June was that natural gas was facing a glut, an oversupply situation. The Russians were building a pipeline to Europe which would supply low cost natural gas to Germany and the neighbouring countries. The Americans, of course we're not very pleased. Remember, the Americans are exporters of natural gas themselves. Donald Trump threatened to impose sanctions on the Russian gas company, but then the Russians went ahead.
There were news reports from Qatar, which is a major major swing producer of natural gas and LNG in the world, who said they would refuse to cut down production of natural gas even if the prices were to go even lower.
All this told me that natural gas was possibly headed lower and something more actually occurred that went in our favour. Slowly but surely, I started getting reports about commodity brokers allowing traders to take positions in natural gas. The exchanges themselves brought down the initial or the span margin in traders parlance, which is a deposit that you have to pay to the broker to be able to start trading any instrument in the derivatives market. So the margin requirements were brought down in natural gas, whereas crude oil still remains restricted.
Natural gas became an affordable tradable instrument, and just before the expiry of the June future series, I realised that there was a possibility of the price rising temporarily ahead of the expiry to facilitate rollovers to July series. This was the cue that was waiting for.
You know, as a trader, sometimes I feel like a sniper. I am waiting patiently for my target to arrive in my gun sights, sometimes for very, very long periods of time before I can squeeze the trigger and in this case, in natural gas, believe me, I waited more than three months to pull the trigger and trade natural gas.
So when everything went right, there was an oversupply situation. There was this issue about major producers like Qatar and Russia refusing to cut down output. The Saudis had discovered a new gas field at Jafurah, and it's a super giant gas field. They were actually talking about pumping in something close to US$.110 billion to develop that natural gas field so that they could reduce their dependence on Qatar, who they are politically opposed to.
So all in all the fight between the Saudis and the Qataris, the oversupply situation in Europe, the political standoff between Donald Trump and Vladimir Putin, where the Nord Stream pipeline from Russia, Germany was concerned, was a very favourable hunting ground for a hunter killer who wanted to trade natural gas. And yes, I do believe that trading is like being a hunter killer.
So all in all, I saw everything within my gun sight and I pulled the trigger. I was frankly expecting this trade to square up within a week itself, although very conservatively I sent out a trade alert to my clients saying, this is a fairly patient trade.
But lo and behold, the very next day, after initiating the trade on session one, the very next day, we actually entered the trade pretty late into the day approximately 9:30-10 pm and the very next day, I got an opportunity to cash out, and we grabbed the opportunity with both hands. Unfortunately, I must admit, in hindsight, had I waited for one more day, possibly the returns would have been even more absolutely fattening gravy covered and mouth watering.
But, hey, my technical target was met, the trigger was pulled, we went in, we came out without paying a single paise as mark to market, temporary notional loss. The trade was timed so perfectly that after we shorted it, the price never really went up, which means no client of mine paid a mark to market a margin call and the very next day we got 10% plus. We cashed out and we are now waiting with bated breath for the next opportunity in natural gas.
Let me also share a secret about what will trigger this opportunity. Nord stream 2, which is the pipeline which is coming all the way from Russia to Germany. Another issue. There are two oil wells on the no man's land, the political border between two countries, the international no man's land between Saudi Arabia and Kuwait.
Now these two oil wells the Wafra and Khafji oil wells are collectively capable of producing approximately half a million barrels of oil per day. As any geophysicist would tell you, wherever there is oil, there is also some amount of natural gas available from that well. The Saudis and the Kuwaitis were having a political standoff as to who owned these fossil fuels in no man's land on their border.
Before the Aramco IPO was launched last year, the Saudis and Kuwaitis have signed a political memorandum which says the oil belongs to both the countries and they would split the revenues between themselves. So these two oil wells are gonna be commissioned already of breath within the next couple of months. More natural gas coming into the market, which is already oversupplied.
This is what is something are waiting for. I'm sharpening my knife. As soon as the next geopolitical trigger comes in, as soon as that next price point comes in, we're gonna take a deep dive again into natural gas. So Weekly Cash Alert subscribers standby. There's one more profit coming your way.
And as I told Sarit and Rahul in the podcast, last year's Weekly Cash Alert returns were in excess of 42% in the entire year of trading. We're trying, or at least I'm trying to better that record. Fewer trades but get in and get out kind of trades. The market gods willing, we are going to do better than last year. Standby for my next trade, which possibly is going to do better than the previous one.
On that optimistic note, I bid goodbye to you in this video till we meet again in my next. If you're watching this video on YouTube, do don't forget to click like and subscribe to my channel. Also in the comments section, do let me know what you think about this video and what you would want me to record in my next video.
And do not forget to refer my videos to your family and friends. Help me reach out to traders who want to improve their trading with knowledge based techniques. And hey, I hope you've subscribed to the Equitymaster's Telegram channel. The handle is Equitymaster official. I put up a couple of post there every evening and I would want you to go through those posts and help you trade.
Till we meet again, Vijay Bhambwani signing off for now. Thank you for watching my video. Do take very good care of yourself, your family, your health and your trades and investments. Bye for now. Thank you.
Stay safe and have a great weekend!
Warm regards,

Vijay L Bhambwani
Editor, Fast Profits Daily
Equitymaster Agora Research Private Limited (Research Analyst)
Recent Articles