We Will Do Better than Hedge Funds. Here's Why...
Jul 6, 2020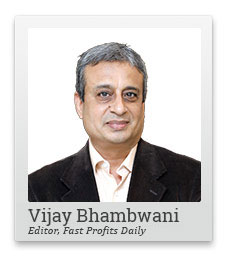 In this video, I've shared my innermost thoughts about hedge funds and why we can do better than them.
Hedge funds is a subject that is a passion of mine. Recently, many prominent hedge funds have shut down.
That got me thinking. What mistakes did they make? How can we avoid them? How can we beat their returns?
I believe we have reason to be optimistic. In this video, I want to show you why we are all set to cash in on hedge fund like returns this year.
Hi, this is Vijay Bhambwani and I am still recording my videos from the comfort of my residence. I hope the markets are treating you well. You have a finger on the pulse of the markets. You're observing what's happening in the world of finance, investments and trading all around you and keeping yourself abreast and upgrading your skills in the bargain.
I am recording this video basically to share my innermost parts and possibly even put forth a blueprint that I have in mind about the financial year 2020-21 which is 1st April 2020 to 31st March 2021.
I have often mentioned in my videos that oil and gas is likely to form a backbone of my trading blueprint in the commodity space. Last year it yielded the most amount of profits. And, hey, why change a winning strategy or winning formula?
Now what I'm recording this video specifically for is a subject that is a passion, a hidden desire, a kind of aspiration, if you will, that I have deep inside of me. The business I am talking about is that of hedge funds.
Expires Tomorrow: Full Replay of Our Urgent Broadcast on India's Revival
Hedge funds are those kind of aggressive, profit chasing entities that are reputed to have in the world of high finance more money than God. These are Alpha boys. Alpha is sheer absolute profit. So a typical hedge fund will try to earn trading profits even though the market might be bullish, bearish, sideways or whatever.
Obviously, the risk that these hedge funds take is a humongous in nature and more often than not, things do go wrong. So history is replete with examples of how a very, very high profile hedge funds like LTCM Long Term Capital Management, which went belly up in 1997 1998 and to the best of my knowledge, it sowed the seeds of the global financial crisis in 2008.
Then you have Amaranth Advisors, the natural gas trading special hedge fund, which kind of imploded in early 2007. You have a whole lot of other hedge funds, which basically are examples of having gone belly up.
But looking at the other way. Look at the ones who actually did very well. You have accomplished hedge fund managers like George Soros, you have people like a Jim Rogers of quantum hedge fund. You have a whole lot of others for Pierre Andurand, who's done extremely well and is supposed to be right up there in the oil trading world's kind of universe.
Unfortunately, since last year as a student of the hedge fund market, I have noticed that a whole lot of star fund managers are actually hanging up their boots. So the biggest shocker for me came when Willem Kooyker, the guy we thought was a god in the hedge fund industry, remember, he is almost an octogenarian, he is almost 80 years old, and his fund, Blenheim Capital Management, was an institution, which, me when I started out in 1986 only heard about a few years later.
But when we guys travelled abroad or heard from our friends and family abroad, we read in investment magazines abroad about the returns that Blenheim Capital Management, Willem Kooyker used to kind of earn for his investors, we were used to gawk. Very simple.
When Willem Kooyker simply announced that he would be a shutting down Blenheim last year in October, that came as a shock to me. You also have other guys like Pierre and Andurand, who suffered crippling losses in trading crude oil in calendar year 2019. Remember all through 2019, my Weekly Cash Alert subscribers were actually raking in profits from shorting crude oil. At the same time, the world's largest commodities hedge funds, Willem Kooyker's Blenheim capital management was bleeding chips.
What went wrong? How can we avoid these mistakes? How can be trade like hedge funds in India and yet earn the kind of returns that go far beyond a greed and avarice? Something that's hog heaven? Something that you can only dream about?
So last year we managed to notch up gains of 42.9% in Weekly Cash Alert. I have a feeling, and I am sharing my thoughts with you as a viewer and possibly if you're a subscriber of the Weekly Cash Alert service also. I have a feeling we can easily surpass these returns this year, provided we do not a kind of make the same mistakes I made last year, we made last year, and the star hedge fund managers made last year.
First in foremost, why do guys like John Paulson, by the way, I forgot to mention John Paulson, the guy who made the most amount of money and created records when he minted money in the collapse of 2008, the global financial crisis. He was short the entire US housing market. He created history by making the steepest amount of profits in a single day's fall.
Why are people like even John Paulson talking to the media and saying they're kind of tired of the market now and unable to get the kind of returns that they aspired to or they incorporated the hedge funds with as a dream?
I believe, and you can feel free to differ with me, I believe that the hedge fund industry, which I told you in the beginning had handled more money than God, I believe the biggest, problem with the hedge fund industry is that sheer absolute return seekers throw a huge amount of money at the hedge fund manager and the hedge fund manager has no choice but to deploy this money in the market because you can't keep it idle in a current account and earn zero interest.
So there is a pressure on the hedge fund manager basically to throw money in the market, which may not be able to absorb that kind of investment or deployment of funds. Mercifully, we don't anticipate that problem in the Weekly Cash Alert or the Fast Income Alerts or the Fast Profits Report. We are basically in manageable limits in terms of subscriber base, in terms of loyal investors who basically entrust their money and allow me to kind of influence their mind and their ideas about where to deploy that money. So we don't have problems of size. We're not unmanageably large. So that problem is not going to occur.
Secondly, when you have positions of the size that Pierre Andurand takes in crude oil or Willem Kooyker, the king of the global hedge fund industry, was forced to take in gold, silver, crude oil, natural gas, etc, believe me, when you're that big, you cannot exit or enter into any investment or trade without disturbing the price.
We don't have that problem either. We don't anticipate that what we will impact the price of gold even for one nanosecond. Remember, you're talking about commodities. You're talking about options trading. You're talking about investments in gold, depending on whether you're a Weekly Cash Alert, Fast Profit Report and the Fast Income Alerts subscriber. We don't have that kind of exposure to illiquid counters, which would start moving about because our subscribers bought and sold. So even that problem is sorted out.
Now for the third issue and it might be a little sticky here. One of the reasons why I basically did not get as much return in Weekly Cash Alert, even though 42.9% a lot of people tell me, is a respectable return, which places the Weekly Cash Alert returns in FY 19-20 in the top 2.5 percentile returns in schemes of a similar nature, one of the reasons why I think I underperformed is because I succumbed to pressure. The pressure was from subscribers to make trading recommendations.
If you seen the movie The Big Short, you will see a Christian Bale's character forbidding his investors from exiting his hedge fund even though he was going against the market. I feel I should have taken a tougher stand and not recommended a trade, even if it meant not recommending a trade for a couple of weeks, or maybe even a month or two, which is something that I did in this financial year.
I refused to make recommendations from the month of March onwards because my financial models were simply indicating that the volatility was just too big for any retail investor to handle. Frankly, I thought the volatility was kind of beyond my comfort levels also. So I think as we live and learn, we progress along our path, our journey in the financial markets and we basically keep rectifying our mistakes as we go along, the probabilities of success keep improving significantly.
So even though the global hedge fund industry might be witnessing, fewer and fewer participants remaining in the market, I believe what will be left is distilled product of the best fund managers out there who are remaining and hey, there will always be investors who are seeking out alpha, absolute profits. Where are these guys go to? The last remaining hedge fund managers.
So I believe anybody with a keen eye and a disciplined mind and a tensile nature about what must and must not be done in the market will basically wind up managing a lot of good money in a challenging market. So which is why I think India is basically still one of the few places where a good fund manager could make very decent hedge fund style returns. This is precisely what I am planning to replicate in the three services Fast Income, Alerts, Weekly Cash Alert and the Fast Profits Report.
And with your cooperation, with your active participation in these schemes, we're going to make this happen.
Before I hang my boots and you could call me a grand old man. I still have a few very good trades left in me, I'm sincerely of that opinion, and I'll be very happy to share those trades with you and share the spoils with you.
On that optimistic note. I bid goodbye to you in this video till we meet in my next. If you're watching this video on YouTube, please click like on this video and subscribe to my YouTube channel.
In the comments section, do let me know what you think about this video and what you would want me to record in my next. Don't forget to share his video with your family and friends and help me spread the world of a knowledge based investments and trades.
Please do take very good care of yourself, your investments, your health, your family, your trades and thank you for watching my video. Do join me for my Fast Income Alerts Summit on Equitymaster. Thank you.
Stay safe and have a great trading day!
Warm regards,

Vijay L Bhambwani
Editor, Fast Profits Daily
Equitymaster Agora Research Private Limited (Research Analyst)
Recent Articles