The Myth of US$100 Oil
Jul 6, 2021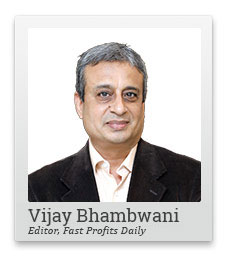 On 27 May, I had recorded a video saying why oil prices won't go to US$100. In the video, I explained why the bull market in crude oil is not sustainable.
In today's video, I explain why oil prices will not stay at US$100, even if they were to go as high.
Oil seems to be going up now and possibly, it might rise further. However, sustainability is not something that I am convinced about.
In this video, I'll show you why.
Watch the video and let me know your thoughts. I love to hear from you.
Hello friends. This is Vijay Bhambwani here and I'm back with you to discuss a burning topic, which is crude oil.
As I record this video on a Sunday evening, OPEC+, which is OPEC and non-OPEC members who've come together to boost crude oil prices due to production cuts and thereby create an artificial shortage of supply, have already met twice, which is Thursday and Friday, but have failed to reach a consensus and therefore the meeting is rescheduled for Monday, which is the 5th of July 2021. And hopefully they would have arrived at some kind of a decision as to what they want to do about the production.
Find Out: How to Create Massive Gains from Govt's Mega 2023 Plan?
Now, there are two schools of thought. One that says crude oil will go to US$100 and maybe even slightly beyond. There is another school of thought which says crude oil may not go to US$100 a barrel and even if it does just for a photo opportunity, it will decline as fast as it has risen.
I happen to belong to the second school of thought and in this video, I'm sharing my opinion with you as to why.
From what I saw in the two meetings that OPEC had, OPEC+ rather, I beg your pardon, OPEC+ had, what's absolutely clear is that there are a lot of OPEC members and supported by non-OPEC members like the Russians, who are very possessive about the fact that the exporting countries, the oil exporting countries should capitalise on the opportunity of higher prices that are available, and therefore should start stepping up production and raise their export levels.
Do remember that all these nations are heavily dependent on oil and gas exports for their revenue, and they are equally kind of distressed due to the global pandemic triggered by the Covid infections and they also need to provide a fiscal stimulus to their distressed economies.
So, money is something they all need.
Now, where does the problem lie? The problem lies with the fact that the Russians are asking for, hold your breath, as big a output hike as two m barrels per day. Whereas the Saudis are open to the idea of anything between 200,000 to maybe 400,000 barrels a day.
Now what the Russians are therefore asking is 5 to 10 times more than what the Saudis are willing to give. And just when you thought that there would be a coming together or going halfway through and both these parties would some more and somehow reach a kind of a compromise the situation, there comes the issue of Abu Dhabi's national oil company (ADNOC).
And the Abu Dhabi oil minister going out and putting a spanner in the works by saying that unless his country's output baseline is raised drastically, which means unless Abu Dhabi is allowed to raise its output drastically, they will not vote for any issue at all.
And the constitution of OPEC is such that this decision on output hikes has to be unanimous or it will not be taken at all. So either it's all or it's nothing. And thanks to Abu Dhabi, it was nothing on two consecutive days - Thursday and Friday.
What does this tell you? This basically tells you that guys like Russia are very keen to raise output and flood the market with more crude, even at the expense of stopping the rally in prices of crude.
Abu Dhabi itself wants higher crude output, even though it knows that higher supplies would mean that the rally could get impacted. The price rally could get impacted.
Bijan Namdar Zangeneh, the oil minister of Iran, has recently given a statement and that's something we already know, it's there in the public domain that once Iran and the US sign a deal, the nuclear deal, and after which the economic sanctions imposed by America on Iran will automatically get lifted, Iran can flood the market by up to four m barrels of oil per day in double quick time.
Now that's another four m barrels of oil coming in the market.
Let's not forget guys like Guyana, who are recent entrants into the oil exports market. Let's not forget the countries like Qatar, who quit OPEC, Ecuador, who's quit OPEC and Venezuela, who has huge oil reserves but is mismanaging its oil industry and if they can get their act together, if President Maduro can get his act together and start ramping up his oil output, they can really make a difference.
The Libyans are as it is starved for money after their internal strife after Muammar Gaddafi, Colonel Muammar Gaddafi was killed. The Libyans have very high quality crude oil. Its low sulphur and if they step up their output, which they can, they can also make a dent in prices.
So I belong to that school of thought which says definitely prices seem to be going up now, and they might even persist going up higher. But sustainability is not something that I am convinced about.
Let us not forget that shale oil will suddenly start becoming a lot more viable. It'll become economically very, very sustainable once WTI crude, which is Western Texas intermediate grade of crude, crosses US$80 a barrel. So you'll suddenly start getting competition from shale and the Saudis are extremely distraught at losing market share.
If they start losing their clients to alternate suppliers, I think a whole lot of financial calculations of the Saudis of Prince Mohammed Bin Salman's Vision 2030, which is reinventing Saudi Arabia as an economy, will take a back seat, will take a knock.
So I'm betting on the fact that the Saudis will not try to derail the train. Will not try to put a spanner in the works where this is concerned.
So, I don't know what the outcome will be as I recorded this video on a Sunday. I don't know what the outcome will be on Monday evening.
But I can tell you this. Oil is going up more on hope than on fundamentals. Because the June economic, the International Energy Agency's report of June 2021 tells me that even if oil consumption goes up to pre-covid levels, which is 2019 levels, it will reach there only in 2022. Not in 2021.
It will reach there in 2022. Even then, it will be two m barrels lower than the peak consumption of 2019.
And in spite of the fact that oil consumption goes to pre-covid levels, OPEC and non-OPEC spare output capacity will still be in excess of 5.5 m barrels per day.
So I am betting on the fact that this price rise is based on creating an artificial shortage by curtailing output, by cutting output, rather than demand expanding suddenly and the buyers knocking on the doors of the sellers and saying, take whatever money you want, just give me more and more oil. I can't get enough of it.
This is more of an output cut based rally than demand expansion.
Based on this fact, I would bet that oil, even if it was to go US$100 which I'm not convinced it will, even if it was to go US$100, it will not stay there.
As a matter of fact, going up to US$100 itself seems like stretching it. That's what my hypothesis is based on. That's what my Weekly Cash Alert subscribers will be acting on.
I bid goodbye to you in this video, not before reminding you to subscribe to my YouTube channel if you haven't already done so. Click on the bell icon to receive instant alerts about fresh videos being put up out here.
In the comments section, do let me know what you think of this video. Good, bad or ugly, I welcome all your feedback. And help me reach out to fellow like-minded investors and traders by referring my videos to your family and friends.
Thank you for your patience. Thanks for watching. Till we meet again. Vijay Bhambwani signing off for now.
Warm regards,

Vijay L Bhambwani
Editor, Fast Profits Daily
Equitymaster Agora Research Private Limited (Research Analyst
Recent Articles