Your Passive Income Will Decide Your Success as a Trader
Jul 7, 2020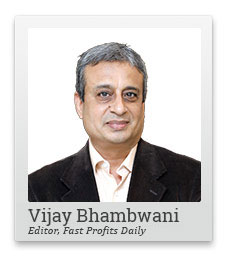 In this video, I want to excite your thinking by presenting you with a new way of making money.
I want you take steps to bullet proof your portfolio and ensure that your lifestyle is more stable and steady than before.
In this video, you will learn a critical aspect of trading that separates the savvy and successful traders from ordinary ones.
Let's dive in to the world of passive income and trading...
Hi, this is Vijay Bhambwani here and I am still recording my videos from my residence. I hope you're keeping abreast of the markets, keeping your finger on the pulse of the market, you're observing what's happening in the financial world around you and basically also taking your trading and investment calls accordingly. I also hope that the market is treating you well.
In this video, I want to excite your thought process and I want you to address and even take steps to basically bullet proof your portfolio and ensuring that your lifestyle is a little more stable and steady as compared to what you were possibly doing earlier. In this video, I basically want to bring to your notice a critical aspect that separates the savvy, successful and the worldly wise trader from an ordinary one.
RELEASED: Richa Agarwal's No. 1 Stock Pick for 2021
What if you were a kind of an investor cum trader who believed in allocating all his or her assets to an equity only portfolio or a trading only portfolio? You know what would happen? Your graph, your revenue graph, your career graph, life graph, call it what you will, would be going up and down, up and down with the markets.
Many a times you would feel that you're a football being kicked around by Mr Market. Sometimes you were extremely happy, and on those days you would be a chirping like a bird and making plans with your family about where you're going to take them out for a good foreign holiday or wherever else, buy them a car buy them new clothes and the next day, next week, next month, whatever, you were down in the dumps and you were basically talking about cancelling your Sunday dinners outside.
You know, I've gone through that stage in my life very early on in my career as a trader, and I started in 1986. That's a long, long time ago. I was naive, was a rookie, I was a newbie, and I thought the equities was everything. So I was 100% equity oriented and wherever the markets went, my mood swings would go accordingly.
Then I realised that I had to basically even out my revenue streams so that there would always be money coming in from some source or the other. That's when I started diversifying into a fixed income based securities. I invested money in fixed deposits, in the Public Provident Fund, I invested money in government bonds, sovereign rated bonds and the like.
Why is it important? Why should you have an income based scheme? And now, after 2001, you have equity and index options. You basically start writing call and put options and you start to generate income that is if all goes well. Why is generating passive income so important for trader or an investor? Let me walk you through the paces.
It was 2009, if my memory serves me right, it was January 2009 and I was at the launch party of ET Now. The channel was basically going to start off pretty soon. It was the first party after the born chilling nerve ranking 26/11 attacks on Trident, the Taj and the Chabad House by the Pakistani terrorists.
Now, in January, when we went for the launch party of the channel, there was a debate between the biggest bull in India and one of the most prominent traders in India, and this debate was over about whether you should allocate all your money to long term investing or you should allocate some amount of money to short term trading.
Guess what? The guy who was advocating short term trading drove home a very, very important point. He said, if you're making a portfolio which you're going to lock away and not look at for the next 5, 8, 10 years, that's all fine. That's probably going to give you multibaggers. It's going to make your rich. It's going to take you out of a two bedroom, hall, kitchen flat and get you a three storey bungalow, whatever your aspirations may be.
Now, assuming that you're making a five year plan in those five years, there would be 60 months in those five years, 60 times your maid servant would want a salary. Your electricity company would want you to pay the bills. Your telephone company would want you to pay the bills. Your society, housing society where you're staying, will want you to pay the monthly or quarterly bills. Your school children will demand school fees, etc. Survival expenses. You have to keep the home and hearth running. This was a debate about long term investments versus trading. Let me take this debate a step further.
Are you going to do only short term trading, or are you also going to have fixed income investments? So, ideally speaking, I am taking this debate forward from where that particular debate ended. Let me ask you this one question.
Suppose you enter into a swing trade and you think this trade is going to span all of one week. The market is nobody's slave. You're stop losses are not hit. Nor is your target. But that trade still looks promising. Unfortunately for you, two things happen. It's the end of the month. You have to pay roll over charges because you want to carry over your trade from this month to the next and secondly, you have to pay your monthly bills.
What do you do? Do you square up a trade just because there is no money to run the house for home and hearth expenses? You need to pay your maid servant's salary. You need to pay your electricity and telephone bills. You need to pay your rent. You need to pay your school children's fees.
Or had you kept this money in a fixed income yielding security? Let's say a fixed deposit or sovereign guaranteed or government guaranteed bond from where you received regular income and you led that money take care of your day to day survival expenses while you focus completely on your trades. Ask yourself this question and I leave you to answer that question. What would you rather do?
I have been told by many investors, and to my horror, even some financial advisers that bonds are fixed deposits and other sources like PPF etc are not lucrative enough. Hey, I am not into it because it's as lucrative, or less lucrative than trading. I'm into fixed income because it will allows me to trade with a peace of mind without having to worry about putting food on the table for the family. I know that I am telling you to segregate money into a relatively lower revenue or in lower return activity.
But you're doing that so that you can focus on higher income activity with complete focus complete attention, which is why an activity like option writing to generate revenues on the span margins that you deploy as principal come into play. It makes eminent common sense to basically branch out your money, some of it in trading, some of it in income yielding securities. If you want to ensure your long term survival in the markets, you cannot think otherwise.
Behavioural science tells us that traders are brain warriors. We fight with our ideas. We win on lose with ideas. To that extent, you should be extremely careful about whose advice you allow to impact your trading and investment decisions. I as a trader having been in this market for 34 years, would bet my money that survival is possible only after your existential expenses are well looked after from passive income.
Do give this a thought and then ask yourself, can you really, really be an equities only investor or trader or should you also focus on income? It could be all the difference that you always wanted to see in your returns all this while but you were missing out. Give it a thought.
I will say goodbye in this video till I meet you again in my next. If you're watching this video on YouTube, don't forget to click like on this video and subscribe to my YouTube channel.
In the comments section to let me know what you think about this video in what you would want me to record in my next video. Also, please don't forget to recommend this video to your family and friends and help me spread the cult of knowledge based investments and trades. Do take very good care of yourself your health, your family, your business, your trades and your investments. Thank you for watching my video. Vijay Bhambwani signing off for now.
Stay safe and have a great trading day!
Warm regards,

Vijay L Bhambwani
Editor, Fast Profits Daily
Equitymaster Agora Research Private Limited (Research Analyst)
PS: Join me at the Instant Income Summit on Friday, 10 July, at 5 pm. I'll show you how to make thousands of rupees of passive income in just a few hours from the market.
Recent Articles