How to Make Passive Income by Writing Options
Jul 8, 2020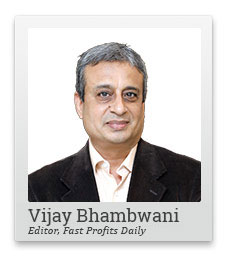 In my past videos, I have often talked about passive income. I consider passive income to be as important as active trading income.
In my opinion, generating steady passive income is absolutely critical for traders who are relying on the financial markets for their livelihood.
In today's video, I will go one step ahead and show you how I recommend trades to generate passive income. I hope it will be useful to you.
Professional traders use this strategy regularly and I believe you need to know about it too.
Hi this is Vijay Bhambwani and I am still recording my videos from my residence. I hope the markets are treating you well. You have your finger on the pulse of the market and you're watching what's happening in the financial markets all around you.
In my past videos I have often talked about and elaborated upon why generating steady income or passive income or even income from fixed income securities is absolutely critical for traders who are basically relying on trading the financial markets for their primary source of income. The reason is not very far to seek. In brief, let me just recap about what I have normally elaborated upon in my other videos.
While you're battling the markets while you're trading the markets, and you're navigating through the markets are weaving in and out of the traffic as it were, you cannot keep yourself preoccupied about your home and hearth expenses or what you'd want to call survival expenses. That has to be taken care of by your fixed income or other income so that you don't you're not forced to square up your transactions because of want of finance.
So you basically twin track or even multi track your income sources so that no one activity infringes or forces you to act against your intended blueprint because there is a cash crunch in another line of activity. That is basically the modus operandi or the prime focus on what we are trying to do here.
Closing tomorrow Midnight: 50% Off The Current Price (Price Going Up)
Let me talk to you about kind of service that I offer through Equitymaster. It's called the Fast Income Alerts. It's about option writing here. We try to sell options so that we collect the premium. Now the buyer of an option pays the premium. Here we are trying to sell an option. The modest operandi or the prime reason for selling the option is to receive that premium so that premium becomes the income.
Your investment is the span margin that you pay for selling that option or writing that option. So the return on investment is calculated as the income earned on the investment, which is the span margin paid to the exchange through your broker.
What we do focus on in the Fast Income Alerts service is primarily being in most liquid counters in the financial markets, which is the Nifty 50, the Bank Nifty, and the USDINR.
Primarily the focus will be on the stock indices, not so much on the USDINR where, of course, there will be trades, but they will be few and far between as compared to the Nifty the Bank Nifty.
If you care to check your statistics, you will realise that a lion share off the turnover in the derivative segment comes from the indexes, the Nifty 50 and the Bank Nifty. So since these two indices are most heavily traded counters where the bid and the offer price is, the difference between the buying and selling quotes is very, very small, it actually becomes very easy for trader to get in and get out of a trade, and your execution costs tend to be lower because the slippage or the difference between the two prices is very narrow.
The USDINR when it does give a trade, like I said, these trades will be few and far between, the USDINR when it does signal a trade, again is a very liquid counter. It's not difficult to get anything between 15 lakh to 22 lakhs, 23 lakh lots being traded in the futures segment in the USDINR. Therefore, the options on the USDINR are also fairly liquid. So navigating in and out of these counters is not really a problem.
This is an income generation scheme. This is not a multibagger scheme where you will double and triple your money in a month. This is not a stock trading scheme. This is to earn a rate of return, which is calculated in percentage terms on your investments most of the times. What you will get is a rate of return higher than bank fixed deposits. Once in a while, you might get above average returns also. As in all financial market trades, there are always trades that surprise.
Is this a bulletproof risk free trade? No, not at all. I am not saying that there will be no losses. There will be a couple of months where you might even have to hit your stop loss and you might lose a little bit of money.
But like I said, this is an income generation scheme. So your return, if it is, say, hypothetically 1.5%, 2%, 2.5% on investment, your stop loss, and therefore your loss will also be commensurate with your return. This is not something where you will lose 20% to 30% of your capital in one trading month. So to that extent, this is a scheme where your return and your downside are likely to be contracted, as compared to a stock futures or in index futures, high risk trade in the markets.
A lot of professional investors a lot of professional traders believe in writing options because we know that option writing has a higher probability of success as compared to option buying. If the data compiled by the Chicago Board of Options Exchange is concerned is taken into account, you will be a surprised to know at 88% of all option buyers wind up losing money. It's the 12% of the trades that are option writers who take the money home, which is commensurate with the money lost by the option buyers.
So the probability of success and I stress upon the word probability, not a guarantee, is fairly good in option writing, which is what we are doing in the Fast Income Alerts service. In case you have any queries, you can always feel free to write to customer service and I do hope to see you there.
Before I sign off from this video, let me remind you to click like on this video if you're watching it on YouTube. In the comments section, do let me know what you think about this video and what you would want me to record in my next video.
Also, don't forget to subscribe to my YouTube channel. Do refer this video to your family and friends and help me reach out to traders to help them get into the mould of knowledge based trading and investments. Please don't take very good care of yourself, your trades, your investments, and your family.
Vijay Bhambwani signing off for now till we meet again in my next video. Thank you for watching.
Stay safe and have a great trading day!
Warm regards,

Vijay L Bhambwani
Editor, Fast Profits Daily
Equitymaster Agora Research Private Limited (Research Analyst)
PS: Join me at the Instant Income Summit on Friday, 10 July, at 5 pm. I'll show you how to make thousands of rupees of passive income in just a few hours from the market.
Recent Articles