What Ails the Market?
Jul 8, 2021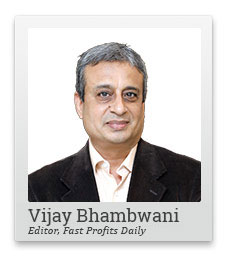 You may remember that I did a video a couple of weeks ago on the need to trade cautiously.
Well, this is a follow up to that video strictly from a short-term trading point of view.
In this video, I'll show you three charts with which, I'll explain why I think the bulls are on the ropes, in the short term.
After you watch this video, I hope you will understand why the Nifty has struggled to breach the 15,900 mark.
I'll also tell you what are the levels to watch out for in the short term on the upside as well as the downside.
Watch the video and let me know your thoughts.
Hello friends. This is Vijay Bhambwani here, and I hope the markets are treating you well.
In this video, I want to take up where I left off a few days ago in my video when I told you to be careful and the title of the video was, Time to Trade Cautiously.
Now before I proceed, a few words of caution here. The feedback that I receive whenever I upload a video using the world's caution, slowdown, possible topping off, is that of negativity, of a feeling of anger.
Find Out: The Best Way to Tap into Rising Demand of Lithium in India
I am not in any way saying that the market is bearish. One of you even called me a permabear. That's fine. That's your opinion. You're entitled to it. Do remember that I am addressing traders in these videos and in this video when I am giving out the outlook for the Nifty, that can change from day to day.
I'm the same guy who's told you that if the market is to come down, go out there and buy Nifty ETFs.
As you know, a Nifty ETF is made up of 50 stocks. By default you're betting those 50 stocks will rise. So how does that make me a permabear? Beats me but like I said, you're entitled to your opinion.
The hotel industry, the IT industry, the FMCG sector, these are stocks and industries that I have in my earlier videos recommended a long term buy. Those remain intact.
Remember, we are only addressing very short-term traders here and that too for the sake of enhancing your knowledge as to how to read the tea leaves of the market when they fall in the cup.
So in my previous video, I gave you a chart showing how the biggest long positions in the stock futures were held by retail traders. Nothing has changed. The retail segment remains the largest holders of long positions in individual stock futures, although from a million plus contracts they have come down slightly to 980,000-970,000 contracts.
That's not much, but they still remain the biggest holders of long positions, and what has happened in the last few trading sessions, specifically in a fortnight or so as you will see from this chart of the Nifty on your screen.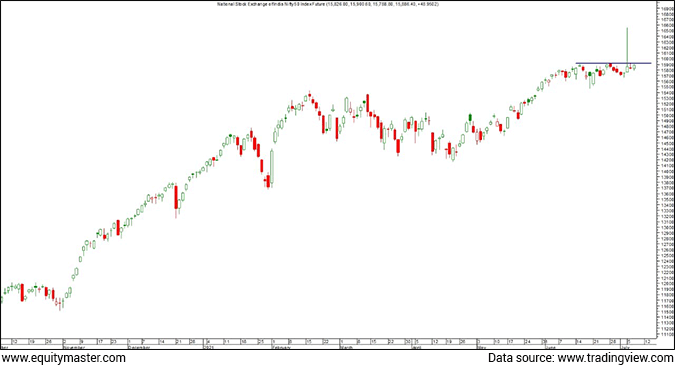 This is a daily chart, by the way. Just ignore that spike a two days ago that was a freak trade above 16,000, the NSE and SEBI have given out press releases explaining why and what happened. So we're to ignore that.
You may see a horizontal bold line. That basically tells you that the Nifty has been trading at that threshold and unable to go past it. It's roughly 15,900 levels.
So the Nifty is unable to breach that glass ceiling. I'm using the word glass ceiling because like all glass ceilings, this one is likely to be broken at some point in time in the future. So remember, I am not a permabear. I am saying it will be broken in the future.
So when you take long positions and remember, the largest long positions are held by retail guys and retail guys don't normally take delivery. They play in F&O. Either in options, which are lower cost because margin they're not required, only premiums are paid or in futures where in new might even have to pay span margins.
So in the case of Nifty anyway, it's not a deliverable instrument unless you're buying the ETF. When you are going long, you will have to bear what is known as a cost of carry or carry cost.
Don't get confused by the jargon here. This is nothing but the interest cost that you're bearing for rolling over your position from the month of June to July, which is what is going on right now. The July series is on as we speak.
Now, after you have made interest, your cost of purchase goes up to the extent of the interest that you have paid. You obviously want the Nifty to go up higher. Otherwise, you will not be able to breakeven. Forget about going higher, than Nifty is unable to breach the 15,900 glass ceiling, which is adding to the worry of the bulls.
Remember, majority of the bulls are retail traders. They're not very savvy. They're not experienced. Their experience can be at best a year, a year and a half. They're all recent entrants in the markets. Now take a look at the impetus charged coming up on your screen.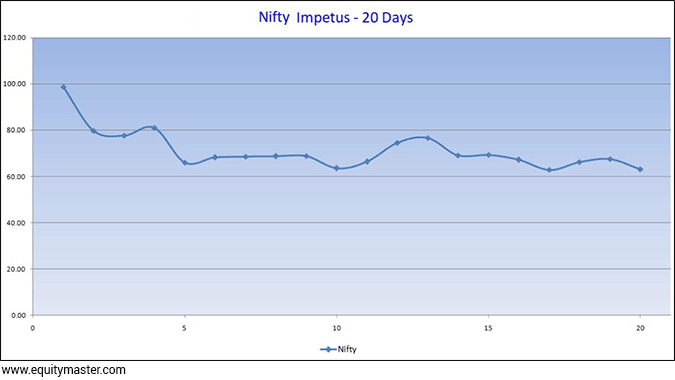 Now, if you were to check out in urban dictionary, the meaning of the world impetus, it means velocity, acceleration, momentum. Now this is an in-house study from my own statistical model, which I call the Barracuda. This basically measures the velocity or the acceleration on the momentum in the Nifty alone.
I could do it for any stock. I could do it for any index. As long as there is data available on an organised platform, this can be fitted to any traded instrument.
Unfortunately, for the bulls, the impetus on the Nifty is falling, and this is simply born by the fact that intraday ranges of the Nifty are far, far smaller, as compared to what they were around February, when the previous on time high was made on the Nifty.
So the impetus is slackening, which means that the bulls are not showing as much vitality and vigour they were showing barely for 4-4.5 months ago. They seem to be cautious. That's fine because the margin systems have changed. It's become a lot more capital intensive to go long or even go short, for that matter, in the new margin regime.
Now coming up on your screen is another chart, and this is also telling you a tale. Let me also remind you that I'm recording this video on a Thursday afternoon. The markets are just about to close. They have not yet closed, but it's on a Thursday. It will be uploaded on a Friday, which is the ninth. I'm the data that I am showing you in the chart is valid as of Wednesday night, because today the session is not yet over.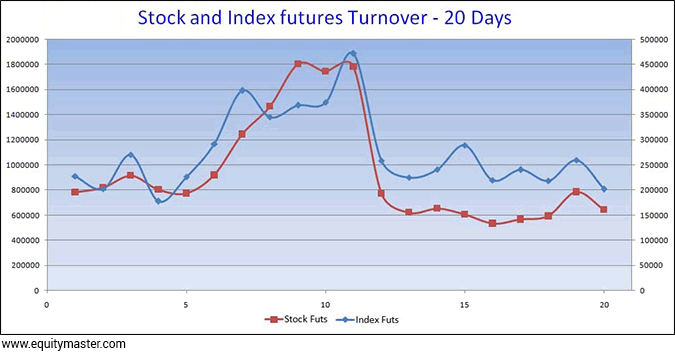 So this chart again is from our in house trading model, a statistical model the Barracuda. This is basically telling you, the volumes in the market of three cumulative series the July, August, and September.
As you can see, the index volumes on Tuesday, when the markets went up, the volumes were poor. On Wednesday, when the markets went down, the volumes were higher. I don't have the data for today, which will come between 6-6:30 pm. It will be too late by then. The video would have been sent already for post-production and editing.
So if it all, you see the volumes rise today on Thursday and this data I upload in Equitymaster's Telegram channel every day without fail, and I would strongly urge you to join this telegram channel. It goes by the handle Equitymaster Official.
So if you are to see the volumes spike up today in futures, remember today's a weekly expiry. A Thursday happens to be the weekly expiry of index options. Therefore, the notional options turnover is to be taken off. It's to be cleaned out and only the futures turnover must be seen. That is something I clarify on telegram channel.
So if the volumes are to rise on Thursday, which would mean that more than 150 point decline in the Nifty is accompanying by even higher volumes. That means rallies are on small volumes showing lack of conviction.
Declines are on higher volumes, showing an increase in panic. So in the absolute near term, I would say that the bulls are on the ropes. They are at a disadvantage. They are pushed into a corner. Does it mean that it's a bear market?
Please note you guys before commenting. This I'm not saying is the onset of a bear market. All I am saying is that for intraday traders, you must wait for a break out above the 15,900 mark before you are to take positional long positions all over again.
On the flipside, the recent swing low was 15,660 odd levels, approximately. Unless the Nifty closes below this level sustainably, I don't think the bulls have given up hope just as yet. So do remember this is a very short term view, and I think the Nifty is a little worried.
But, hey, you can't have winter, summer or monsoon, all 12 months in a year. Seasons changes. The weather changes. In the world of a trader, it could change hour to hour. So by the time the I recorded this video, it's uploaded, and you see it, would the market have changed? Quite possible. Quite possible that the scenario could have been all very rosy and green all over again.
But that's a chance I'm taking at this point in time. I think the Nifty is a tad worried. Nothing to worry. Just cut back on your trading exposure, which is something I have been warning you again on Equitymaster's Telegram channel. trade on light volumes.
On this cautionary note, I bid goodbye to you in this video not before reminding you to subscribe to my YouTube channel if you haven't already done so. Click on the bell icon to receive instant alerts about fresh videos being put up out here.
In the comments section, good, bad or ugly, keep it coming and do help me reach out to fellow like-minded investors and traders by referring my videos with family and friends.
Do take very good care of yourself. Have a very profitable day ahead. Thank you for your patience and watching my video. Vijay Bhambwani signing on for now till we meet again in my next. Bye.
Warm regards,

Vijay L Bhambwani
Editor, Fast Profits Daily
Equitymaster Agora Research Private Limited (Research Analyst
Recent Articles