Top 3 Risks for the Nifty Today
Jul 12, 2021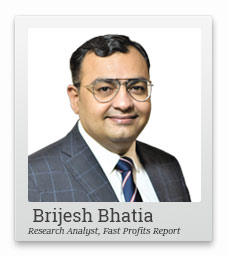 There is a sense of euphoria in the stock market.
Traders don't seem to be concerned to much about the risks facing the Nifty.
But I think you should be alert.
In this video, I'll show you the top three risks faced by the market.
Most traders are not paying attention, but I hope, after watching this video, you will.
Let me know your thoughts. I love hearing from you.
Nifty has been trading in a range for quite long and it has been tiredness or frustrating for traders.
Well, is this a time correction, or are we forming or looking at a sign of distribution? Let's look deep into this in this video. Welcome to the Fast Profits Daily. Myself Brijesh Bhatia.
FREE REPLAY: Discover What Richa Revealed in Her Smallcaps Summit
Well, for derivatives traders who short options, for them, it's the delightful month of June, where premiums has been eroding, the delta move is there, market is trading in a range. So they can form the deltas and it's been really frustrating for a trending system based trader, who see a trending move, are expecting it, and the system doing choppiness within trading in a range.
But let me show a chart which might delight some trending traders. Look at the first chart over here. It's the Nifty.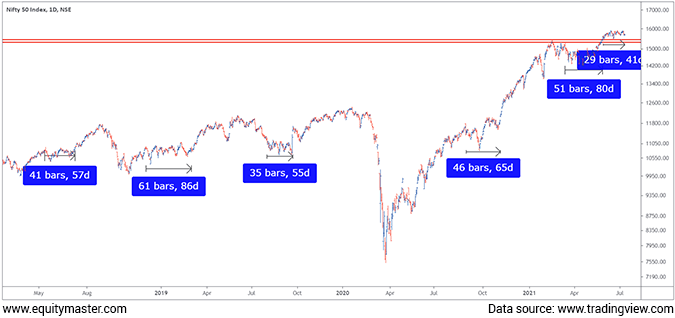 If you look at the Nifty, it generally has a tendency to trade in a range for quite long. So if a look time cycle wise, I have taken last since 2018, May 2018, nearly three years of data.
Generally, Nifty tends to trade after a rally or after a fall for around 60-70 days into consolidation. We have seen first of 57 days, followed by around 86 days, 55 days, 65 days. The previous where we had around 15,431 highs, then hitting the new highs took around 80 days.
Similarly, since we broke 15,431 and went to 15,900 levels, the range of around 450 points, which is nearly 3%, we are into that consolidation for on 41 days now.
So we think that probably either side trend can emerge a probably in a second half of the July.
But where?
That is the biggest question one should be having in their mind. So is the bullish trend still intact?
Well, if you look at that same chart, I have drawn the red lines which is acting as a support now at 15,400 levels. I think if 15,300 is not a breached the bullish momentum will continue. Now, the second chart will be delighting the bulls.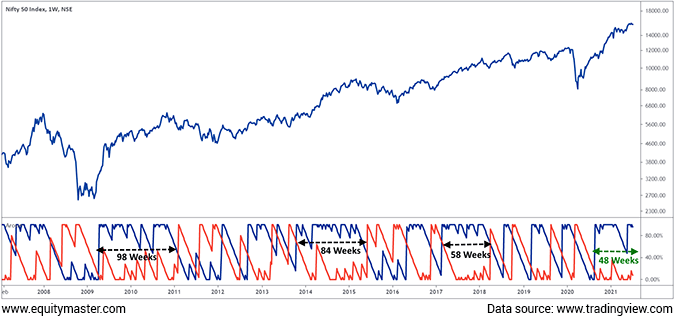 If you look at the weekly chart of Nifty over here, the Aroon indicator on the bottom side, which was introduced by Tushar Chanday, I guess in 1995-96. So it's around 25 years old indicator. What does this measure?
I've taken the 25 period, where it measures the bullish weeks and bearish weeks. Look at 2007-08, where we have seen the 2008 fall and the V-shaped recovery coming into the markets. That bullish trend, if you look at the downside, it went on to hold for a 98 weeks. For 98 weeks, it didn't give a negative crossover.
So basically, when the crossover happened, the blue lines goes below the red line, the trend change happens. There it could be a part of a rally, consolidation, rally, consolidation but after 98 weeks, we witness that this Aroon indicator has given a negative sign.
Similarly, in 2014-15, we had around for 84 weeks of bullish trend, 2017-18, we had around for 58 weeks of bullish trend and if look at the recent rally where we broke out after a V-shaped recovery on this the Aroon indicator, it's been around 48 weeks.
So I think still, the bullish trend might continue till the bearish Aroon doesn't highlight over here, but there will be the risk when should keep in mind. What would be that risk? Let me show one chart over here. The Dow Jones compared with Nifty performance.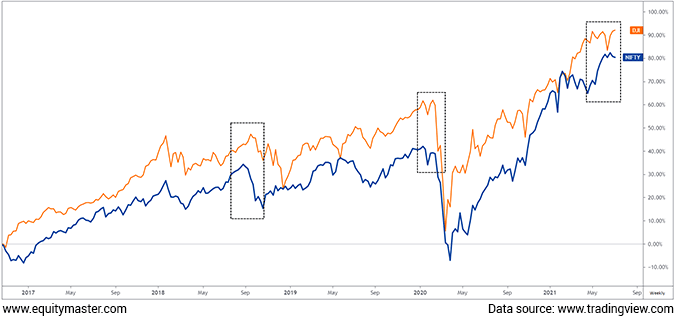 Well, these divergences are giving an alarming sign to me. Look at the 2018 where Dow Jones and Nifty went on to rally. Dow Jones hit new highs. Nifty underperformed against the Dow Jones and we saw a downside momentum. Similarly in 2020 ahead of the pre-covid fall.
So we have seen that Dow Jones hitting the new highs, outperforming Nifty but the Nifty didn't cross the previous high or never tested the similar highs and we have seen a downtrend coming into the Dow Jones as well as Nifty.
At the current point of time if you look at the slope of Dow Jones, it's been testing around the higher levels, whereas Nifty is failing to do so. Thus, this divergence is really hurting me and giving me a sign of alarm.
So I would definitely keep in mind over here that in case the Dow Jones continues to rally and Nifty underperforms, then the turn of the tide for Dow Jones could be very, very severe for the Nifty. So one should keep in mind this.
Second indicator which is again alarming for me over here is if you look at the Dow Jones versus the Thomson Reuters CRB index chart. This is a commodity index chart followed globally.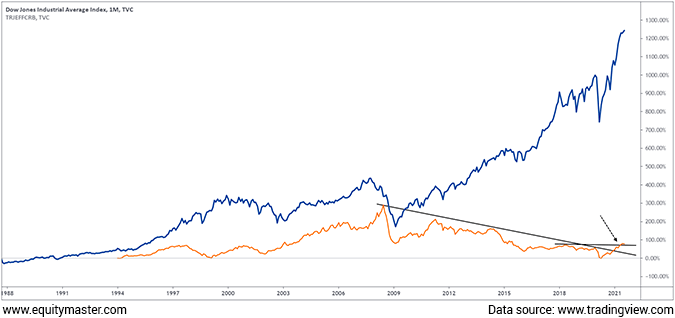 If you look at the first, the orange one, which is the CRB index, since the 2011 highs, when gold and commodities were having a dream run, we have seen this index trending down.
For the first time in 2021, it has broken the downward trending stopping trendline on the bullish side. Plus, the previous highs has been taken out. So after a long, long, decade this trendline is breaking out.
What could happen is that money could flow out from equities and move on to the commodities. That could be risky for equities. This is very, very much important when comparing commodities and equities.
During 2008-12 we didn't have an asset class called cryptos where money is being aggressively moved from other asset classes. So that could also be a focus.
But yes, commodities have been widely traded, widely invested. We have ETF funds in the US. Indian government are also coming up with huge bonds. So money might continue to flow over there and that could be the biggest risk I think for equities.
So one should really it both things in mind. Those indications in mind at current point of time when markets are trading high. Euphoria is there into the markets where midcaps are running. Smallcaps are running.
Yes, if in case the CRB index turns on the downside, it might continue the bullish momentum for equities. I would not say that market has turned bearish over here but these other trades one should really keep in mind looking out for the CRB index.
Before a sign off, I would like to request click the like button and the subscribe button is you think these videos are really helping you. Do subscribe to our Fast Profits Report. Also, if you submit your e-mail ids, you will receive the Fast Profits Daily videos in your inbox.
Signing off, Brijesh Bhatia. Thank you.
Warm regards,

Brijesh Bhatia
Research Analyst, Fast Profit Report
Equitymaster Agora Research Private Limited (Research Analyst)
Recent Articles