Warren Buffett Gives Us a Great Trading Opportunity
Jul 13, 2020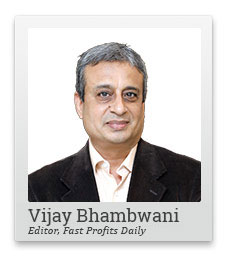 This video is about something very interesting I noticed last week and I want to bring this to your attention.
Even better, you will get a superb trading idea.
Mind you, some parts of the video might be a little too stark. A little too in your face. I am sorry for that but hey, facts are facts and I like to be blunt about them.
I want to show you how the Oracle of Omaha, Warren Buffett, has presented us with a great trading opportunity.
Enjoy the video and let me know your thoughts. I love to hear from you.
Hi, this is Vijay Bhambwani and I am still recording my videos from my residence. I'm keeping a finger on the pulse of the market. I hope you are also watching what's happening in the financial world around you.
This video is about a very interesting phenomena that I noticed last week and I want to bring this to your attention. This video also containes a superb trading idea for the future and parts of it might be a little too stark and too in your face. I am sorry for that but facts are facts.
Last week I saw to my surprise natural gas prices and remember, natural gas has been the backbone of my trading blueprint all of calendar year 2019 and financial year 2019-20. So it interests me a lot. I think I'm comfortable trading it as long as it's giving me money and I don't mind trading it some more. Last week what I noticed was natural gas, which normally is a little less volatile than crude, hit not just one, but two upper circuits in one trading session.
WATCH NOW: Full Replay of Our Urgent Broadcast on India's Revival
Now, for the uninitiated, for the newbies an upper circuit is a price limit beyond which the exchanges don't allow any equity, commodity, currency to move up or, in the case of a lower circuit, down. Trading is stopped for a while for sentiments to cool down and it recommences after the cooling off period is over. Then again, another circuit limit is applied just in case prices tend to run away.
So natural gas last week in one trading session hit two upper circuits consecutively imagine in the same day. That means a rally of over 6% in one trading session. What really caused it? Very interesting. The Oracle of Omaha, the most legendary and high profile investor in the world, Mr Warren Buffett.
His company, Berkshire Hathaway, bought out a natural gas pipeline company called Dominion Energy in America for US$ 10 billion. Part of it went into paying off the promoters, and part of it was to pay off the debt that Dominion Energy owed to the institutions. What Berkshire Hathaway, which is Buffett's company, would get in return was the real estate and the 7,700 mile long pipeline owned by Dominion Energy.
The world assumed the traders and the marketplace assumed this was extremely good news for natural gas because Buffett is known to identify hidden gems, which nobody else has witnessed. The markets, naturally, went euphoric. Natural gas prices went through the roof and two circuit limit prices were hit. And as I told you, natural gas is something that I have been trading and the Weekly Cash Alert subscribers have been trading pretty often. And as early as a couple of weeks ago we squared up a short sale with over 10% gains in an overnight trade.
Has my opinion changed? Has anything, as a matter of fact changed to kind of change my blueprint from being a short seller at higher levels or me reversing my stand? Now here comes the in your face stark naked facts.
What does Dominion energy do? Dominion Energy is heavily into agriculture gas. What is agricultural gas? Agricultural gas is collecting the manure, which is the faeces, the excreta shit, if you want to call it that of farm animals, particularly pigs. Pigs when they gain weight for every pound of weight gain, they eat 2.4 pounds of food. They are voracious eaters, and obviously they flatulate or fart a lot, and also the poop or shit a lot.
You will be surprised to know this intestinal gas or farts and the poop or the shit is collected in in gigantic containers called lagoons, which are covered with thick sheets of plastic. As and when the gas expands in volume, the sheet kind of rises of like dome. Now this poop and the farts contains Methane and as we know, methane contains 25 times more carbon footprint and greenhouse gases as compared to carbon dioxide. That's how lethal it is, which is why it expands and the plastic sheet actually fills up like a balloon.
Dominion Energy collects all this gas, transport it through the 7,700 mile arterial network of their pipelines and sells it to industrial and domestic consumers who would rather burn environmentally friendly gas for energy rather than fossil fuels or hydrocarbons. So this is actually replacing natural gas. Rather than being bullish for natural gas.
The market has got it all wrong. Call it the animal magnetism of Warren Buffett's charismatic approach to investments. His legendary kind of an aura he has built around himself that people actually bid the prices of natural gas up. To my simple mind, it's actually bearish news for natural gas.
But hey, let's not fight the markets. The markets can stay irrational a whole lot longer than you can stay a solvent. So let's wait for higher prices and then short natural gas. Good for me. Bid up all you can the price of natural gas so I can enter short and the right price because then the fall will be even harder. As long as pigs continue to fart I will remain a seller on natural gas.
To buttress my hypothesis if you will, I'm gonna give you some fun facts. Dominion Energy is over the next one decade likely to invest US$ 650 million in creating more and more areas to be brought under cultivation of agricultural gas. What will be the output? Eight billion cubic feet of extra agricultural gas. That's how much pigs fart. The amount of gas that will be produced will be enough to power 750,000 cars for a year if they were to run on this gas or it will be equivalent of planting 60 million new trees, for it will be enough to replace 12% of fossil fuels.
So my friends, when you're replacing a fossil fuel, it's not supposed to be bullish for the fuel's price. My blueprint for remaining negatively biased or bearish on natural gas remains in place. God bless the pigs. Let them make more money for us as long as they farts we are going to be rich.
On that bullish note, I'll say goodbye in this video but before signing off, let me remind you to click like on this video if you're watching it on YouTube. In the comments section, do let me know what you think of this stark in your face video and what other videos you would want me to record in the future. Hey, don't forget to recommend this video to your family and friends and help me reach out to more and more people to spread the cult of knowledge based investments in trading.
Do take very good care of yourself, your health, your family, your investments and your trades. Vijay Bhambwani signing off for now till we meet again in my next.
Thank you for watching.
Stay safe and have a great trading day!
Warm regards,

Vijay L Bhambwani
Editor, Fast Profits Daily
Equitymaster Agora Research Private Limited (Research Analyst)
Recent Articles