My Warning for Traders About the Upcoming US Elections
Jul 14, 2020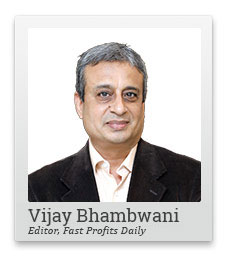 In this video, I want to update you about a critical topic which I have often talked about in my earlier videos: The US presidential election cycle.
I've told you this once in four-year event, has a very predictable standard operating procedure.
A savvy trader anticipating what will happen, can actually make good money in the markets.
Today I'll give you a step by step look at each and everything that gets impacted in the US presidential elections and how this time, things are going to be different for traders.
Let's see how.
Hi, this is Vijay Bhambwani and I am recording my video from the comfort and safety of my residence, but still keeping a finger on the pulse of the market. I hope you're following suit staying indoors, staying safe, but looking after your financial interests well.
In this video, I want to update you about a very critical topic that I have often talked about in my earlier videos, which is the US presidential election cycle. I've told you that this event, which is once in four year he went, has a very predictable standard operating procedure and a savvy trader in anticipation of knowing what to do along the established guidelines can actually make money from the markets.
Now we take a step by step look at each and every item that has impacted in the US presidential election and how this time, whether it will or will not work. At the very outset before I start taking off each and every item in the checklist, let me tell you that I'm of the opinion that this time things are really going to be different. Let's see how.
Revealed: Top 3 Stocks for 2020 and Beyond
First of all the US election hinges on a very strong US dollar. The United States is the largest debtor nation in the world. It owes a lot of money to other nations with whom it does business, which is why the US needs a very strong dollar so that it can manage its debt. A weak dollar basically puts a president on a weak footing.
Let's take a look at where the US dollar index was in 2016 at the end of the year, which is when the elections are held in the United States and where it is now. The US dollar index is also known as the Dixie. In the end of November beginning of December, which is when the elections are held in the United States in 2016 which is when President Donald Trump won the elections in a surprise verdict, the Dixie stood at 103.62 give or take a little.
Currently four years, almost four years down the line, the Dixie is struggling to rise above the 97 mark, which means the United States dollar, the US Greenback is struggling to gain against the global basket of currencies, and the United States has only increased its debt in the last almost four years that President Donald Trump has been in. Which means that the US will find it a little more expensive to service and or repay it's debt. That's a cross instead of a tick on my checklist for president, Donald Trump.
Gold and Silver ahead of the US presidential election tend to be subdued because these two precious metals are an indicator of nervousness or safe heaven buying. In order to show that all as well typically, the US administration, helped by its largest investment banks, etc, see to it that gold and silver prices are subdued, equity and real estate markets are buoyant or cheerful.
This time around gold and silver are not listening to anyone. They are marching up and the fear factor is such that there is actually a small premium on the US coinage, the precious metal coins which are for delivery. As a matter of fact, the CFTC data shows that a larger number of people are opting to take delivery even in the trading exchanges. That basically shoots down the all as well, nothing to worry about argument. So that's a second cross mark in the present US election.
The third is the real estate market. You know, the average American calls his home as his only real, tangible saving or an asset that he can bank on for his old age. Almost all of them or nearly a huge majority of them leverage, which means take bank loans and fund those purchase.
Not only an average American takes a loan to buy a house, but even after having paid off a certain number of EMIs, they can also avail of refinance from the banks and raise money for various reasons, whether it's children education or a foreign holiday or buying a SUV, whatever. So typically speaking, the property prices need to appreciate more than the interest rate. Otherwise, the property becomes a loss making proposition. Imagine buying a $1 million house and if at the end of the loan tenure, if you're going to pay two million as interest and principal, that property already is down the drain.
A US president knows that. So, typically, 15 to 18 months before the election time, the property market is generally boosted up so that the average American can continue to pay his EMIs and still feel that the property is worth it. But this time around, due to a multiple factors, profit booking and real estate prices, the Covid pandemic and a weak dollar, the US property market isn't really doing good. So an average American feels he is underwater financially. That's a third cross mark for the present US elections
I've always said that the oil markets are all about politics, geopolitics, real politics, terrorism, financial speculation and a lot of military factors put into place. A lot of factors have changed from the calendar year 2018 onwards where oil and gas is concerned. The US curbed its oil exports after the Arab oil embargo after Yom Kippur war between Israel and Lebanon in 1973 but in 2018 and there after the US has now turned the biggest oil producer and also a net exporter. Earlier, as an importer, the US wanted cheap oil, but as an exporter guest one, the US may want oil prices to go up, not for domestic consumption by definitely for exports.
Here's what I found in my data assimilation process. The US oil rig count, which was 958 oil rigs, have now been cut to 258 oil rigs. That's a massive cut of 700 oil rigs. Oil rigs are these platforms which drill for oil. Why is the US cutting down its oil rigs? And why is President Donald Trump so keen that the association of OPEC and non OPEC members, which is now OPEC plus, reach an oil output cut deal so that oil prices can be pushed up? Because, as an exporter, the US will earn petro dollars by exporting oil at higher prices. Trump knows that. He desperately needs the money.
But in spite of his best efforts, the rig counts falling, the OPEC plus actually curtailing output, oil prices aren't really going anywhere, and as a matter of fact, they still remain under pressure. Guess what? Fewer people are driving now. Fewer people are going to work. Many are working from home. Which is why fossil fuel consumption is actually falling. So artificial output cuts may just boost oil in the near term, but there is no real demand happening. That's a fourth cross mark in this present election and if you actually see what's happening to the US output, the peak US output had reached 13.1 million barrels a day, which has now fallen to 11 million barrels a day. That's a big loss to the US Treasury. The revenues to the US from oil exports aren't really jumping the way Donald Trump would have wanted.
What's happening in the gas space. The US has already slapped sanctions on the Nord Stream 2 pipeline. This is the pipeline that transports low cost a natural gas from Russia, and Russia is a huge reservoir of natural gas. Now, this Nord Stream 2 pipeline transports low cost, cheap gas from Russia to Germany and from Germany to all of Europe. President Donald Trump has a slapped sanctions on the Nord Stream 2 gas pipeline. Nothing doing. Gas prices are still falling. They're still under pressure. There was a small blip up last week when Berkshire Hathaway's owner, Warren Buffett bought Dominion Energy, a company that runs a 7,700 mile long a gas pipeline. But that is more of a blip on the radar than a sustainable rally.
So I feel that the US election is likely to be a lot more different this year as compared to the previous years and as a bankable trading opportunity, you're less likely to make as much money as you would have made in 2016 or 2012 prior to the 2016 elections. This time there is a lot of uncertainty in the world, and let's not forget the biggest of them all, the Covid-19 pandemic has thrown a lot of things out of gear.
For example, unemployment in the US is at record highs. Credit card loans and student loans are higher than the 2008 levels, and the average American is actually struggling to get a job. Do remember that a previous president, Bill Clinton, actually got re-elected in spite of his sexual scandal with Monica Lewinsky, an intern in the White House, because during his tenure, the economy was doing well, the dollar was strong and employment figures were strong.
This time around, President Trump has to have two more forces to contend with. Number one, the public's perception of not handling the Coronavirus response properly and in time that is, and the second thing, which is a lot more serious, is black lives matter movement, the killing of the African American male by a police officer by choking his neck. Now that has actually lead to a lot of anger, which means that the challenger, Joe Biden, is climbing up the charts and the markets basically don't really like too much of uncertainty or a change in power.
The last item on the checklist is the stock market. Before a presidential election, the stock market is boosted up. That is the only tick marks on my checklist ahead of this year's presidential election. No prizes for guessing as to why the US stock market is going up Hey, it's a presidential election year. I would be surprised if it did not go up.
So come heaven, hell, high water, rain or sunshine, I think there is a method in the madness as to why the US Federal Reserve is saying they will do what it takes. They will print money. They will monetise their debt. They will resort to bond buy backs, but they will keep the market going up. After all, this is the big event in the US political scene. But apart from the US stock market, there doesn't seem to be anything that is routine in this US presidential election cycle. Net-net, sum and substance, brace up. High volatility ahead.
On this cautious note as far as the US presidential election cycle is concerned, before I bid goodbye, let me remind you to click like on this video if you're watching it on YouTube. In the comments section, do like me know what you think of this video and what you would want me to record in my next. Don't forget to recommend this video to your family and friends and help me spread the cult of knowledge based investments and trades.
Do take very good care of yourself, your health, your family, your trades, your investments. Vijay Bhambwani signing off for now.
Thank you so much for watching my video.
Stay safe and have a great trading day!
Warm regards,

Vijay L Bhambwani
Editor, Fast Profits Daily
Equitymaster Agora Research Private Limited (Research Analyst)
Recent Articles