India's Vulture Moment Against China
Jul 15, 2021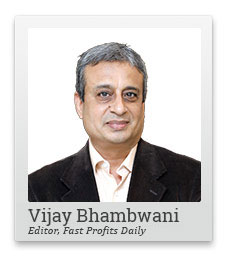 I use a 360 degree worldview in my trading. It has served me well in the market.
Recently, this approach has led me to a great profit making opportunity.
There's a big shift taking place in world trade. A shift which will benefit India at China's expense.
I call it India's vulture moment, and in this video, I'll tell you all about it.
Let me know what you think about it.
Hello friends. How are you doing up there? I hope the market is treating you well, and you're enjoying the trading process in the markets.
In this video, I want to talk to you about a special moment, which is potentially once in a lifetime, kind of an event, that has come to India's door, knocking on the door, waiting to enter.
Now you see, I come from a family which has been in business. We are business owners, and the way I learnt my ropes was sitting at the dining table, learning from my dad while he was talking to my uncles or entertaining business associates for dinner or lunch on weekends.
Find Out: How to Create Massive Gains from Govt's Mega 2023 Plan?
Believe me, that's something that no MBA class can replicate. No offence meant to my teachers, who taught me management at institutes and colleges but this is the kind of 'how you think masterclass', that only a lion can teach it's cub like how to hunt in the jungle. This cannot be done in classrooms.
So a sense of many of my family cousins etc, own businesses in China, I am very excited with what's happening in China right now and how it's India's moment to come and bask in the sunlight under the sun. Allow me to explain.
Recently, the Chinese announced a 50 basis points or half percent decline in the reserve ratio requirement, which is expected to unleash more than US$150 bn into the Chinese economy. This is taken as another sign that the Chinese are pump priming. By pump priming means you inflate a balloon with a pump. This is to pump prime the economy, which is under severe distress.
My viewers in this YouTube channel will recollect how I had recorded a video about trading commodities and shadow inventories. I told you that the Chinese have a whole lot of inventories that it is nursing, which is off the books.
Now that prices are going up in base metals, they are releasing some of that inventory and basically at fixed prices to cool prices down in the market because the Chinese consume 20% of all industrial metal in the world, partly for self-consumption and partly for re-export as finished goods.
Now the way business operates is once you see your business competitor, contemporary, rival, call it what you want, once you see that rival is getting weaker, you attack it with force like a vulture. Now a vulture is a beast of prey, but it's not a beast of fight of light. It does not fight. It cannot fly too long. So it waits for its prey to get either grievously injured or waits for the prey to die before it starts pecking at the meat.
This is India's moment to act like a vulture against the Chinese, and this idea comes to me from China's reduction of its reserve ratio requirement by 0.5%.
The Americans have also sensed that the Chinese economy is far from as strong as the Chinese claim it to be. The President would like the world to believe all as well in China, and the economy is booming. Then why do you need to reserve ratio?
Why are the Chinese basically donating vaccines all over the place and saying we are all very well. The more they are basically trying to project an image of all is well, the more people are finding evidence of a slowdown in China, and once the Chinese believe me are showing signs of weakness, the Americans are now threatening to have a trade war with China.
So will there be another friction on the US China front in the tenure of Joe Biden's administration? I would think there is a very high probability.
Now let's take a look at Afghanistan. You might think this has nothing to do with the stock market but bear with me. I am Vijay Bhambwani. I don't do anything which is unnecessary. This is why I call it the 360 degree worldview.
Now that the US has pulled out troops from Afghanistan, it will need somebody to mind Afghanistan on its behalf. Now either Pakistan starts moving in and a plays a bigger role, which, of course, even the Chinese would want because remember, Afghanistan has found a lot of minerals and metals deposits, which the Chinese would want, or the Indians backed by the US administration as its proxy, which I think the US administration is happy to do, will start taking a slightly more proactive role in Afghanistan and, in the bargain, negotiate better terms for exports to United States, a bigger access to the US markets.
Now that the Chinese are showing distress in the economy, basically, buyers of Chinese goods will start to negotiate tougher terms on China. This is the rule of business. Even you eat me for lunch, or I will put you on the dining table and have you for lunch. It's a dog eat dog world in the international export market, and the Chinese have just admitted that they have chinks more than a single chink in their armour. Now this is India's moment to step in, negotiate better bargains, negotiate better deals with buyers who were buying their stuff from China.
Do remember in the budget of 2018 that then Finance Minister, Mr Arun Jaitley, in order to help the farmers and farmer distress was extremely high at that point in time was forced to raise the MSP, the minimum support price of cotton by 35%. Immediately, stocks of companies that were exporting cotton garments, led by Arvind Mills, the largest manufacturer of denim, the stock price fell.
Immediately Vietnam, a country which I admire and which I have personally had the pleasure and privilege of visiting and observing, its trade and business techniques, Bangladesh another country which I have visited and observed how they work in the export markets, so both these countries basically moved in.
On the very next day of the budget presented by the Indian Finance Minister, they realised that the Indian cotton exports were going to go up because cotton prices were being raised by the higher MSP and immediately they took away a lot of cotton export business of India.
Now, this is the time when the Chinese are showing weakness and this is our moment in the sun to get back at them. This is something that the Chinese understand and realise. Is this the reason why there is so much of friction re-emerging on the border in the North with China? My guess is yes.
Politics is warfare by another name and warfare his politics by another name and as business owners, we need to have a 360 degree worldview wherein we understand how politics and business are actually going to bed with each other and you cannot understand one without understanding the other.
So my guess is India's stands to gain in the cotton garment export business. We are already in a dominant position in software exports but the Chinese were threatening to run down are necks and friends and family members who have factories and businesses and offices in China tell me that one handicap that both the Chinese and the Vietnamese have is that they lack in ELT, English language training.
So their software engineers cannot communicate or write in English very well. Once this hurdle has overcome both the Chinese and the Vietnamese, I've been to Vietnam, I've seen that thing first hand, when once these guys start getting the hang on the ELT aspect, they were threatening to basically match India in software exports.
But now that Chinese are not really finding favours anywhere, now that there is a kind of antipathy on China, as a matter of fact, some countries have also propagated a kind of a penal tax on China for having caused the covid pandemic, now this is India's sunshine moment under the sun.
This is this is the time when we should move in and grab a whole lot of deals which corporate India is actually doing.
So what would I favour? I would favour garment exports. I would favour chemical exports. I would favour pharmaceuticals. I would favour automobile exports. I would favour software and I would favour some kind of specialty engineering exports also. The possibilities can be endless but my gut feeling is that the stock market realises this is happening.
Savvy hands are not allowing the markets to fall too much. Even when a record videos about how to be cautious and how to short sell, and prepare yourself from for the time when you would make money by shorting, I have time and against specified repeatedly that I am not a permabear. I am not telling you that the market is bearish but I am telling you that the market might consolidate.
Over the long term, this is an emerging opportunity which India can grab with both hands and the stock market realises that. I am very excited. My friends and family are very excited because they smell opportunities and I think the markets do to.
On this cheerful note, I'll bid goodbye to you, not before reminding you to click like on this video if you agree with what I said. Subscribe to my YouTube channel if you haven't already done so. In the comments section, good, bad or ugly, keep it all coming. I'd welcome it with open arms.
Help me reach out to fellow like-minded investors and traders by referring my videos to your family and friends. I wish you have a very, very profitable day my friends. Take very good care of your health, your family of friends, your trades and investments.
Thank you for your patience and watching my video. Till we meet again in my next, this is Vijay Bhambwani signing off for now. Take care.
Warm regards,

Vijay L Bhambwani
Editor, Fast Profits Daily
Equitymaster Agora Research Private Limited (Research Analyst
Recent Articles