My Latest Stock Recommendation
Jul 17, 2020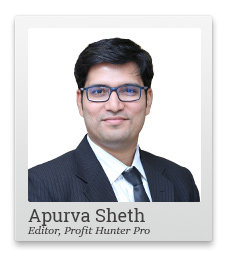 We live in an interconnected world. What happens in one corner of the globe affects us too.
This is certainly true of financial markets.
As equity traders we are keen to track equity markets closely but we should not ignore other markets like commodities.
My latest trading recommendation was a stock which will benefit from a specific event in the commodity market.
And I want you to know all about it.
Let me know your thoughts in the comments. I love to hear from you.
Hi. I'm Apurva Sheth and I welcome you to this latest edition of Fast Profits Daily.
So, friends, we live in a interconnected world. What happens in one corner of the globe does affect us. We have seen the Coronavirus which started in China initially, slowly spread all across the globe.
Initially India was nowhere in the affected nations list but now we are among the top three. So the world is an interconnected place and we cannot ignore what happens in other places. Financial markets are also somewhat similar.
Now as equity traders we are keen to follow and track what happens in equity markets but we cannot ignore the other markets. Other markets like bonds or currencies. Now, if you look at this fear, currencies are the biggest market. Only slightly smaller than them is the bond market. Smaller than that is the commodity markets, and finally, last but nor the least, is the equity markets.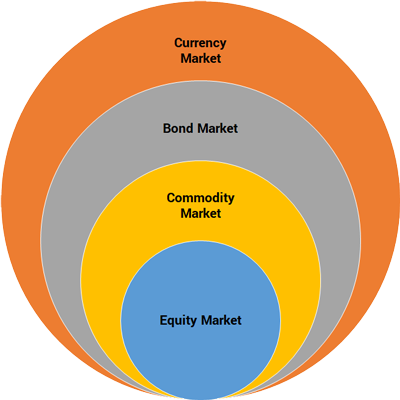 So you see in this fear, equity markets are the smallest of all and immediately connected to them is the commodity markets. So what happens in the commodity markets has a huge impact on the equity markets.
Now take an example of an oil marketing company. Now, if crude oil prices move up and if the oil marketing company is not able to increase its prices of the finished products, then it will definitely impact its profitability.
Similarly, you can look at a textile company. Now a textile company would be very much affected with the prices or trends in the cotton market. So if you are equity trader, you can simply cannot ignore what is happening in the commodity space.
So now I am sure that you must be aware that I and Vijay run a stock recommendation service called the Fast Profits Report. Here Vijay with his vast experience of 30 plus years in commodities, currencies, he identifies trends in the commodity space and then I identify stock which is related to that commodity. Our objective is to find stock which has a commodity as its underlying theme.
So the commodity for this month is aluminium. Now, aluminium is an element which is found in abundance in earth. Now it is the third largest element after oxygen and silicon. About 8 to 9% of the Earth's crust is made up of aluminium, and if you leave aside the deserts and mountains and dig anywhere in the ground, then chances are than 50 metres below the ground you find aluminium. So aluminium is a commodity which is found in abundance and that's the reason why it is the slowest of all the industrial metals. It is a laggard and in generally does not move a much.
However, in April 2018 something unique happened. US President Donald Trump put sanctions on Russian aluminium company called Rusal. Now Rusal exports about 9% of the total aluminium demand of the world. Since this was a huge output which was being affected, the aluminium prices shot up by 40%. Now a 40% jump was a huge jump by any measure and it was only a matter of time before the commodity started falling lower.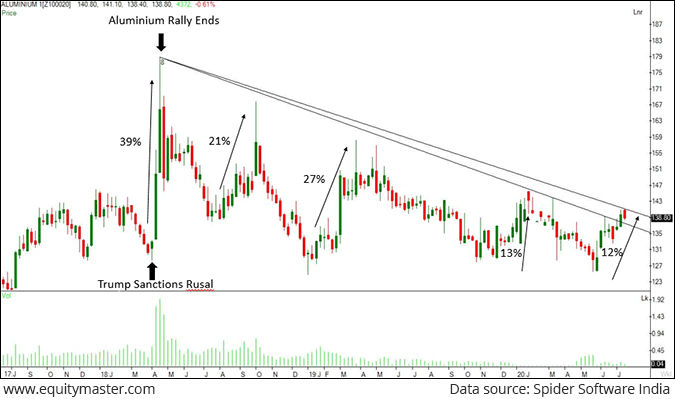 So as you can see on the screen right now, the spike there you have that you see on your screen is when president Trump put sanctions and immediately after that, within three weeks, the commodity topped out and fell lower.
Now there is an interesting characteristic about aluminium. After it bottoms out, the most that it rallies, in a straight line or the most that it could rally is in the range of 20 to 25%. So immediately after the stock dropped and bottom was in place, you can see that the stock, that commodity that is aluminium moved up by about 21% and then fell lower again.
Once again in the year 2019, aluminium drops and the recovery was again in the range of 20 to 25%. Now this is a characteristic of aluminium which has stood the test of time, and we have observed this over a period of 10 years.
Now this time around, aluminium dropped by similar lines after the Coronavirus crisis hit the markets. Now since then since March, aluminium has a shot up and it's up by about 12%. Now this is a good jump. However, chances are that aluminium could find supply at higher levels and for lower. The chances of aluminium making a major move from these levels are thin.
So traders and investors can benefit from the view in aluminium. Now there are two ways in which one could benefit So first is that the aluminium producing companies could be in the limelight and they could trade softly for a couple of months or weeks because the aluminium prices, the output that they give is not going to fetch high prices for them.
Secondly, is the aluminium consuming companies. So companies which consume aluminium will benefit from lower or falling prices because their profitability is directly connected with aluminium. So the cheaper the raw materials, the higher their profits. So these are two ways in which you could benefit from falling aluminium prices.
Now I have identified one stock, which could be a likely beneficiary of the falling aluminium prices. Now I cannot reveal the name of the stock of here in public domain but there is a way in which you could get access to this report and the stock, which we have identified. So you will find the links in the transcript section below. You can click on them and know more about this recommendation and the way in which you could access it.
So that's all from me for today. I hope you enjoyed watching this video and in case you did, then please like it, share it, subscribe to our channel and also, don't forget to join our telegram channel where both I and Vijay post interesting upgrades about markets and how one should trade.
So that's all from me for today. Thanks a lot and have a nice day.
Stay safe and have a great weekend!
Warm regards,

Apurva Sheth
Senior Research Analyst, Fast Profits Report
Equitymaster Agora Research Private Limited (Research Analyst)
Recent Articles