My Winning Trading Strategy
Jul 19, 2021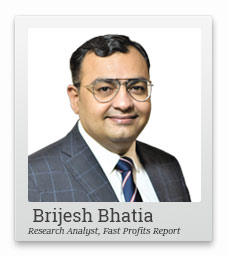 In this video, I want to talk to you about my winning trading strategy for the Bank Nifty.
This strategy is not for the active intraday trader.
Instead, this is to be used by the cautious trader on the Bank Nifty. It's well suited for swing traders who want fewer number of trades.
This strategy, based on Heikin Ashi candlestick patterns, has very clear entry, exit, and stop loss points.
I think this is an exciting strategy with a high success rate. As proof, I've provided details of my own performance with this strategy.
Watch the video and let me know what you think about this new trading strategy.
Hello viewers. Welcome to the Fast Profits Daily. Myself Brijesh Bhatia. In this video, I'll be sharing one winning trading strategy on Bank Nifty.
Before I start on the strategy, let me explain what kind of tools I'm using here. If you look at the screen over here we are using the Heikin Ashi candlestick pattern.
Basically, these are modified candlestick pattern and if you look at candlesticks, there are any number of patterns, but in Heikin Ashi there are only three candles you have to watch.
Watch Now: A Massive 15x Opportunity in Electric Vehicles
The first, is the bullish candle, where there is no tail, or I would say the shaven tail and the open and low are same and prices go higher.
The second here is the bearish candle with a shaven head, open and high are same, and prices go down.
And the third candle, which is known as the Doji, which has the upper shadow over the high and lower shadow over the low. So the body is within that range.
So three candles you have to watch, bullish bearish, and doji. So let's look at how the charts look over here.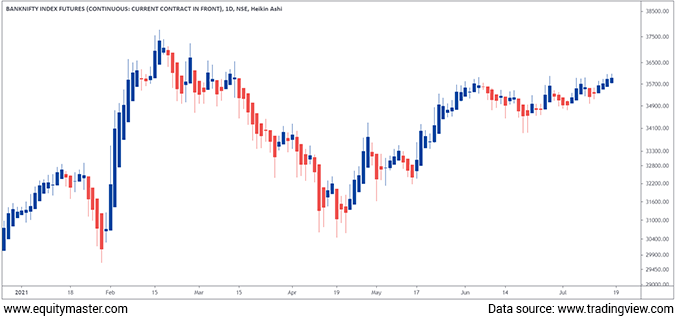 So if you look at this, it's the Bank Nifty chart over here on your screen. This is just an example of how the Heikin Ashi charts looks like.
If you look at the structure over here, the blue line on the screen are bullish. The red lines with the open and highs the same are known as bearish candles, and there could be the doji which depends upon the colour of the open and close. So you have to keep a watch on these three candles.
Now, what is the strategy all about? So I'll explain how the strategy runs and this is purely, not for intraday trader. Those who are looking for lesser number of trades but good swing trading and this I'm doing on Bank Nifty.
I'll show you the performance as well on how this strategy has been played in last one year, and you will be very much surprised with the results. Let's understand the strategy first. I've named the strategy as 'Trade the Trending'. So what are the entry criteria, let's first understand it when my bullish Heikin Ashi occurs.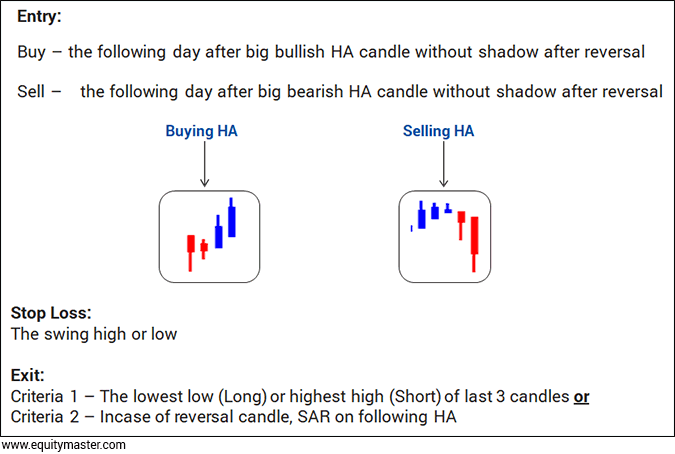 So on say first of July, there is a bullish candle closed. On second of July, I'll straight away buy, which means I'm buying the following candle. The next day opening right at 9:15 point some seconds which is around 9:16, I'll take a buy trade.
If there is a bearish candle, the next day, I'll go and take a short position in the futures and all this data which I will be sharing is on futures because you can't short in the cash market. That's the reason, I have considered the futures.
I repeat the entry criteria. The bullish Heikin Ashi candle, the following day opening, you will enter long. Similarly, bearish Heikin Ashi candle, the following day opening, you will enter a short and 9:15
What are the exit criteria? What is the stop loss? Let's look at the stop loss first.
My stop loss would be the previous three Heikin Ashi candle lowest low. So if I'm buying on first of July, considering there are no holidays in previous 3 days, 30th June, 29th June, and 28th June. The lowest flow of these three Heikin Ashi candles, I'm repeating again, Heikin Ashi candles, because there is the difference between Heikin Ashi candles and the normal candles.
So you need to shift to Heikin Ashi candlestick charts first. You will get it across any platform tradingview.com, investing.com, most of the trading software provide this kind of Heikin Ashi charts now.
If I am going short on first of July, so my previous three days, which is 30, 28, and 29 June, considering no holidays, the highest high will be my stop loss.
Now here I'm using the trailing system which means if I want second of July, considering there are no holidays, 1st July, 30th June, and 29th June, those lows or highs will be my stop loss, depending upon the positions which I have.
So every passing day, my stop loss, will get carried away with three candle lows or three candle highs.
A common example, I'll show you. In case at some point of time the 3 candle low is broken out during the day, I'll exit mu positions, but my fresh trades will be initiated, if there is a bullish candle, will be on the next following day. This is the first exit criteria.
Sometimes it might happen that the candle has formed bullish, if you are having short positions on first of July, 2nd of July, and on third of July your three days high is not taken out, but there could be a bullish Heikin Ashi formed, which means in your bearish trend, the bullish Heikin Ashi candle has formed.
So I will stop and reverse the next morning. On the third morning I'll stop and reverse my position. I will cut my shorts and long on the Bank Nifty. So these are my two exit criteria.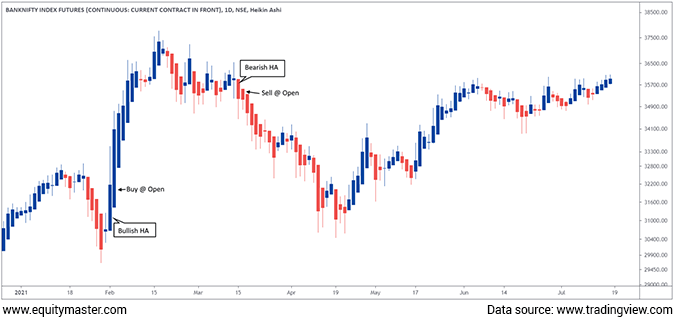 Let me go on to the chart over here again. So if you look at the first chart over here, I've taken an entry the candle over here and if you look at the entry I've marked, the bullish Heikin Ashi, the following candle, at open I'm buying, and you can see the rally.
So at some one of time my three candle low have might have broken. Similarly on a short side my bearish Heikin Ashi has formed and the following candle at open, I'm going short. This is my entry and exit criteria.
Now let's look into performance of this system. So I have taken from July 2020 to June 2021, so the last 12 months of performance.

If you look at the performance and believe me, if there is a trending market, this system will rock it out. See, all 12 months can't be a trending market, so there could be a winning strike rate of around 75-78% if compare it with last 4-5 years of data.
Even if you look at the last one year of data, out of my 12 months, three months have been negative and nine months have been positive. Which means that 75% strike is there.
Now if I look at the loss months, which is July, August 2020, where I lost around 9,800, 4,300 and the other one month which was May 2021, where markets have consolidated. Even in June, we saw consolidation but the bank nifty has been a huge up tick.
So in two trades, I've made a loss of around 24,000. That was the max loss which I have so far incurred during a month.
But if I just look at the positive month over a year, just look at the positive months. September 2020, 92,000. October 2020, 35,000. November we had a trade running into December, so I've considered it in December. So all these trades which have been closed considering those months. So if August trade was there and then closed in September, I'll consider it in September.
So if you look at November start trade, it ended in mid of December and it fetched me around 8,400 points, which was around 200,000 of profits per trade and this all trade profit numbers of one lot, which is 25 quantity. You can go into multiples.
January 2021, 1,500 rupees profit. February 2021, 61,000 rupees profit. March 22,000 rupees profit. April we made around 44,000, and in June be made around 34,000.
So if I consider as a 500,000 investment because 2, 2.5 lakh goes into the margin, still I'm keeping a buffer of around Rs 3 lakh for my M2M. Though at any point of time, it has never happened that I have taken the loss of around a 70-75,000, still I'm keeping a buffer of around 300,000.
On an investment of 500,000 in the last one year, I am in a profit of around 463,475 and this is excluding brokerage. So if I just show you these are all my trades, which have been between July 2020 to June 2021.
I've considered Rs 100 lumpsum brokerage plus charges because generally the brokerage is around Rs 25. Some brokers charge around Rs 30. So if I just add up on both sides, 25 plus 25 is 50, still I'm taking higher side brokerage slab.
So considering this, these are the numbers, 463,000 profit. From a capital of 500,000, I think 463,000 is an amazing return you can expect from this strategy.
So I hope you like this strategy if you might implement it. In case you have any questions on the strategy, do write on the comment box and subscribe to our YouTube channel. I hope the system will be much clearer for you. Still I would suggest, write a comment how you feel about our strategy. If you have any implementation concerns, you can comment. I'll get in touch with you.
Signing off Brijesh Bhatia. Thank you.
Warm regards,

Brijesh Bhatia
Research Analyst, Fast Profit Report
Equitymaster Agora Research Private Limited (Research Analyst)
Recent Articles