The Worst is Behind Us. Get Ready to Make Profits
Jul 20, 2020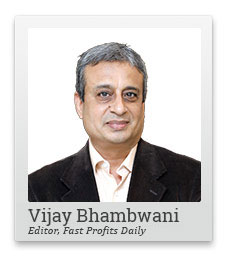 On 8 May, 2020, I recorded a video in which I explained why the situation in the market is not as bad as it seems.
Unfortunately, I received some pretty sharp words from some viewers who went a little beyond the lines of decency.
If accepting positive opinion based on optimistic data, goes against your line of thought, I suggest you don't watch this video.
But if you want to know why the worst is behind us, I will show you in this video.
Let me know your thoughts in the comments. I love to hear from you.
Hi, this is Vijay Bhambwani here. I am still at my residence recording videos for you and in this video, I'm going to answer a question that some of my viewers have asked, and it's pertaining to the market, the fear factor, and what's happening in the financial markets around us.
I remember recording a video on eighth of May, and in that video, I gave you three data points. The unemployment data, which surged to an all time high, the IIP data, and the consumption of fuels etc and the title of that video on eighth May was why I think the situation in the market is not as bad as it seems.
Unfortunately, I received some pretty sharp words from some of the viewers who basically went a little beyond the lines of decency. If accepting positive opinion based on optimistic data is going against your line of thought, I would suggest you stop watching this video right now, right?
That said, if you have been a subscriber of my Weekly Cash Alert service, you would have received a booklet in which I have split the entire year into 12 calendar months and I've told you, what commodity will work in which part of the year and more importantly, why. The why is always more important to me as a behavioural finance student and a behavioural finance buff and a lifelong student of the market because knowing why I'm doing something empowers me and today, I am going to answer a few questions with this very underlining philosophy, why.
Revealing at 5pm Today: The Great Indian Wealth Project
So some of you have asked me whether there is going to be a depression coming in after this Corona crisis is over, and generally they will be doom and gloom and whether they should stop their SIPs, whether they should stop subscribing to advisory services, whether they should stop investing in the markets per se and basically say that the world is nearing an end.
The answer to that question is no and I'll answer that question with why. Now, the Indian taxation authorities have a financial year, which is a little different from the calendar year to the extent that we begin our financial year from 1st April, and it ends on 31st March. Just like that commodity trading guide I talked about, I split the year into 12 months, let's split the financial year into parts, the first half and the second half.
What really happens in the first half? Let's first go to the month of March. If you're anybody like me, you're a late Latif, a guy who believes in brinkmanship, does everything at the last minute. I even studied for my school and college exams a few days before the exams actually were to be held. Everything at the last minute. I prepare my IT returns that the last minute. I do my company's tax audit at the last minute.
So in the month of March, people like me and believe me, I believe there's a lot of them in India, people like me busy reversing entries. Reversing entries would mean giving back the loans that you have taken. You are basically trying to shrink the size of your balance sheet. You're basically trying to spruce up your profit and loss account and make things look good. So the month of March basically results in a lot of sucking out of liquidity. People are also doing last minute tax planning, investing in a tax shelter instruments like ELSS, which is equity link saving schemes, 80cc compatible schemes, so as to reduce their tax liability, etc.
So the year end in India, the financial year end in India, is typically accompanied by a lack of liquidity or a tight money supply scenario. This year, unfortunately, the month of March coincided with the Covid lock down. To that extent, the year ending was worse than any other normal year.
In the month of April, after the 1st 10 or 12 days, normalcy starts to return and liquidity starts to return in the market. Payment cycles start to basically start humming and slowly but surely, money supply comes to the market. The month of May is critical because if you have children, school or college going, you would know that this is a holiday time. Summers in India tend to be intense. We are fairly close to the equator. It's a very hot country and in the month of may, be normally tend to take children out of town for holidays, which means spending, which means GDP grows. This year, of course, is different but we are talking ball park.
So in the month of May, when we take a children outdoors out of town, we shop. We basically spend money so GDP expands a bit and then while we guys are spending money, the farmers, which is the agrarian part of the economy, which is a major component, is basically biting its nails with the anticipation of what kind of monsoon there will be this year. So the month of May and month of June is a slight compression in rural spending on personal effects, because we don't know what kind of monsoon there will be.
So by June, the farmer knows what kind of rains the gods are going to give him and if the rains are good, believe me, he goes out there, buys seeds, he is cheerful, he plants his seeds. He is preparing for a harvest and if the monsoon is good, a major component of the Indian economy, which depends on rural spending, starts to hum.
Now, by the time the monsoon starts receding, it's either end of August or maybe even mid September. So by end September, you have H1 or first half of the financial year as it is done and dusted and over with. The monsoons have, by end of September, clearly receded.
Starting October, if the monsoons have been good and even if the monsoons are not good, the farmer would have received something for his harvest which he has sold and the rural spending starts to basically start driving the economy. Now Asians are a lot different from Caucasians or the Westerners. We tend to celebrate life in a very unique manner. We have festivals.
We have very emotionally charged periods where we worship are gods. We remember our dead elders. We basically bring the statues of gods and goddesses home. We do immersion of those god's, statues and obviously all this results in spending money, which means a boost to the GDP.
So the second half of the year starts with festivals. Lord Ganapati in India, Lord Ganesha is also known as Vighnaharta. Vighnaharta would mean the destroyer of all problems. With the coming home of Lord Ganapati's statues in the houses of faithful, start a festival of 10 days when pooja, mithai new clothes, etc are bought, which obviously means more turnover in the economy. Better GDP.
As soon as the Ganapati Visarjan festival is over, Navaratri starts, which is nine days of garba and what not. Dussehra, which is the day Lord Rama slayed Ravana. Dussehra, followed by Diwali and during Dussehra or Diwali, Hindus don't really need any auspicious dates to spend money, start new businesses, buy new cars, book properties, buy new clothes, spend money on sweetmeats, light up their homes etc which means higher GDP.
Dussehra, Diwali over, we basically have Eid. Then a Christian brothers and sisters, after our Muslim brothers and sisters have had Eid, our Christian brother than sisters have a Christmas and then New Year, which is followed by Makar Sankranti and kite festival. Then you have Mahashivratri. Then you have Holi when we spray colours on each other, we by sweetmeats, we spend money, we buy properties, we start new businesses etc.
So typically this process, which starts from October triggered off by festivals, results in optimism. People are more willing to dig their hand into their pockets and spend and spending money is always good for the economy. If you are a marketing student or know any marketing person, you would very readily be able to find out that corporate India actually raises its marketing budget in the second half. You know why? Because of festivals. Because people are willing to spend in that period.
So coming back to whether you should stop investing whether you should stop your SIPs, is the world coming to an end? Is there going to be a recession? Let me tell you this. I am recording this video on 18th of July. I am just 1.5 months away from the lull period or the slow period of the first half. I know that from October onwards, a relatively better time is likely to kick off.
I have already seen the worst behind me, the Corona lockdowns have come and gone. Lockdown one. Lockdown two. Now unlock one. So I have already seen 3.5 months of one of possibly the worst periods in my memory come and gone. I've survived. Would I really want to stop my investment process and my SIPs, etc just a month and half away before the tide is going to turn? I don't think so.
On this note I'll sign off from this video not before reminding you to click like on this video if you're watching it on YouTube and subscribe to my channel. In the comments section do let me know what you think about this video and what you would want me to record in my next.
Help me reach out to fellow investors and traders and spread the cult of my 360 degree view of the markets and knowledge based investments and trade. I also hope you've joined Equitymaster's Telegram channel with the handle Equitymaster official where I have posed a couple of posts every day and I would love it if you could read them.
Do take very good care of yourself, your health, your investments, your family and, until I see you again in my next, goodbye for now. Thank you for watching.
Stay safe and have a great trading day!
Warm regards,

Vijay L Bhambwani
Editor, Fast Profits Daily
Equitymaster Agora Research Private Limited (Research Analyst)
Recent Articles