My Best Trading Ideas When Interest Rates Are So Low
Jul 23, 2020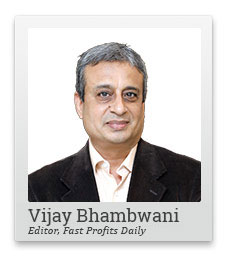 If we compare bank fixed deposit interest rates to the level of inflation, we can see that we are living in a negative interest rate world.
As traders how do we make the most of this situation? Are there specific trades we can use to maximize our profits?
My answer is yes. In this video, I'll show you what they are.
Hi, this is Vijay Bhambwani and I'm recording this video from my residence, but I am still keeping my finger on the pulse of the market and this video is about a topic that happens to be very close to my heart.
I have recorded a lot of videos in the past and I have also said the difference between an also ran trader and a superlative trader is determined by how a trader chooses to allocate money in various asset classes, especially fixed income or passive income asset classes.
The video I'm recording today is about another challenging event that has occurred in the Indian economic space, and it's something that I have been warning you since September 2019. On Equitymaster, in September 2019 I had advocated that the honourable Finance Minister will have do three things to be able to stimulate the economy and remember the
Covid pandemic was not even there.
I said interest rates needed to come down, which they are coming down. I said the taxation needs to come down, which the honourable Finance Minister did and I also said that the rupee will be allowed to depreciate to facilitate exports, which you have seen over the period from September 2019 to yesterday, actually transpired.
JUST IN: Top Stock for 2021 Revealed Here
Now the data that I read about in the print media a three days ago set off a thought process and this video is a result of that process. The data that I read about was the CPI or the consumer price inflation. What you call mehngai dar in Hindi or very basically put inflation.
Inflation in the Austrian school of economics is also known as the misery index. Inflation cannot make anyone happy. It's supposed to make you feel miserable and therefore the name misery index.
So the inflation rose to 6.2% and as you would know, the bank fixed deposits have started coming down progressively ever since the honourable finance minister laid out a roadmap of lower taxes, more stimulus to the economy and off late, the RBI has also, in many tranches cut down interest rates.
So your bank fixed deposit is giving you under 6% but your inflation is 6.2%. India is officially now in the negative yield space. If you were to Google search, you'll realise that more than a dozen countries are now giving you negative yields on their sovereign bonds. Which is to say that people are actually paying to park their money in the safety of government guaranteed bonds because they are not sure whether their capital will be safe. This is actually not good. What impact will it have across asset classes, is what this video is all about.
Lets take a case by case look at what can happen. Let's first start with bonds. So if the price of the bond goes up, the yield comes down. Remember, if a Rs 100 paid up, bond offers you 10% interest and if you were to buy that bond at Rs 100, your yield would be 10%. But hey, what if you bought that bond at Rs 110 your yield would come down because you're paying 10% more for the bond. So when the price of the bond goes up, the yield comes down.
I expect yields to come down. The reason being there is a flight to safety. People are willing to pay a premium to get the guarantee of the sovereign. Remember, it's only the government who has the power to print currency notes to be able to discharge or redeem its debt. The private sector, i.e. you and me cannot print currency notes. The government can print currency notes and they can pay off its debt and avoid a sovereign default, which is why the public actually runs to government investment schemes. They know the government can print its way out of trouble.
So bond yields are expected to come down, which means tough luck to people who are going to buy bonds from now. If you actually read the news, the RBI bonds, which were being issued earlier, had an interest for a coupon rate of 7.75%, that has been brought down very sharply from first of July. So bond investors are in for a tougher time. This is something that I had recorded even in December 2019 on Equitymaster saying that for the calendar year 2020, fixed income investors are going to have a challenging year ahead.
Then comes the currency market. The currency market is likely to witness volatility. If it all interest rates are coming down, inflation will go up and proof in point, the 6.2% CPI or the retail inflation that you have seen recently. Of course there are some other factors also. For example, covid has seen vegetable prices move up across the board due to availability issues and let's face it, there is also a little bit of profiteering going on out there. So of course food inflation might come down a little once the lock down is lifted and sort of normalcy returns elsewhere.
But when you reduce interest rates, inflation is bound to go up, which means the currency, the local currency of India which is the Indian national rupee, can come under pressure and when it comes under pressure, when it retreats against the overseas currency, whatever you import becomes a little more expensive. This is called imported inflation. So crude oil and natural gas, even if it is constant and unchanged abroad, will be more expensive in India because the rupee might become weaker. This is something that you need to keep a very, very keen eye on because this impacts, all the other asset classes.
Then comes the commodity markets. What is inflation? Inflation is nothing but increase in the price of raw materials. What are raw materials? Commodities. To a guy manufacturing this then denim shirt, cotton is a raw material. To somebody who's manufacturing pressure cookers, stainless steel and aluminium is raw material, and inflation means the price of cotton going up, the price of aluminium and steel going up. Which means the commodity market, if you were to place your bets right, would actually be a beneficiary from the rising inflation.
Does that mean you can go out there and buy any and every commodity? Not at all? Not at all. You have to be extremely selective. You have to weigh the pros and cons, the demand supply scenario, the data that's available out there in the public domain before placing you bets. But largely I would expect commodities, especially bullion, gold and silver, they are natural beneficiaries from rising inflation and a falling currency scenario and remember, high inflation means that your interest yield is as it is low from elsewhere. You might well go into the relative safety of bullion. So bullion and other hard assets by hard assets, I mean commodities, are likely to be the beneficiaries of higher inflation.
Equities because people are getting lower interest rates, money will be pulled out of fixed deposits and other debt market schemes and will go into equities. So temporarily I'm using the word temporarily, and by temporarily I don't mean for a few days, but it could actually be few weeks, too few months, you might see bullishness in the equity markets.
There are a whole lot of people out there who feel that lower interest rates are bullish for the stock market. Maybe they're right from their point of view, but I belong to the category of people who actually invest money in the market, and we tend to have, people like me tend to have a slightly different view. If you were to reduce my interest rates, I will be disincentivised from saving. So I'll stop writing cheques or maybe I reduce the amounts in those cheques that I write out and over a period of time, if the guys who are writing out cheques clamp up, there is going to be less money floating around in the market.
So you can't really rub the guy the wrong way for far too long and expect him to keep writing out cheques. In the short run, there will be a run up in the equity markets, but over a period of time, when you push people into taking higher risk by taking money out of fixed income securities, when you push them into equities, they are taking a huge amount of additional risk, which may or may not necessarily result in additional return. So if I was to take additional risk and not get additional return, I might just get pretty disincentivised, demoralised and pull money out of equities, which at a later date you run the risk of.
Does it really mean that the video that I'm recording now is giving you back news? Not at all. Far from it. Be extremely selective. Even if you're investing in stocks, which I think you should not stop, you should choose those stocks, which actually benefit out of raising prices. Use those stocks which actually made money or are likely to make money when the commodity prices are going to rise, which means, rather than consumers go for producers.
In the commodity space I have already told you bullion and for Weekly Cash Alert subscribers, they will be more trading alerts on other commodities as well. There's good news ahead. So rising inflation will benefit equities selectively and commodities almost definitely. For currency players, you know what to do. If the rupee is likely to be either range bound or lower against the USDINR by itself that's a trading game plan.
So we traders cannot afford to sit idle. We need to put food on the table for our families. What's stopping you from trading other asset classes like commodities and currencies? Why just stick to equities. Make the world your oyster. Broaden your area of operations and go into other asset classes. There is money to be made out there. There is no point in feeling depressed about falling interest rates. Welcome to the world of negative interest rates, slightly challenging, but by no means the end of the world.
On that cheerful note, this is Vijay Bhambwani signing off for now from this video till we meet again in my next. Before I sign off, I remind you to click like on this video and subscribe to my YouTube channel. In the comments section, do let me know what you think about this video and what else you would want me to record in my next video. Also help me reach out to like minded traders and investors and spread the cult of knowledge based investments by referring my video to your family and friends. Do take very good care of yourself, your trades, your investments, your health, and family. Thank you for watching Vijay Bhambwani signing off for now.
Stay safe and have a great trading day!
Warm regards,

Vijay L Bhambwani
Editor, Fast Profits Daily
Equitymaster Agora Research Private Limited (Research Analyst)
Recent Articles