Gold or Silver: Which One Should You Buy Now?
Jul 24, 2020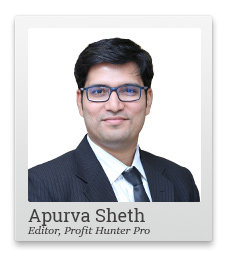 Bullion prices are on fire. Both gold and silver are moving up smartly.
Gold hit a life high recently and silver has made a rocket-like move up.
But which one is the better bet today? If you could buy only one, what should it be?
Find the answer in this video.
Hi. I'm Apurva Sheth and I welcome you to this latest edition of Fast Profits Daily.
So friends, precious metals have crossed their lifetime highs. Silver is up to levels of Rs 60,000 per kg and gold is up to Rs 50,000 for 10 gm. Now, if you are a Fast Profits Daily subscriber, then you would not be surprised that this was coming.
In my video in May, I spoke about the rally which was about to come in gold and I spoke about the unique profit signal which is none other than the fate the Federal Reserve generates in gold. So all the past signals in gold have generated huge returns for anyone who is holding gold and in most recently, Vijay recorded a video on silver last week itself. So if you have been watching any of these videos and using this information then, I am sure that you must be happy right now that in both the gold and silver have moved according to our expectations.
Watch Now: Replay of Our Explosive Profits Summit
Now gold and silver have been running over the last couple of months, silver most recently. However, there is a dilemma in minds of people who have not yet made any investments in either of these commodities. For them, today's video is all about that. How should you go about picking investment ideas in these commodities? And both these commodities are closely related. So how so you time your entries in these commodities?
So for that we will use ratio charts. Now I have recorded a couple of videos on ratio charts earlier as well. I have shown how ratio charts could have helped generate profit of about Rs 60,000 in just 10 days. So you could find the links of the those videos also in the transcript section below. Now, just to explain in short, ratio charts are nothing but the price of one security divided by the another.
So here what we will see today is the ratio chart of gold by silver. So we will divide the price of gold with silver, and this will give you a ratio chart, which looks something like this on your screen.

So as you can see out here, this is a gold silver ratio chart of MCX and from 2006. So from 2006 till 2020 gold has generally traded below the price of silver. So as you can see out here, the peaks were around level of 80 or 0.8. So generally that's the highest level that gold had gone in terms of silver. So if silver was Re 1 then gold was at 80 paise.
Now however, this thing changed in recent times. So gold moved up above this level, or this ratio level of 0.8 and headed higher to levels of 93 by July 2019. It slipped back lower again and then spiked higher. Now, this time it crossed the parity level of one as well. So as you can see out here in the month of March, it had hit a high of 117. So if silver was priced at Rs 100, then gold was priced at 117.
Now this was a major break out or major move that you had seen. Gold is not used to seeing such kind of moves, but it did. However, that does not mean that silver would lag behind silver any which way had to catch up and Vijay had recorded this in his video as well, that silver could see sharp rally, and it did.
Silver generally moves in a parabolic function. It just moves up like a rocket. It's a high beta commodity and it certainly moved as per its characteristic. So silver has moved up again and that's the reason why you are seeing that this ratio is now back to its previous levels of 80.
So let me just draw support line out here. So, as you can see, the gold silver ratio is now once again nearing its previous support levels of 80. Previous resistance levels generally act as support level and that we have seen in the month of September 2019 after the big spike,, the gold silver ratio took support around these levels, and then it moved higher. So right now it seems that the gold silver ratio could take support around the 80 levels or 0.8 levels.
So this indicates that gold silver ratio is again headed for support and which means that gold is likely to head higher or in terms of silver or gold could again, outperformed start its outperformance. So if you haven't made your choices yet and want to decide on either of these two, then gold would be your ideal investment opportunity at this moment. Now I'm not saying that silver won't move higher, but simply looking at the ratio chart, it seems that gold has a better chance of outperformance in terms of silver right now.
So that's all from me for today. I hope you enjoyed watching this video and in case you did, then please, like it, share it, subscribe to our channel so that you don't miss out on any of the investment opportunities like the one that you have seen right now that is gold and silver and also don't forget to share it with your friends and family members who want to be better traders. I am sure that they would gain insight as well as also find investment opportunities from our videos like the one that you have just seen right now.
So that's all from me for today. Thanks a lot and have a nice day.
Stay safe and have a great weekend!
Warm regards,


Apurva Sheth
Senior Research Analyst, Fast Profits Report
Equitymaster Agora Research Private Limited (Research Analyst)
Recent Articles