Elon Musk Gives Us a Trading Opportunity
Jul 28, 2020
Editor's note: In this video, I have mistakenly named the country Malaysia instead of Indonesia. I regret the error.
---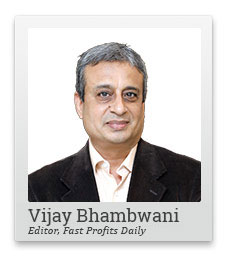 I was really excited to record this video for you. We potentially have a new trade coming up soon.
The idea for this fast profit opportunity was given to me by none other than Elon Musk himself.
The CEO of Tesla made a statement recently which I believe has opened up an excellent trading opportunity.
And I'm not going to turn it down!
In this video I'll show you what it is.
Hi, this is Vijay Bhambwani, and I'm recording this video with a great deal of excitement, especially since it is triggered by somebody who is one of the most popular, powerful and influential people in the world. I'm talking of Elon Musk, Tesla's charismatic head. Somehow I equate him with Tony Stark of Iron Man, you know, an engineer, innovator and inventor of Space X rockets and Tesla electric vehicles, and in a way, he basically fits the description pretty well.
He can send asset prices soaring by mere statements or even tweets, which is exactly what happened on Wednesday last week when he was announcing Tesla's second quarter earnings and during his forward guidance, he issued a statement which actually caused a great deal of excitement in the commodity markets and, hey, anything to do with commodity markets, I'm always interested.
Discover Now: One Stock for Potentially Life-changing Gains
So what he said was that Tesla is looking to hire a great deal of fresh talent, engineers and skilled workers for Tesla's electric vehicle facilities and more importantly, Tesla needs a great deal of high grade, eco friendly green Nickel, produced by ethical companies in great quantities. He even went to the extent of saying he is willing to sign gigantic contracts, long term contracts for supply of Nickel.
Now why he needs nickel is no rocket science. Currently, Tesla is using LFP batteries, which are lithium Ion based, and they use a lot of cobalt to basically power their batteries and anybody who knows a little bit about air conditioners and laptops will tell you that the compressor in the air conditioner is the major cost of making the air conditioner, and your display on your screen of the laptop is a major component of the entire laptop.
So also in an electric vehicle, the battery is at the heart of the cost structure. So to make a good battery, it has to work for a longer a number of hours and cover a longer range per charge and secondly, it should need fewer recharges in time and mileage terms. So Elon Mask has found that using nickel based batteries, as compared to Cobalt, lithium ion batteries makes it more viable proposition. It's a cost effective and be it gives a longer range. That's what he needs to make Tesla's electric vehicles more economically viable, and the commodity markets, sensing an opportunity here, priced the price of nickel 5% higher almost overnight. That's a big jump. To a commodity player, a hard assets player, hard assets are what commodities are called, to a hard assets player, 5% is money for jam.
Commodities, unlike equities, are not multi baggers. They don't rise as rapidly as equity shares do, although once in a while news based triggers do force prices to jump up the way you're seeing in silver and gold nowadays. The way you used to see two years ago in crude oil and the way you've very recently seen in natural gas after Warren Buffett took over Dominion Energy. That is something that I covered in a previous video. So it immediately piqued my attention and I decided to basically see if there was trading opportunity available and sure enough, I do sense a training opportunity.
Let me draw your attention to a previous video which I recorded last year with generated a lot of heat and light. Heat and light to the extent that I got a lot of angry feedback from my friends in Indonesia. The title of the video was how I called Indonesia's bluff about nickel exports. Last year, Indonesia was threatening to ban exports of nickel from January 1st, 2020 in order to basically raise the price of Nickel. Indonesia is a swing producer of Nickel and that's precisely what Elon Musk wants, by the way. So these two topics are actually inter related. They're not different.
So I said the Malaysians are bluffing. They need the money and nickel is an abundant supply. They will not be able to control the price of nickel by putting a lid on their nickel exports and sure enough, come first of January 2020, remember, the Corona pandemic was not really around that time, come first of January 2020, Indonesia kept quiet. The entire export ban turned out to be a damp squib. So is the commodity market wrong in basically pricing nickel 5% higher or is there some justification in Elon Musk's statement triggering a 5% hike in nickel?
Now, a UK based research firm analyst has forecast that Lithium Ion battery industry, especially the electric vehicle's battery industry, will demand 64% more nickel by 2025 as compared to what they are demanding in 2020. Remember, the base is the consumption of the battery industry for the electric vehicles, not the entire nickel demand globally, so there is a difference there. On the other hand, 60% of all nickel is actually used to produce stainless steel, and majority of which is for China's consumption. The Chinese economy is in a fall. The global economy is feeling the jitters and the end users of steel, which is automobile, shipbuilders, construction etc are all likely to remain under pressure for at least this entire year, if not till the first few months of 2021.
So on one hand you have Elon Musk asking for more nickel, which should pull prices higher. On the other hand, you have major industries which consume nickel, which are not going to buy nickel as much as they did last year, which should pressurise nickel prices. This guarantees you one thing. Higher volatility. Nickel prices will move up and down like crazy. Good time for traders to be around in the commodity markets.
Now, if you have been a Weekly Cash Alert subscriber, you would have received the booklet called the Weekly Cash Blueprint. It's a 22 page short booklet in which I have split the entire calendar year, comprising 12 months into 12 compartments and given you an impact of the whether on each type of commodity, which I have covered. If you have taken the pains to go through that 22 page booklet and also if you read my book, which has been published by Equitymaster itself, I have covered that in the greater detail in the chapter in which have covered nickel, you will know what's coming up next.
Once the summer is over, once the rain step in and the autumn comes in, you know that nickel demand will go through it's cyclical expansion or contraction. Do referred to this weekly cash blueprint booklet and see what I'm getting at. On my part, I assure you, if there's a tradable opportunity coming up in nickel, which I am very sure there is, there will be fresh videos and prior to those fresh videos, you're going to receive alerts on your mobile about trades here. So let's all thank Mr Elon Musk, Tony Stark of the world, for giving us another fresh idea.
On that optimistic note, I'll say goodbye till I meet you again in my next video. If you're watching this video on YouTube, please don't forget to click like on this video and subscribe to my YouTube channel.
In the comments section do let me know what you want me to record in my next video and what you thought about this video. Also help me reach out to fellow traders to spread the cult of knowledge based investments and trading by referring my videos to your family and friends. Do take very good care of yourself, your health, your investments, and trades and your family. Vijay Bhambwani signing off for now. Thank you for watching.
Stay safe and have a great trading day!
Warm regards,

Vijay L Bhambwani
Editor, Fast Profits Daily
Equitymaster Agora Research Private Limited (Research Analyst)
PS: Find out how you can get a copy of my book - Fast Profits - by clicking here.
Recent Articles