Should We Worry About Tuesday's Fall?
Jul 28, 2021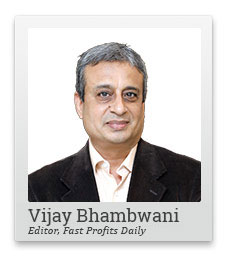 The stock market took a tumble yesterday. It has been showing some signs of weakness for a while.
So what caused the correction? Could it get bigger?
And what are the key things you need to watch out for?
I'll answer these questions in today's video. It will give you an insight into trading with my 360 degree world view.
Let me know what you think, dear viewer. I love to hear from you.
Hello friends. This is Vijay Bhambwani here. I hope you are able to trade the markets well and the markets are treating you kindly also. In this video, I want to talk to you about why the markets fell on Tuesday, that is yesterday.
As I recall this video on Tuesday, just after the market has closed, which will of course, be uploaded on Wednesday, the immediate closing of the Nifty is 78 points down. The Bank Nifty is 152 points down and the BSE 30 Sensex is 273 points down. These, of course, will get adjusted after a couple of minutes for the volume weighted average, 30 minutes of traded prices.
EV Stocks: A Hidden Way to Tap into the Massive 15x EV Opportunity
Now what really triggered this fall and what can we expect?
First of all, this fall seems to be sentimental in nature, triggered by external factors like weakness in the Asian markets. Now there is another factor that needs to be a pointed out to you and is crying out for your attention.
You all know by now that I am an avid watcher of the fixed income markets as also the commodity and forex markets because you can't really have a view on any one asset class without keeping a 360 degree world view of the other asset classes because at the end of the day, all markets tend to be a married to each other in some way or the other and there is always a pull-push of one asset class on the other.
Now you see, just like asset classes are married to each other, so our markets. Our neighbourhood, the Chinese and the Hong Kong markets to be particular and be specific, are appearing weak.
As a matter of fact, the Chinese markets are actually nervous. A couple of months ago, you would have heard about a company called Huarong. Now there is another company called Evergrande, which is an asset reconstruction company. It basically buys out the back debt of banks, tries to restructure the debt, or maybe get it off the books of the banks, so as to clean up the NPAs of the banks.
Now, two days ago, to my absolute horror, I saw Evergrande's bonds, as corporate bonds are traded anywhere, in any other part of the world, Evergrande's bonds were traded between 45 to 50% discount. Which means that the bondholders are expecting a very high probability of a default or maybe some kind of a payment problem.
Coming as it does on the back of Huarong, another financial giant in China, which is basically witnessing some amount of liquidity problems and now, there are reports of special dividends, etc being skipped by the companies. So there is no denying the fact that these mega giant companies, worth billions of dollars, are facing issues.
The Hong Kong market, for example, as on Tuesday, has erased all the gains that it made in the calendar year 2021. These markets are now back to the levels of December 31st, 2020. So if you were holding shares in Hong Kong, it's seven months, almost seven months, of holding on cost and interest loss, which you are facing.
We don't know whether these markets will open lower tomorrow, which is what is causing nervousness even in the Indian markets.
By themselves, the Indian markets are not facing any issues that can have any kind of pressure points, panic points, pain points, call them what you want, call them what you will in market parlance but definitely, the sentiment from outside is vitiating the atmosphere in our markets.
Can this trigger something bigger? Will this snowball into a selloff?
That is too premature to say, because we need to watch how the markets open on Wednesday and how they take up from there. For any kind of an event, what you do need to see is the cause and effect theory.
Only when you know the cause will you be able to gauge, I'm using the word gauge here as a kind of an estimation rather than a laser precise measurement, only when you know the cause can you gauge how long the effect will last.
Now since the cause is from outside, we will obviously have to keep our ears to the ground and watch these signals emanating from the overseas markets. Which means that when the market opens for trade on Wednesday, you should be watching the overseas markets rather more keenly than on the other days, just to see what's happening in our neighbourhood.
These are the principles on which our 360 degree world view is based on. It's simple and completely easy to follow, kind of a trade set up which even a novice will be able to do. Unless you're well aware of your circumstances, your surroundings, you cannot really aspire to be a good trader.
This, in behavioural science, is called equanimity i.e. harmony with your surroundings, awareness of your surroundings, and being up to date with what's happening around you.
I hope this video has helped to form a clearer picture of what's happened in the market and rather than look within our own Indian market, we need to look outside us for any pressure points. By ourselves, we seem to be doing just fine.
On this reassuring note, I'll say goodbye to you, not before reminding you to click like on this video, if you liked what you saw. Subscribe to my YouTube channel if you haven't already done so.
Click on the bell icon to receive instant alerts about fresh videos being put up out here and in the comments section, good, bad or ugly, I welcome all your feedback with open arms. Help me reach out to fellow like-minded investors and traders by referring my videos to your family and friends.
I wish you have a very profitable day, my friends. Thank you for your patience and watching my video. Till we meet again in my next, this is Visit Bhambwani signing off for now. Take care. Bye.
Warm regards,

Vijay L Bhambwani
Editor, Fast Profits Daily
Equitymaster Agora Research Private Limited (Research Analyst
Recent Articles