This is the Right Way to Deal with Market Volatility
Jul 29, 2020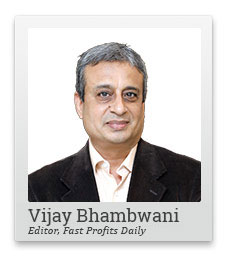 I've received a lot of feedback on my daily posts on Equitymaster's Telegram channel.
I would like to thank you for that. Please keep it coming.
In this video, I would like to address a question many of you have raised. Why do I keep talking about beta in my posts?
If I wanted to alert you about market volatility, shouldn't I be talking about the volatility index, the Vix?
I understand your confusion and want to clear your doubts. I hope this video helps to do just that.
If you have any questions, please send them to me. I love hearing from you.
Hi, this is Vijay Bhambwani here and I'm back with you recording a video based on your feedback, based on your queries, which I simply love answering.
Hey, these videos are for you. They are meant to help you become better traders, give you ideas that excite your mind and hopefully which you can use to make money for yourself and if it all you have any queries, if you have any feedback inputs, feel free to lay it on. You have brickbats, those are welcome too. I have received some pretty funny feedback, blah, blah, blah. Don't waste Google space. Hey even that's welcome. Bring it on and positive, negative, as long as it's all coming in, I like it.
So this one is about a query that I have received from quite a few of you asking as to why I believe in measuring the statistical data and putting it on Equitymaster's Telegram channel every evening Monday to Friday? Let me remind you, please do join Equitymaster's Telegram channel with the handle Equitymaster official. I put up at least three updates every day, and they are based on pure statistics that should help you trade better and I would love it if you could go through them and, of course, feel free to provide feedback on those also.
So in those updates, every day, I measure statistical beta, whereas a lot of viewers feel that the Vix or the volatility index is a good enough indicator to be used, especially since of late there is a clear divergence between what I am putting up on social media. My account, as well as Equitymaster's Telegram handle that the statistical volatility is rising and it is risen beyond the levels which retail investors can handle. These are words that I have used pretty often last couple of days that volatility or statistical volatility has now risen beyond the levels which retail investors or retail traders can handle.
All this while, the Vix or the volatility index is showing a downward trend. So obviously there are some viewers of mine who feel they need a clarity on why I'm quoting statistical beta as against Vix, especially when the Vix is falling, which means that the fear factor or the nervousness and the market is falling. Why is there a divergence? So allow me to explain.
FREE REPLAY: Discover What Richa Revealed in Her Smallcaps Summit
The Vix was formulated as a measure of fear or nervousness, volatility and uncertainty in the markets by the Chicago Board of Options Exchange CBOE in 1993. The last time it got updated was in 2003. So the last update it has received the 17 years ago, that's a pretty long shot. So I am not saying that anything that's that old need not be used. We technical analysts use a lot of oscillators, which are over half a century's old. By all means, as the Americans say, as long as something works, don't fix it. So just because the Vix was updated 17 years ago doesn't make it outdated but it's a statistical fact.
Now the unique selling proposition, the USP of the Vix is that it anticipates, now this is the problem that I have with Vix, it anticipates the future volatility in the coming 30 days based on the movement in the calls and puts the options premium. Anticipation. Now that's an emotion, and emotions are far from mathematically rational.
So sometimes the market could be running up due to exuberance and a whole lot of optimism, and on other days, especially what you saw in the month of March, the lockdowns occurred after Corona. The markets could feel that there is no floor, and the only place where prices will stop is a zero. So expectations cannot be expected to be reliable. They can either too far right or far left. From extreme optimism to extreme pessimism. So do that extent, the Vix becomes subjective in nature.
Now let's take a look at what statistical beta is. Statistical beta is a measure of the volatility, as indicated by the actual price on a historical basis. Now here what is being traded from Monday to Tuesday to Wednesday to Thursday is being assimilated in a software program or excel spreadsheet of whatever it is that you want to use and measured mathematically. There is no subjectivity. It's completely mathematical.
So to that extent it measures what is actually happening, not what is expected to happen. What you expect to happen might go wrong but what has occurred already is an undeniable, indisputable fact. It's something the mathematicians call a postulate. A postulate is something that you cannot deny. It is bright in the day time. It is dark in the night. These a postulates. So as compared to the Vix, which is subjective, statistical beta is more of a postulate. Which one would you like to depend on? Which one would you actually like to bet your money on? Would you like to bet your money on expectations or would you like to bet money on facts?
I feel as an adviser it is my job to get you as a rational and as unemotional feedback as far as possible and it's not that statistical beat has failed us. When have I said that beta is rising and volatility is rising beyond tolerance levels, you've seen what's happened in the next one or two trading sessions and here's something that I need to tell you without fail.
In my earlier videos I've said, the falling yields on fixed income investments, bonds, fixed deposits, debt funds etc, is likely to challenge options traders, for the simple reason that one of the few things that option premium depend on is the risk free rate or the interest rates and interest rates are falling, which means the option premium is also shrinking.
Ask an option seller or an options writer who sells options and collects the premium for a living. Hey, the returns have definitely come down in the last six months, which means the premium is contracting, which means the volatility in the premium is contracting and there you go. The Vix is falling. If the Vix is falling, it gives you a false sense of reassurance that fear, uncertainty and volatility in the market is down, and therefore the market should go up.
Secondly, after the lockdown, the regulator in India, the Securities and Exchange Board of India, has put in place certain stipulations like higher span margin, lower market wide position limits, and restrictions on short sales etc, which is basically seen compression in the exposure limits and the kind of exposure that traders were taking. When the traders are taking a lesser and lesser exposure, would you think that their anticipated price movement over the next 30 days is as relevant as it was six months ago, when they were actually taking a larger amount of exposure in the market?
No, I don't think so. So I think the Vix is less relevant today as compared to what it was earlier and I would stick to statistical beta which is a mathematically undeniable. If there is any other query that you have, feel free to bring it on.
If you're watching this video on YouTube, do let me know what you think about this video and in the comments section do let me know what you want me to record in my next. Click, like on this video and subscribe to my YouTube channel. Help me reach out to fellow traders and make them more knowledgeable, more profitable traders with more cutting edge ideas, which are knowledge based and are 360 degree world view of the market.
This is Vijay Bhambwani signing off for now. Do take very good care of your health, your investments, your trades, and your family. Thank you for watching my video. See you again in my next.
Stay safe and have a great trading day!
Warm regards,

Vijay L Bhambwani
Editor, Fast Profits Daily
Equitymaster Agora Research Private Limited (Research Analyst)
Recent Articles