Bitcoin is on the Move After Gold and Silver
Jul 31, 2020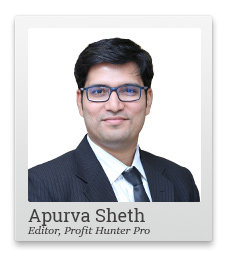 Last time I showed you, out of gold and silver, why gold looks like the better investment opportunity at this moment.
Today, I want to go deeper into various financial assets and show you where each one stands.
With the help of six charts, I will dive into assets like stocks, bonds, currencies, precious metals and bitcoin.
By the end of this video, I hope you will have a better understanding of global markets.as they stand today.
If you have any questions or feedback, feel free to drop a comment. I love hearing from you.
Hi, I'm Apurva Sheth and I welcome you to this latest edition of Fast Profits Daily.
So friends last time we spoke about gold and silver and out of the two, gold looked as a good investment opportunity at this moment, simply because the ratio chart indicated that the gold silver ratio was in the support level and that's the reason why gold would be a better investment opportunity at this movement or gold would outperform silver.
However, this does not mean that silver will not move forward. Silver would also move higher, but it would consolidate. So, gold and silver both are in a good long term trend and it seems that gold would outperform silver.
Only Till 11:59PM, Tonight: Access Details of Our Top Stock Pick for 2021
However, there is one more asset class or commodity or currency if you can call, that is likely to do much better than gold and silver. So, in today's video, I will show you a couple of charts, and these charts will explain what is going on in the markets right now and how it could this impact the currency or commodity and bitcoin. So, let's get started.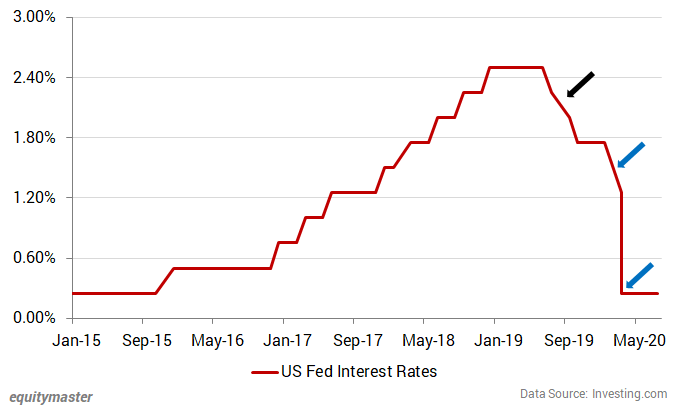 So, friends, as you can see on your screen right now, this is the chart of US Fed's interest rate. I showed you, they start earlier in the month of May when I spoke about gold as the best investment opportunity and that movement. So, I showed you that whenever US Fed decreases interest rates, that is a signal to go long in gold.
So, the first time the US Fed decreased interest rates recently was in the month of July 2019. That was the time when the Fed decreased interest rates from 2.5% to 2.25% and from there on, when the Coronavirus crisis hit us, the US Fed decreased interest rates in emergency meetings from level of 1.75 to straight away to a level of 25 bps or 0.25% or to near zero levels.
So, this was an indication that gold is likely to move forward but what does this implicate? So, the simple analysis or simple conclusion from this is that the US government is printing too many dollars. Now it does not mean that US Fed is actually physically printing these dollars and distributing it. It is just making an accounting entry and giving these dollars as a subsidies or as bailout packages. So, this is having an impact on the US dollar.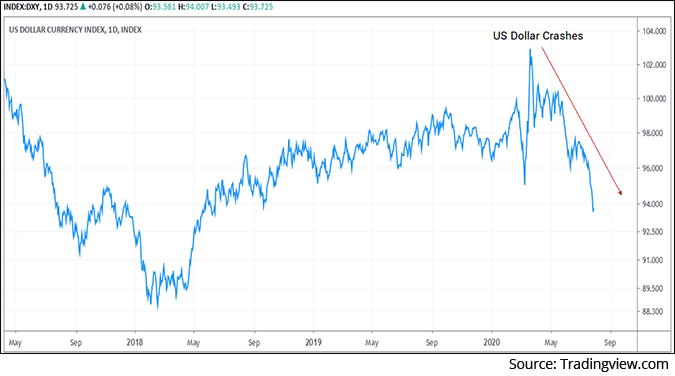 Now, since the US government is supplying so many additional US dollars, it is obvious that whenever supply of a commodity, currency or any product, if supply increases, it is likely to decrease its prices. So, this is what has happened with the US dollar. Now this is the dollar index. Dollar is measured against a basket of currencies, and you can see that dollar has crashed after March. It is now below 94 levels the dollar index.
So, the US government has or the Fed has printed so many dollars, it is supplying dollars, which is pushing the dollar index to lower levels. Now, these extra supply of dollars is having an inflationary impact. Now as against what the US government would like to see, these inflationary impact is seen more on the asset classes.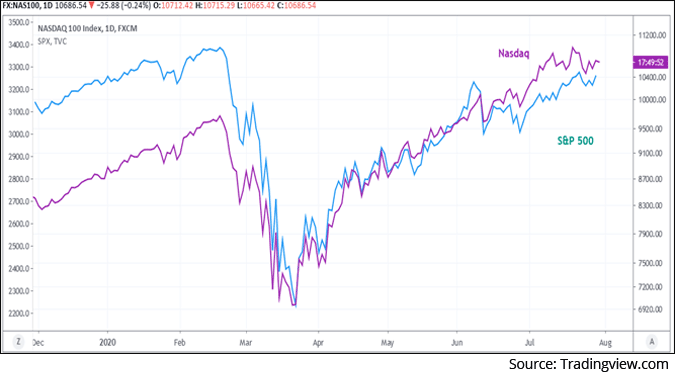 So here you can see the NASDAQ and S&P 500. Now, both these US indices are trading close to their all time high levels. In fact, NASDAQ has crossed its previous highs and it is trading at it's all time high and the S&P 500 is nearing its all time highs, so these additional dollars are being pumped into the financial markets. It is a fuelling the rally in financial markets, but this is not the only place where we are seeing a rally. Bonds are also seeing a rally.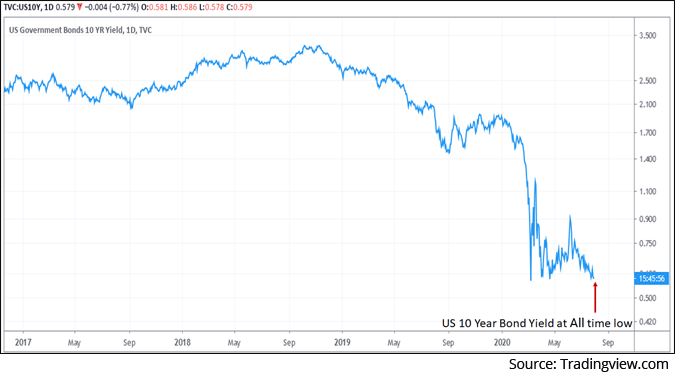 Now, as you can see on your screen, this is the chart of the 10 year US bond. Now bond prices and bond yields are inversely correlated. So, despite the rally in the equity markets, investors are still wanting to hold on the US bonds, which is a safe haven if you can call it.
So, despite the rally in the market, investors are still risk averse and they want the safety of US bonds, which is the reason why bond yields are trading at an all time low. This could also mean that the market is factoring in a certain level of uncertainty and that's the reason why they are buying it. So, investors are risk averse and they want safety and that's the reason why they have what bonds but that's not the only thing that they are buying.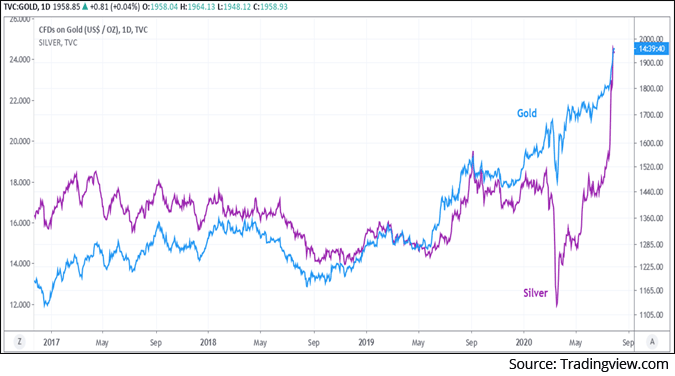 They are also buying precious metals or hard assets or hard currencies like gold and silver. Gold and silver have been rallying smartly over the last few months and the rally has been rapid since March, since the market's bottomed out in March.
So initially, gold and silver also took a knock when the coronavirus crisis hit in March but after bottoming out in March, both these hard assets are rallying sharply and silver, since it is a high beta commodity, it spiked so sharply. Now this leads us to the last chart, which is of bitcoin.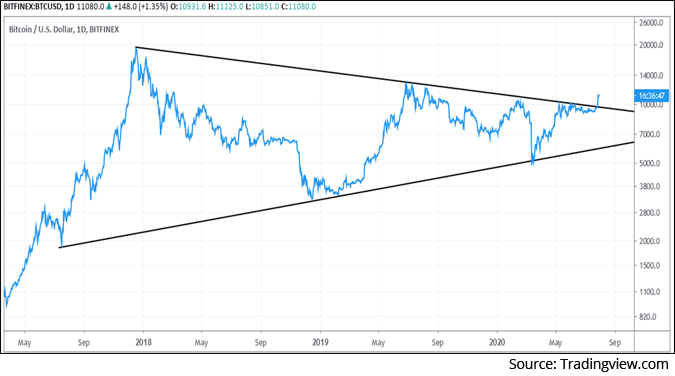 Now, as I told you that there is a risk averseness in the markets and investors want safety and because there are there is so much of supply of dollars, there is there is a certain but of lack of trust, if you can call it in dollars. Obviously, dollar is still the reserve currency of the world and it still has a unique status which no other currency has. Despite all this there is a pocket in the market which feels that it is always safe to have some other harder currencies or hard assets.
So bitcoin also being a store of value is also a preferred destination for investors. So, as you can see on your screen, bitcoin has broken out of a long term consolidation. It was in a triangular consolidation for almost two years and bitcoin has crossed the psychological mark of 10,000. It is currently trading near the 11,000 levels. So, bitcoin has a crossed the 10,000 psychological mark and it is likely that it could be headed higher in the next few months.
So here's how was the global factors are placed right now and because of the dollar printing and the subsidies which are being doled out by the US government it is having an inflationary impact in the financial markets as well as commodity markets and the last but not least, it could also pump a rally in the crypto currency market as well and bitcoin being the leader, it could be handed higher.
Now I want to give a word of caution before you think of investing in bitcoins. Now bitcoin is relatively new currency with limited a history. Now there are chances, or you cannot neglect that one day if you wake up and bitcoin does not exist. There could a be anything that can happen to bitcoin. So before you invest in bitcoin, make sure that the amount that you invest is very tiny and if all of that were to go away or vanish, then it wouldn't make any difference to your the standard of living or to your portfolio. So that's the word of caution I'd like to give you on bitcoin.
I hope that this has added insights or given insights into the world of financial markets and how all these markets are related to each other. So that's all from me for today. I hope you enjoyed watching this video. Thanks a lot for watching it. Please do share it, subscribe to our channel and share these videos with your friends and family who want to become better traders. So that's all from me. Thanks a lot, and have a nice day.
Stay safe and have a great weekend!
Warm regards,

Apurva Sheth
Senior Research Analyst, Fast Profits Report
Equitymaster Agora Research Private Limited (Research Analyst)
Recent Articles