These Stocks Are Ready to Zoom
Aug 2, 2021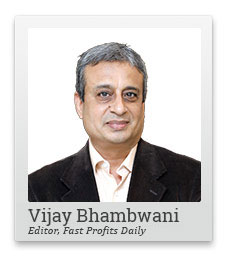 In this video, I'll tell you favourite group of stocks for trading.
I've already talked about them back in October 2020 and you've all seen how they have run up since then.
Well, it's time to get back into these stocks because Big Brother has your back.
Yes that's right. The government has an interest in watching these stocks go up.
Watch the video and let me know your thoughts.
Hello friends. This is Vijay Bhambwani here and I'm back with you to talk about the markets. I hope you've been navigating through the markets very well and what I told you about monitoring the markets in a certain fashion, which I call the 360 degree worldview of the markets, has really stood you in good stead and you've been able to make money out of it.
Now, I come back to a theme that I had talked about in a fag-end, the last quarter of calendar year 2020, and you would have no doubt seen how it panned out. I am talking about public sector stocks. The stocks which are promoted and largely held by the government of India, many of whom are basically earmarked for disinvestment.
Today at 5pm: Revealing Our Big Prediction
This means the government is planning to unload some of its stake, or a majority of its stake in some cases, in these companies, and therefore, there is a certain amount of buzz in these counters and hey, to us traders, who are looking for earing their lunch out of the markets, we don't really discriminate whether the stock is public sector or private sector or what does the company really do?
If the company is even manufacturing something or not, as long as the stock is traded, it's well traded, it's liquid enough, the bid an offer spreads are narrow, which I have shown you in my earlier videos through a snap quote window, in a video titled The Basics of Short Selling, as now as the stock is liquid and well traded, we just need to scalp some counter for a couple of 1,000 bucks each on each trade, so that we can put food on the table.
Now check out the chart on your screen. This is the daily chart of the Nifty Public Sector Enterprises. The Nifty PSE index.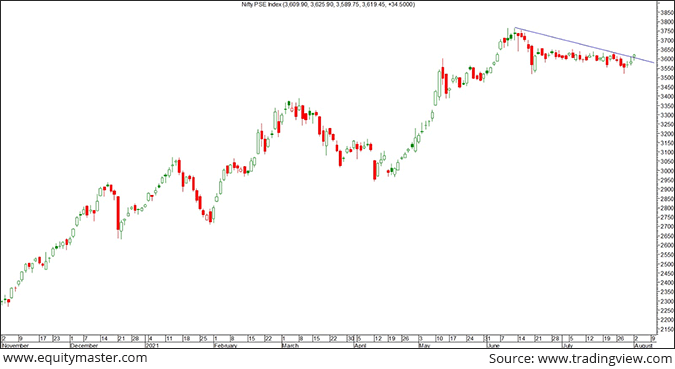 Note how the index has started to show early signs of bottoming out and now trading above its blue downward sloping trend line, which it has broken out of.
As long as this index is to stay above the 3,650 mark, I have a feeling that the government owned stocks are largely going to fairly well and let me also share my broader canvas of thought process for those of my friends who just subscribed to the Equitymaster channel after my initial video put up here in October 2020.
You see the government of India planning to disinvest these stocks is one aspect of it. Obviously, they would want the share price to be up when valuations are done before the company's stake is unwound in the market. So that is one aspect. When you are banking on the Big Brother to put up a push up stock prices, you are basically banking on the strongest hands in the market acting in your favour.
The other aspect which I am extremely bullish on about the PSU stocks out here is the mega issue of the Life Insurance Corporation of India. It's quite simply the biggest boy in the room out there, and the public issue size is expected, I'm using the word expected here, between 80,000 crores, to 100,000 crore. That is Rs 1 trillion.
Now, it's not really a surprise that the Life Insurance Corporation of India, LIC for short, is one of the biggest holders of PSU stakes, not just banks, across the board, whether they're engineering, shipping, or come what may, LIC holds a broad spectrum of PSEs, public sector enterprises.
Is it any coincidence that the closer the public issue of Life Insurance Corporation of India comes, the higher the PSE stocks are rising. Now this is banking on Big Brother to look after your interests after you trade in these counters in a dual function.
Number one, these stocks are slated for disinvestment. Number two, they are held by LIC which itself is coming out with a public issue.
A simple Google search will tell you with stocks constitute the PSE index and in what weightage. You could even get this data from many chat rooms or forums or private broking firm websites. Compliance issues restrict me from making stock recommendations are mentioning individual stock names here, which is why unfortunately, my friends, I can't give you individual stocks.
Therefore, with a wink of the eye, I'm giving you a broader hint. Google search what stocks constitute the PSE index, see its weightage, see whether they are ear marked for disinvestment, and go for it.
I tell you trading, I am using the world trading here specifically, not investing, trading these stocks is well worth your while and the effort as long as you just take it out of your mind that these are PSEs public sector enterprises and they're not half as glamorous on any kind of rigid mental thoughts that you may have about the PSEs. Banish all those thoughts and focus on the money because at the end of the day, trading profits are all that count.
On this cheerful note my friends, I'll bid goodbye to you in this video, not before reminding you to click like on this video if you agreed with what you saw. Subscribe to my YouTube channel if you haven't already done so. Click on the bell icon to receive instant alerts about fresh videos being put up out here.
Good, bad or ugly, I welcome all your feedback in the comments section. Also help me reach our two fellow like-minded investors and traders by referring my video to your family and friends and hey, friends, I have a webinar coming up on ninth of August 2021 at 5 PM. I urge you to go to Equitymaster.com and join me in this webinar on ninth of August at 5 PM. Note the date. I'll see you there.
Thank you for your patience. Have a very, very profitable day. Till we meet again in my next video, This is Vijay Bhambwani signing off for now. Take care. Bye.
Warm regards,

Vijay L Bhambwani
Editor, Fast Profits Daily
Equitymaster Agora Research Private Limited (Research Analyst
Recent Articles