This is How I Trade the Market
Aug 4, 2020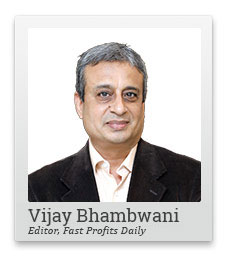 Many people have asked me what my trading strategy is like.
I always tell them I follow a 360 degree world view approach to trading.
I'm then usually asked what that means.
Many viewers of the Fast Profits Daily have also asked me to elaborate on this
So in this video, I'll tell you how this trading system works with a real life example.
Get ready to find out a whole new way of making money!
Hi, this is Vijay Bhambwani here and in this video I want to basically address a query that I have received from a lot of my viewers who keep wondering and keep asking, what is this 360 degree worldview about the financial markets.
They understand and accept the fact that what I have to say in my videos goes beyond the accepted the parameters of analysing balance sheets or documents or what is available in the public domain.
I take into account a lot of things like geopolitics, the weather, the time of the year. The time of the year is something that Weekly Cash Alert subscribers have been very clearly explained that mini book that I have written the Weekly Cash Blueprint, which is been sent out to all the subscribers.
I've split the entire year into 12 months and explained why and which commodity and which asset class will basically perform in what direction. So why do I do this and what is the unique selling proposition or the USP off this system?
SHOCKING: Ex-Swiss Investment Banker's Lucrative Income Generating Secret
Let's take the example of industrial metals. If you were to Google search, you'd realise that one fifth or roughly 20% of the industrial metals are consumed by China. One fifth of the entire world's production of industrial metals are consumed by China. Now do you think the Chinese commerce or industry ministry will genuinely give you a forward guidance, which is something the analyst community lives? Do you think the Chinese industry minister will give a forward guidance every December and tell you how much, more or less in terms of industrial metals the Chinese will import in the forthcoming years?
You know, that's like giving out a country's national secrets. If the Chinese need more and they announced it to the world you think the sellers won't rig up the prices? And if they were to admit that they will lead less, the world will talk about an industrial slowdown in China.
So rather than letting out information, it is actually in the interests of countries, companies, individuals, and listed entities not to give out information or, for example, let's take the South American countries, which are the large of fairly large exporters of industrial metals. You think if any one country was to discover a new copper or nickel or aluminium mine, you think they would go to town tomtoming about it and beating drums and say, hey, we found five million tonnes of copper?
They won't because as soon as they announce it, the international prices of copper will come down and they make less money on exporting copper. So it actually is difficult to kind of ferret out the truth from out there which is why you need to go beyond the accepted parameters. Think out of the box.
Let me give you a small example. In the month of April 2018 the US President Donald Trump imposed economic sanctions on a Russian aluminium company, Rusal. It was the Russian aluminium exporting company, and it produced roughly between 7.5 to 9% of the global supply of aluminium. Now, once this news came out, it was accepted that aluminium prices would go up because 9% of the world's supply was likely to go out of the market. Or was it?
So I did a little bit of back of the anvil of calculation, and I also read up a lot in the international media, made a few calls to my friends all over the place, like minded risk takers, traders and commodity buffs like myself and I found that only the US and its allies that British, the Germans, and the French were going to respect that economic sanctions.
The Chinese, the Soviet bloc, countries they basically we're not likely to sanction Rusal or boycott its goods and besides, it's only 9% of aluminium that the world produces and aluminium is the most abundant base metal around there, the third most common element after oxygen and silicon. So it's not something that is absolutely rare.
And guess what? The market actually priced up the aluminium levels from Rs 120 a kilo on the MCX to 180 plus in less than two weeks. Aluminium was hitting upper circuit after upper circuit. A circuit limit is a price band beyond which the exchange does not allow the price to either go up or come down. A whole lot of industry experts, including CEOs of metals and mining companies, were brought on television and they were going about town telling people how aluminium would not stop below Rs 225 a kilo to 250 maybe even Rs 275 a kilo.
Now this was frankly, way surprising. It was time to bring the 360 degree worldview in play, so I went to Masjid Bunder. Masjid Bunder is a place in Mumbai in the central lines. Mumbai has basically western railway and central railway. So Masjid Bandar is on the central railroad network and these are basically old world messy places. Very dusty. The roads are pretty badly maintained.
There are huge warehouses and godowns where industrial metals, scrap and metals in its raw form are kept in very large warehouses and godowns. Before you start to basically turn your nose up in the air and say wow, that's not a place I want to go, let me update you on what Masjid Banda, Daru Khanna and Reay Road are. These are suburbs on that stretch of the central railway line. Together as a market, they constitute Asia's second largest industrial metals market, including industrial metal scrap.
You name a listed company which mines metals and you will find their senior marketing and sales directors coming out in their fancy cars and trying to keep these guys, the godown owners in good humour and buttering them up and telling them buy some of more of my output from my factories of steel, copper, aluminium, lead, nickel or zinc. Believe me, these guys are big, big and big.
So I went to one of the bigger aluminium scrap metal merchants and I asked them what his view was and he told me at Rs120 a kilo, which was the price before Rusal was sanctioned, he was finding it difficult to sell aluminium. At Rs 180 there were no buyers at all and I asked him, What do you think? Will the price sustain? He kind of sneered and he said to me in Hindi Aluminium hai, Chandi nahi. Which means this is Aluminium. It is not silver. It cannot maintain these prices.
Now here you have a situation where the leading lights of the industry, the guys running the mining companies, the senior research analysts and broking industry etc, they were talking about aluminium shooting through the roof. And here is a very large scrap merchant who was telling you he was willing to bet his bottom dollar, that there would be no sale taking place in aluminium at 180 because it was not likely to sustain.
Guess what? In a couple of days when I had a television interview in a leading media house's commodities show, I was telling the anchor during the commercial break, and he asked me whether I have the courage to sell. I took out cell phone and said let's not talk about courage. Here's my cell phone. Here's my trading terminal. I'm, gonna short aluminium right in front of you because I trust this guy. I have been asking him inputs about aluminium, when I was appearing on ET Now commodity show, Hot Commodities for four years of more, and I respect this man's view. He is one of the largest dealers of aluminium around there.
And guess what? Aluminium collapsed the way it rose. Circuits down. Double circuits down. Two circuits down in one day. So it went from 120 to 185 plus and came all the way down to 120 again. What do you think works better? The conventional or the 360 degree approach?
Let me ask you another question. I already asked you about whether the Chinese will tell you facts and figures about how much aluminium, nickel, lead, zinc they are likely to consume without upsetting the price. Or the South American countries that export these metals would tell you the truth. Let me let me ask you one more question.
This is something that bullion analysts love doing. The quote numbers. India imported so many tonnes of gold through the customs, and the data is very easily available in the public domain. So the Indian demand for gold is up or the Indian demand for gold is down. I agree. Partly. Why partly? Is this the only kind of gold that's available in the market?
Why is it that you can go to Zaveri Bazaar and pay cash and buy gold off the record? What is known as do number, number two, unofficial, black money? Whatever. Why is it that you can buy gold and it doesn't appear in the books? It's meeting some demand isn't it? There is a demand for it and it is being met. So this is also the market. It pays for you to notice what is happening in the parallel market also.
This is not something that people are trained to think like in schools or colleges and yet, this part of the market exists. Would you like to ignore it? I think not. Welcome to my 360 degree world view of the financial markets where we leave nothing to chance.
If you saw this video on YouTube when you liked what you saw, click like on this video and subscribe to my YouTube channel. In the comments section, do let me know what you think about this video and what you would want me to record next and help me spread the cult of 360 degree world view of the financial markets by recommending this video to your family and friends.
Do take very good care of yourself, your family, your trades and your health. Have a very profitable day. Vijay Bhambwani signing off now. Thank you for watching.
Stay safe and have a great trading day!
Warm regards,

Vijay L Bhambwani
Editor, Fast Profits Daily
Equitymaster Agora Research Private Limited (Research Analyst)
Recent Articles