Simple Way to Increase Day Trading Profits
Aug 6, 2021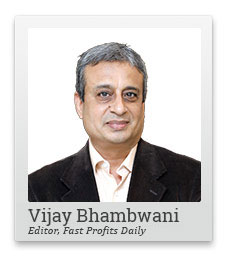 In this video I'll cover a very simple day trading tip.
It's a proven and highly effective way of increasing your trading profits.
I've used it countless times in my day to day trading and I will vouch for it.
Watch the video and tell me what you think about it, dear viewer. Let me know if you find it useful for your trading activity.
Also, follow me on Equitymaster's Telegram channel to know more.
Hello friends. This is Vijay Bhambwani and I hope you're trading well in the markets and the markets are treating you well also.
Now, in this video, I am about to share with you a very important trading hack as a trader, a day trader or even a swing trader, which I'm sure, you will find absolutely gratifying, absolutely profitable, and also very dependable.
Now we traders are actually brain warriors. I keep telling people I meet that we traders are brain warriors because it's not the fastest computer, it's not the fastest internet connection, or the fastest refresh rate of the brokers terminal that decides who makes money and who loses but it's our ideas, it's our brains.
Potential 33x Opportunity: 3 Next-Generation Defence Stocks
So we win and we'll lose with our ideas and our brain is the most important weapon. Which is why behavioural technical analysis trumps plain vanilla technical analysis any day.
Now behavioural finance and behavioural trading techniques, therefore, demand that you understand what price points are more important than the others.
As technical analysts, as traders, we believe that the price is God. bhav bhagwan hai. We live by the price, we die by the price, we make money by the price, and we lose money by the price.
But are all price points the same? The answer is no. I'll tell you why.
Now in the morning, day traders are fresh from the previous trading sessions, profits or losses. Whatever is done is done. They put it behind them and they are beginning a new trading session by itself. So that full pent up energy inside a trader and he is basically taking a deep dive into the trading session, not sure what he is going to have at the end of the trading day.
By mid-session, he has somewhat of an inkling as to what the price and the day is doing to him.
Remember, I'm talking of day trading here. At the last hour, he has no choice but feel, like the sands of time are basically flowing away and he doesn't have too much by way of a leeway because a day trader will close his trades or as it's known, going flat out. Just like the ECG of a dead person shows a flatline, a day trader flattens all his trades and leaves nothing as an overnighter or carry forward trade.
So in the last 60 minutes you have to go flat out. Obviously, traders will not take too much of fresh intraday positions in the last 60 to 45 minutes. They are more focused about squaring up what they already have.
This is why, even if you know a little bit of technical analysis, you will realise that the closing price of any period is invariably the most important price point of that period.
This is because professional traders, traders who go flat out, would have closed their positions at a profit or a loss and if they're profitable, at closing point, chances are they're gonna come back and try their hand using the same directional trade in the next candle, the next bar, or the next session, whatever is the time period of that particular candles or a bar.
So we have established the fact that the closing price of that particular candle determines the opening price of the next candle irrespective of all time frames.
Now, if you haven't already done so, I would seriously request you to join Equitymaster's Telegram Channel, which goes by the handle Equitymaster official.
Why? Because I put up two updates at the end of the day, every day, Monday to Friday, which basically gives you statistical data and very easy to understand terms, which helps you determine what you can expect the next day.
Those of you who have been going through this telegram channel invariably ask me, there are some days when you are writing when you're posting in the telegram channel, watch the last 60 to 75 minutes of trade tomorrow very carefully. Why are you writing that?
Now, here in this video, I'm not only sharing a trading hack with you, but I am also answering that question as to why I say or I post watch the last 60 to 75 minutes of trade.
Now, if you've put two and two together by now, you will realise that I invariably put this on Thursday night, and I am telling you to watch the last one hour of a Friday session. Why am I doing that? Because in addition to intraday traders, there are also swing traders.
Now, swing traders would typically, ideally speaking, want to trade between Monday to Friday and not take the chance of rolling over their trade to the next week because we don't know as to what will happen on Saturday and Sunday when the global markets are shut.
If there is any adverse political or geopolitical situation which arises, we might be hit with bad news, which we cannot cope up with. Which is why traders like to square up on Friday.
Now here, consider Monday to Friday as a weekly bar. As I told you, the closing price of any candle or any bar is invariably the most important price for that period. Which is my on Thursday night, I tell you to watch Friday's last hour or maybe one and a quarter hour very keenly, and many a times you will realise that magic happens in the second half of Friday.
The trading session might begin dull, downwards, bearish, lethargic or whatever, but after lunch zoom, it goes up. What really happened? What does it tell you and how can you use it to profit?
You see, like I told you a couple of minutes earlier, people do not ideally want to take their positions over to the next week, risking a two day window, which is Saturday and Sunday, during which any amount of variables or negative news can hit you.
But if on Friday, they are buying and pulling the markets higher, it means the conviction level is extremely high that the market is going up.
If they are pouring in so much money, which is what is causing the price to go up, do remember that I, as a behavioural trader, would pay more emphasis on what I see on my terminal screen because it takes millions of rupees to change that number from up to down and down to up.
I would rather not depend on talk. I would rather not depend on WhatsApp messages or social media where rumour mongering and even falsehoods get spread.
But the trailing terminal cannot lie. So in the last one hour on Friday, if the market is going up, it is because of fresh buying, or maybe even short covering. If you understand the difference, you will know what I mean.
In my earlier videos, I have shown you a snap quote window, the best five buyers and best five sellers. That snap quote window is your traders cockpit. There are more than dozen and a half hidden signals in that snap quote window and if you know how to read your computer trading screen, which is an art by itself, you can differentiate between short covering and fresh buying.
So on Friday, in the last one hour, if the market is getting pulled up and if it is because of fresh buying rather than short covering, I would bet that the market is going to open with a spring in its step on Monday morning and attempt to go higher, all other factors remaining constant. No bad news coming on Saturday and Sunday.
Which is why, my friends, on Thursday night, you read this curious additional one line watch the last 60 minutes of trade from my posts. If you were to watch this system for a couple of weeks before you implement it, I am very sure that your trading will take on a new meaning all together.
You can always give me a shout here. I'm always available and open to your comments and suggestions. Good, bad or ugly, keep your feedback coming in the comments section.
Before I bid goodbye to you, I'd like to remind you to click like on this video if you liked what you saw. Subscribe to my YouTube channel if you haven't already done so. Click on the bell icon to receive instant alerts about fresh videos being put up out here and help me reach out to fellow like-minded investors by referring video to your family and friends.
I wish you have a very, very profitable day. Thank you for your patience and watching my videos. Till we meet again in my next, this is Vijay Bhambwani signing off for now. Thank you for watching. Bye.
Warm regards,

Vijay L Bhambwani
Editor, Fast Profits Daily
Equitymaster Agora Research Private Limited (Research Analyst
Recent Articles