How to Buy Stocks at 50% Off
Aug 7, 2020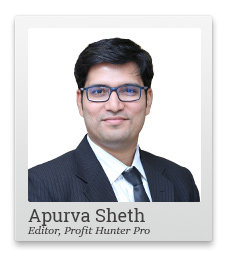 Have you ever felt bad that you missed buying a stock at its bottom.
It happens all the time. You make money when the stock goes up but wonder if you could have bought it at a better price.
In this video, I'll show you how to buy stocks at a 50% discount. If you master this trading technique, you won't have to worry about timing your entry point.
Let me know your thoughts. I love to hear from you!
Hi I'm Apurva Sheth and I welcome you to this latest edition of Fast Profits Daily.
So friends, monsoons are back in Mumbai. Now monsoon is one of the most favourite seasons for me. I simply love going out in the rains for a trek or simply a long drive to hill stations like Lonavala, Matheran, Igatpuri. All these places are beautiful and must visit during the monsoon.
Now, apart from this, there is one more thing which I like about Monsoons is a period when you get a discount in shopping malls on clothes and accessories. Now, unfortunately, due to lockdown, these malls and shops are closed. Most of these malls in shops are closed, but you are again getting these discounts on online portals like Amazon and Flipkart. They're coming up with their own discount seasons.
So now we wait all year round for discount season to come and buy clothes and accessories and electronics. Now what if you would also get discounts in stock markets? During monsoons, you will normally see banners of 50% off discounts. What if I say that the stock markets also offers you these kind of discounts and if you haven't seen them, you are not looking at the right places?
Last 2 Days: Watch the Replay of Great Indian Wealth Project Special Event
Today I'm going to show you how to look for these 50% discount, which are available in the stock market. So what happens in the markets is that whenever a stock is moving higher, it does not go up in a straight line. Even if it's trending it is in a very strong up trend, it would go up fall back a little then go up. This is a zigzag pattern which you can call. Normally prices zig zag and do not move up in a straight line from left corner of the right. So what I call this is that stocks normally go two steps forward and then they move one step back. So whenever they move one step back, that is the time to get into these highly trending stocks. So now the thing is how we identify such one step back moves in the market?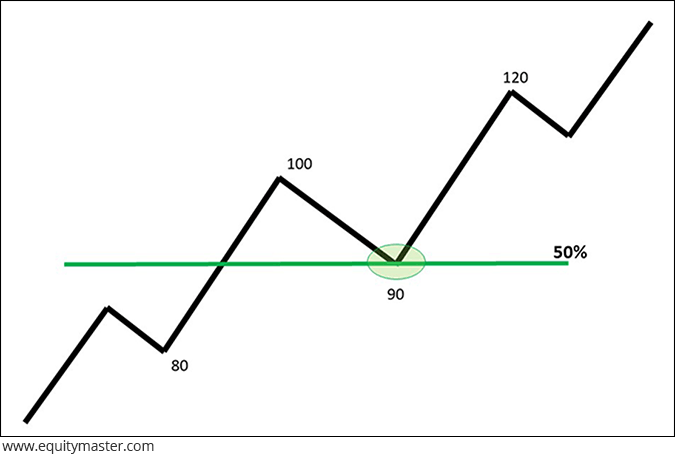 So far, I take you through this illustration, which is there on your screen. So as you can see on your screen stop. This is just a simple illustration of a stock, which is in an uptrend. So just take an example that the stock had moved up and then it has corrected back to levels of 80 from it, the stock has moved up to levels of 100 now. Normally 20%, 25% in this case, is a very big move for stock, and stocks after making such up move, will normally correct a bit simply because people who had got in at levels of 80 or lower will tend to book profits. So their profit booking would lead to the stocks falling down.
So in this case, let's see the stock drops to 90. Now, this is a 50% correction of this recent move, the stock had moved up from 80 to 100 so that was a Rs 20 up more. The stock has given back Rs 10 of this move, so that's a 50% correction. Now such 50% corrections are great opportunities to enter the markets, so that you could get the next part of the rally.
So instead of getting in at 100, the ideal point for entry, would be to get into the stock when it is closer to it's 50% correction Now, in case of this, 50% correction coincides with support or resistance level, then that is an added advantage that the stock is regressing back to 50% retracement, and it is also closer to the support. So the chances of fresh demand coming from these levels are very high. So this is a great time to enter into a stock. Now, let me show you a live example of for stock which has gone through similar of moves.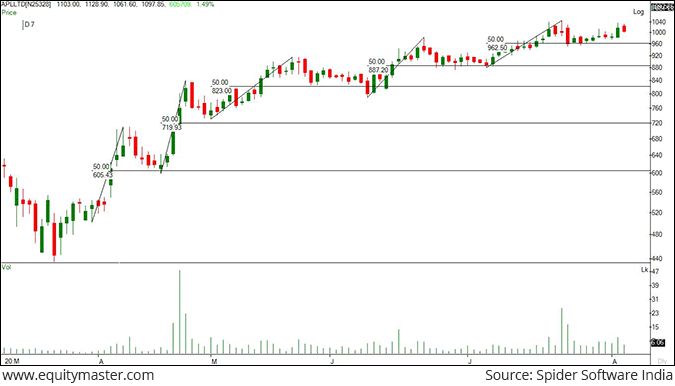 So this is the chart of our very trending pharma stock. As you can see out here, the stock made a bottom in the month of March made a small of move and then even corrected a bit. But then the big spike came closer to the beginning of the month of April. So from these levels of 503 the stock went up to levels of 709 in a short span of about 5 to 6 days. Now that's a big move in a short span of time, and so there is a high probability that the stock would give up some of its gains. So, as you can see out here, I have plotted a 50% retracement, and the 50% retracement level comes to about 605. That is exactly where this stock has bottomed out.
So when you are drawing retracement, keep this in mind that you must identify the recent upswing in the stock. So, as you can see out here, I have not taken the low which was hit in March, because that was a sharp fall and we are most interested in the recent spike because when a stock is highly trending, it won't give up all of its gains but it will give up at least some part of the most recent gains. So we are always looking at the most recent spike, which was seen in the stock.
So that's the reason why our stock corrected back to levels of 605 and then again it moved up. So here again, in this case, you can see the stock moved up from 605 to about levels of 840. From there I have drawn a 50% retracement. Now this time around, the stock, didn't touch the 50% replacement level, but it nearly reached those levels and then once again moved up from the low, which was hit on fourth of May, which was of 730.
From there when I draw this retracement to 915 levels, which was the recent high, the stock again snapped back to about levels of 50% retracement of 823. It closed below this level just for one day, and then quickly moved back up and then you can see this keeps on repeating.
The stock moves up and then gives up 50% of its gains and then again, it moves up and again gives up 50% of its gains. So such 50% retracement levels are excellent entry opportunities for traders who are looking for short trading opportunities. You may have missed getting into a stock at the bottom, but you can certainly enter into a stop amenities pulling back, when it is retracing.
So these are excellent opportunities for you if you are trader. If you want to trade stocks on the long side then such retracements are excellent period or excellent time when the risk reward is also in your favour. So do look out for such retracements which could help you get better entry opportunities.
Now you might be aware that I write a product which is called First Profits Report, along with Vijay Bhambwani. Now here we combine trends in commodities along with the trends in equity. So Vijay picks up the trends in commodity markets and then I pick out stocks from the equity market which are related to this. So this, in my this month's recommendation, I have picked a stock which is going through a similar phase wherein the stock has spiked sharply. It is up about 20% in a short span of 6 to 7 days and it seems that the stock will retrace and I am looking for 50% retracement as an entry opportunity for the stock.
So in case you want to get access to this report, then you can click on the link, which will be available in the transcript section below. You can read the details how you can get access to this report, and I'm sure this will be a great read for you.
So that's all from me for today. I hope you enjoyed watching this video and in case you did, then please like this video share it with friends and family members who want to become better traders. Also do join our telegram channel where we share interesting insights of the markets on a daily basis. I am sure this will help you develop as a trader. So that's all from me for today. Thanks a lot and have a nice day.
Stay safe and have a great weekend!
Warm regards,

Apurva Sheth
Senior Research Analyst, Fast Profits Report
Equitymaster Agora Research Private Limited (Research Analyst)
Recent Articles