Is It Time to Book Profits in Gold and Silver?
Aug 10, 2020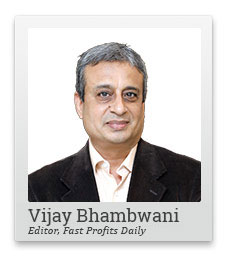 What a great rally we've had in gold and silver.
My two favourite recommendations have outperformed my expectations.
In fact, they have both run up quite a lot in a short time.
Unfortunately, no asset can rise in such a gravity defying manner for long.
In this video, I'll tell you what I think you should do with your bullion holdings.
Hi, this is Vijay Bhambwani and in this short but sweet video, I'm going to answer a burning question that's on everybody's mind. Should I be booking profits on gold and silver?
Before you put any comments on this video, I would urge you to hear me out completely before forming any opinions and jumping to conclusions. Am I calling for a top in gold and silver? No. Emphatically, no. I am not saying that the rally in gold and silver is over. I'm merely answering a question as to whether you should book profits.
FREE Event: The Great Indian Wealth Project
Now is there any simple and clear one size fits all onset of this question? The answer is again, no. The answer will depend on when and at what price point you have entered into gold in the recent weeks. I have made videos emphasising how the institutional players will be responsible for pushing both gold and silver prices and how Covid would actually help silver outperform gold and why silver will give higher percentage returns than gold.
All these hypothesis of mine, I am very happy to report, have turned out to be profitable. But as David Cassidy wrote in his classic gold standard book on the stock market, it's not when and what you buy, but it's when you sell that counts. A transaction is complete when the profit is locked and cocked and the money is in the bank. So depending on when you bought gold and silver, it may be time to start taking some money home. And I mean some money. You are not to extinguish your entire portfolio.
For example, let's see, would happen to my subscribers. The Weekly Cash Alert subscribers, last year in the month of June, were told to go long on gold at 34,500. They are up over 60%. Silver. I told my Weekly Cash Alert subscribers in the same month of June 2019, to go long at 38,500. You're getting more than 100%. What else, right?
Let's take a look at what's happening in the Fast Profits Report. On 18th of January 2020, I advocated going long and 42,250 in gold, which is up 35%, 48,650 in silver, which is up 56%. A fresh buy was recommended as late as 11th of June 2020 when gold was 48,836 which is up 14% and on 11th of June, silver was recommended as a buy at 50,098 which is up a whopping 52%. This was in physical and yes, I have included 3% GST on a gold and silver prices when I have given you net rate that were recommended as a buy.
So in spite of paying this 3% GST, you're still in deep profits. Should you actually continue holding on forever? Will there be no respite? The answer is no. Nothing goes up forever in a gravity defying move. Why my saying that you should book some profits in gold and silver?
As you know, I believe in the 360 degree approach and I like to share the why behind the what with my viewers. You see the USD, that is the Dixie, the Dollar index, is actually showing some signs or strength. Now commodity markets trade in the dollar as a currency. So the settlement, the payments, are made in the dollar. To that extent, the US dollar is the invoicing currency of the global commodities markets. You cannot have the US dollar rising out and the commodity also rising up. It's actually like a seesaw. If the dollar goes up, gold has to go down.
So the first signs of the dollar going up remember, this is the US presidential election year. On 3rd November, barring any constitutional changes, the US goes to polls. So the US administration will try to push prices of the dollar up, which means some amount of profit taking in gold and silver is likely.
So what happens if you were to buy gold last year and you were up 65% and you bought a silver last year and you're up a good 100%? I would say take money after table to the extent of 25 to 30%.
What if you had bought in January like the Fast Profits Report subscribers have and they're deep in the money between 35-50%? By all means 20% of the table.
If you had bought in June and you're up 14 and 50% respectively, take 15% of the table
Let's smell some profits. There is an old saying on Wall Street, 'Nobody goes bankrupt by booking profits'. I'm not saying, I repeat again, I'm not saying sell everything that you have. All I am saying is, let's bring some money home. Let's smell some profits. Use this money to make our friends and family happy. At the end of the day, like David Cassidy said, it's not what you buy but is when you sell that counts.
Now here again, if you bought it recently like, say, the last one week or so, I am not saying that you have no chance of booking profits. There might be intermittent corrections. Prices invariably tend to go up and down, which is what assets are for. You might have to wait a little longer because, hey, you got on the bus a little more later.
But come 2021, I see significantly higher prices from here, all other factors remaining constant. So, yes, by all means between 30% of 10-15% of your money should be off the table. Enjoy your profits because that's what all this game is all about.
On this jubilant note, if you're watching this video on YouTube, I urge you to click like on this video and subscribe to my YouTube channel. In the comments section, do let me know what you think of this video and what you want me to record next and help me spread the cult of 360 degrees investing and knowledge based investing and trading by recommending my video with your family and friends.
Vijay Bhambwani signing off for now. Do take very good care of your health, trades, your investments, and your family. Have a very profitable day. Thank you for watching.
Stay safe and have a great trading day!
Warm regards,

Vijay L Bhambwani
Editor, Fast Profits Daily
Equitymaster Agora Research Private Limited (Research Analyst)
Recent Articles